Dynamic duo
STARTING YOUNG
At a community outreach initiative at Laerskool Nelspruit, Tsepiso and Comfort, then in grade six, realised that they shared a common interest – giving back to their community.  "That was when Nelcity Events was born," Tsepiso says. Their first event was a "make a friend" party in 2005 for local primary children. "Guests paid R20 per person upfront and we made a substantial profit," Comfort says. "That was promptly spent in a shopping spree at the mall the following weekend!" Tsepiso laughs. Due to requests by guests at the first party, they held another in 2006 that resulted in the same success, as well as the spending of the profit. Business was put on hold until 2011, when they organised a notorious matric-farewell afterparty in Nelspruit.
EMPOWERING THE YOUTH
"We established Royal-T Books, a publishing company, in July 2011. Our main aim was to use the power of written content to create a better tomorrow for South Africa and ultimately, the world. We mainly write and publish books that aim to equip readers with skills they require to optimise their time here on earth," the vivacious Tsepiso explains. "Many people, especially the youth, have the ambition and drive to begin entrepreneurial ventures, but do not have the necessary skills or financial literacy to back them up and put them on the path to success. This was when we realised that there was a gap in our education system. Measures were put in place to create professionals who will work hard for money, but none to equip entrepreneurs to make their money work hard for them.
 
"What we found even more appalling, was the fact that there were no measures in formal education to make people financially literate, regardless of the fact that debt has been suppressing the masses. We decided to develop some sort of remedy for this problem, while generating an income. That is how the book range, The Fairytale of Billionaire Bees started," Comfort adds.
LEAVING A LEGACY
The pair spotted an opportunity to fund their company in the form of SABC's second season of  The Big Break Legacy, South Africa's answer to Donald Trump's The Apprentice. The reality show saw various entrepreneurs take part in challenges in the hope of receiving funding for their business ideas. Tsepiso was the clear choice to take part on behalf of Royal-T Books. "I'm much more the behind-the-scenes partner," Comfort laughs. Not only was this young trendsetter the only representative from Mpumalanga to reach the top 12, she was also the youngest contestant on the show.
 
Although the 19-year-old fought her way into the final challenge, she did not leave as victor.
 
All was not lost, however, as Momentum Retail soon came calling. "We are out of our skin that this company wants us to run its consumer financial education, an outreach where we can teach children in schools, as well as the unschooled masses, about financial literacy – something our country is in dire need of."
 
The outreach will see The Fairytale of Billionaire Bees being distributed to various educational facilities, starting with primary schools in Nelspruit.
MAKING IT WORK
"The biggest reason why working with Tsepiso is easy, is plainly said – it's her personality. She is willing to take chances to make something work," Comfort says of his partner. "We also share the view in that we focus on seeing the good in the world.
 
"Comfort keeps me grounded, he helps me to focus while helping me to push through. He is definitely the stabiliser of the business," Tsepiso adds. To which Comfort smiles, "You know, we are two totally different people who found common ground in the things that matter the most to us."
All is not rose-coloured though, they are quick to add. "I know that I'm there to stabilise the partnership, but she's very stubborn!
 
"Once she's put her mind to something, there's no convincing her otherwise," Comfort says as he jokingly glances at her. "It's true – and I know it!" They laugh as Tsepiso refers to his so-called African time, "He is not punctual at all. He's always calm and when I get worked up about sticking to a schedule, he'll simply tell me to chill."
LOOKING AHEAD
They consider 2014 to be the year that Royal-T will be expanding, "We're moving our offices to Johannesburg at the end of the month, so as to be located more centrally. But our main aim is still to give back to our Lowveld community first and foremost."
 
They are very grateful for what The Big Break Legacy has taught them – mainly that one does not need money in order to make money. " In Mpumalanga we still see masses of people who are financially illiterate. We hope to be an example to both the schooled and unschooled, that the struggle our forefathers fought through has not ceased – it has merely evolved from the fight for political to economic freedom. We hope to assist in liberating people."
 
GET IN TOUCH
Royal-T Books
www.royal-tbooks.com
info@royal-tbooks.com
079-472-9022 or 076-967-3204
Twitter: Royal_T_Books
Like them on Facebook.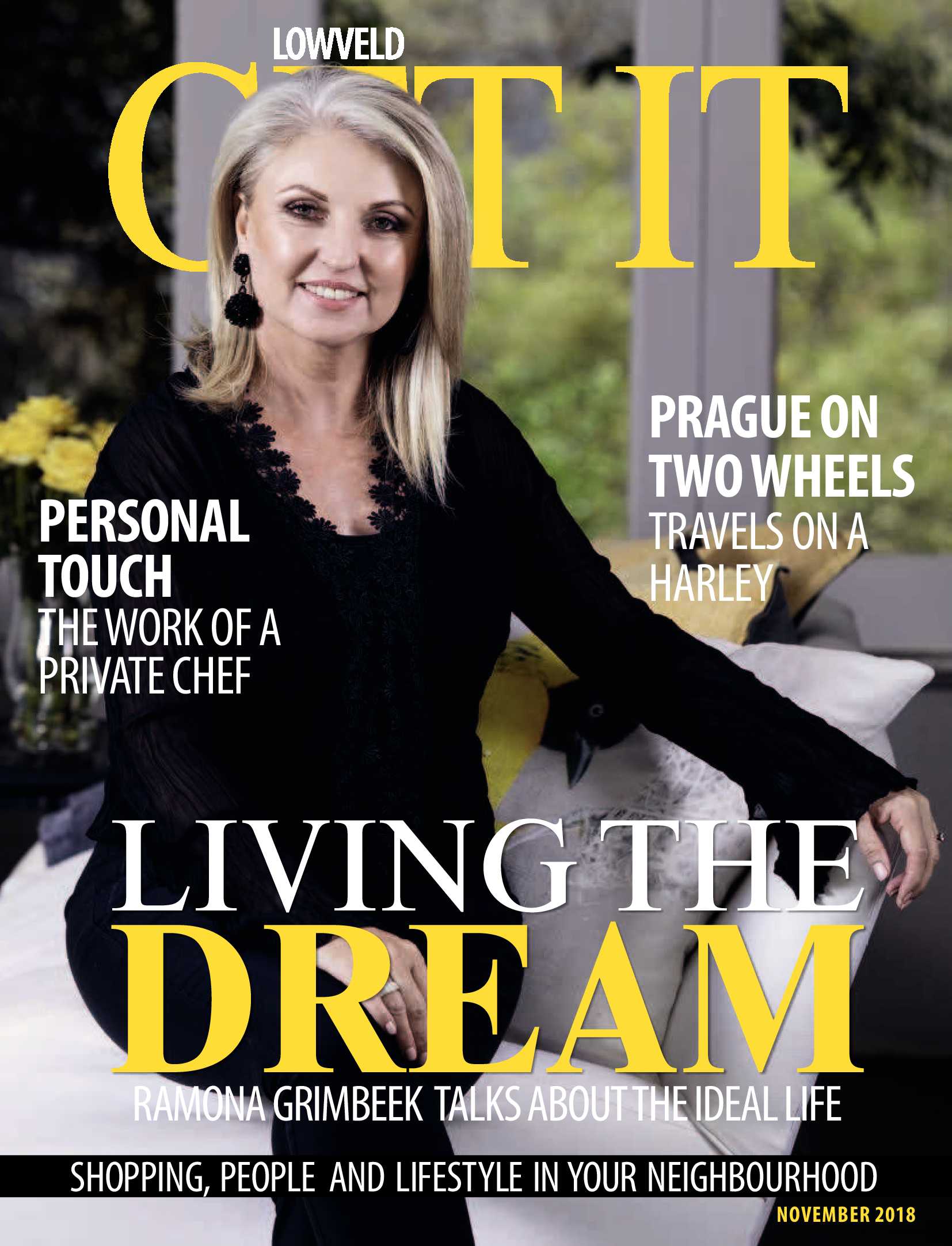 November 2018
The November 2018 edition of Get It Lowveld is online now!
View magazine

November Spoil
When it's this easy, winning a gorgeous timepiece is on pretty much everyone's to-do list.
is a national brand of premium free magazines available in centres across the country.
to see other Get It magazines in the network.