Makuleke Trail
Where?
Along the banks of Rudyard Kipling's "great grey-green, greasy Limpopo River" lies a wilderness. Here the descendants of the "satiable elephant's child" dip their trunks in the cool, smooth-flowing waters and drag their toes through the coarse riverbed to the rhythm of Africa. Once they drink their fill and cool their bodies, they stride up the bank and disappear into the fabled fever-tree forest and dense bush of the Makuleke Concession.
Walking in the dappled shadows under the canopy of fever trees is worth every hour. The yellow-green trunks stand bowed under decades of prevailing winds. It is estimated that the forest today is between 35 and 70 years old. It has reached the stage where the older trees are falling over and rot away under the dense foliage on the forest floor. Due to good rain earlier this year the wetlands are still flourishing and in some areas the pans mirror the sky.

Another advantage of the water is the birdlife is phenomenal and certain species stay in the area longer than usual. Herds of buffaloes graze on the edge of the floodplains where the grass is as high as their shoulders.
The 24 000 hectares of bush, forest, floodplains, lakes and wetlands are home to 75% of the park's biodiversity in an area that is only slightly larger than 1% of the total size of the KNP. Makuleke includes a proclaimed Ramsar Site which lies along the Limpopo River. It is one of 18 Ramsar Sites in South Africa. The area was proclaimed a wetland of importance in 2007 under the Ramsar Convention.
This northern part of the KNP is also a base to the field-guide training bush camp of the EcoTraining company.
What and when?
In April I was privileged to be offered the rare opportunity to explore this almost untouched wilderness on foot as part of a five-day Wilderness Trails Skills experience under the expert guidance of field guide instructor, Bruce Lawson. I was glad to join a varied group of guides, enthusiastic naturalists, a photographer and professionals.

Bruce is a Lowvelder born and bred. He is a passionate naturalist and has been in the industry of field guiding since 1992. He has logged, in neat handwriting, 15 000 hours of guiding in dangerous game country in many of Africa's major reserves. He is planning an epic hike to circumnavigate the Great Limpopo Transfrontier Park.
Over five days we covered more than 45 kilometres and carried everything we needed on our backs. We had to source water from either the river or several freshwater springs.
What to pack
I contemplated the list of things to take on this little expedition with raised eyebrows. It seemed an awful lot for a 50-litre backpack. I had to reconsider packing 2kg bananas, 1kg biltong and seven melons. I had to add camera equipment, which I had no intention of leaving behind. I soon had what I needed stacked, zip-sealed and ready. Surprisingly the pack was lighter than I thought. Make no mistake, I love travelling, on foot or otherwise, and going places is one of my favourite things to do.

Upon arrival at the camp we made sure that we had what we needed for the days ahead. If you are not sure if you will use an item, you most likely do not need it in your bag, advised Bruce. There went the bananas and the melons. In the next sentence he ensured that the outside world was kept at bay by informing us to leave all timepieces behind. My advice is leave them at home anyway. While some of us used our phones as a camera, I gladly tossed both watch and phone in a bag that would remain behind.
List of packing
• Sleeping bag
• Sleeping mat
• Groundsheet and/or a space blanket
• Rain poncho
• Warm jacket for cooler evenings – winter nights can get chilly
• Hat
• One set of clothes, if you are finicky (I just took another shirt and extra underwear)
• Travel towel
• Toothbrush, toothpaste, wet wipes and don't forget the toilet paper.


Cooking utensils include
• Knife, spoon, fork set
• Cup
• Aluminium pot (unused)
• Compact gas stove and 230g gas canister.


Food and snacks for five days
• 2x dehydrated meals for dinner (they are expensive in South Africa).
• 3x two-minute noodles.
• 800g biltong, cut into chunks and divided in five portion packs.
• 5x Oatso Easy instant oats (you only need a cup and hot water).
• 2x 500g trail mixes: one Hawaiian and the other tropical. I mixed the two packs together and added 250g salted peanuts. The mix was once again divided into five ration packs packed in zip-sealed bags.
• 4x chocolate bars – BarOne.
• 25 hard-boiled sweets which were left over from a previous road trip to the park.
• 4x fruit fuel packs from SPAR. The pureed fruit is natural, preservative and colourant-free. It's nice to have fruit for breakfast, if it's too sweet you can always dilute with water.


TIP: For breakfast I add a handful of my trail mix to the instant oats. I find it more filling. I jazz up the two-minute noodles at dinner with biltong cuttings. The idea is to take into consideration weight and space.
Other items needed that I didn't take along which weren't on the list were water-purifying tablets or drops. The easy option is to use Milton sterilising tablets for fluid. Add one drop to one litre of water or you will need to boil the water. Another water-purifying solutions on site was Biosil CDS (chlorine dioxide solution). This is a biocide that destroys spores, bacteria, viruses and fungi and has no aftertaste.
Why?
We welcomed mizzle as we walked out of the main camp following in Bruce's footsteps. The light rain didn't deter us from opting to stay in the veld or from sleeping under the roof of the billion-star hotel: the great outdoors.
We walked the short distance to our first camp for the night. Along the way we met a breeding herd of buffaloes. The animals were downwind from us and soon picked up our scent. They were curious and approached us, but kept their distance.
We reached our campsite before sundown. Pitching camp was as easy as selecting a seemingly level and comfortable spot and laying out your groundsheet "bed" and or rubber mattress for the night. Did I mention that we would have to be sleeping in the open, with no tents?

Bruce demonstrated how to make a fire and maintain it during the night. The idea is not to have a flaming mass, but rather to make the least impact on the environment once you leave the site the following day. Each member of the group got a turn at guard duty. With Bruce's special watch, a small torch passed from person to person, and the flickering flames and star-studded sky, you soon had prime time for yourself.
Watch duty, even though only for an hour, was a time to reflect. Looking at the glitter of the spectacular Milky Way overhead made me realise that I was but one of billions. The privilege to sit in this unique wilderness listening to the calls of hyenas, hippos and the early-morning chatter and bark of baboons was not to be disregarded. It was one of the ultimate ways to experience a time where knowing the hour of the day is unimportant.

The day's walk started as soon as everyone was packed and ready to go. You don't always value the time spent in silence, without the time shackle around your wrist or the constant beep and whistle of your phone's notifications.
Finding your way through the thick bush and tall grass was hard work and lunch breaks were best spent having a cup of tea, a welcome snooze under a shady tree and taking off your boots to cool you heels.

Camping on high rocks overlooking a natural freshwater spring made us feel safe and the stars were more spectacular with each night spent in the bush. The day's walk ended with a much-appreciated, cool swim in the spring.
Another overnight camp is situated on the banks of the Limpopo River and we spent leisurely afternoon swimming and relaxing in the gentle flowing stream. I was grateful to rinse away the sweat and dust of the day's hike. This simple act reminded me of all the luxurious amenities we have at home.
Who did this?
The Wilderness Trails Skills experience is open to anyone interested in getting started as a field guide, and nature lovers. Other field guides often join the hike as a break from their everyday game-drive safaris and to reconnect with nature, to be challenged by the natural environment and to get a different perspective on the work as a wilderness trails guide. To many it is an opportunity to spend quality time in nature.


Dylan Sanders
Tanzania, 19
"I've been with EcoTraining for nine months and love it. I love the sense of adventure that comes with being in remote places."
Martin Endicott
An Englishman working in the USA, 39
"I always wanted to know what it would be like to be a game ranger. The time in the bush has given me confidence for when going into the wilderness in the US."


Dirk Versfeld and Judy Beaumont
Cape Town
Naturalists/nature lovers
"It was a privilege to explore such a magnificent part of our country on foot."


Natascha Child
An Englishman working at a lodge near Ladysmith, KZN, 25
"I have walked with Bruce before and there is no one more qualified. The man is a legend. As a guide it's a real treat to enjoy quality time in the bush away from the lodge atmosphere. As a human being it is a brilliant opportunity to break away from the technology-driven, instant-gratification world we live in."
Theda Knyphausen
A German living in Maun, Botswana, 39
"This is my fifth wilderness-trail experience. It was time spent to reconnect with myself and nature in the purest way, to challenge myself and put things in a different perspective. There is nothing else than to be. Be part of it all."
No motor biking was done during these five days and for a change I had to depend on my feet and endurance. Being in the bush is always the ultimate experience. Realising the uniqueness of others and the ways we are connected, are the most humbling experiences.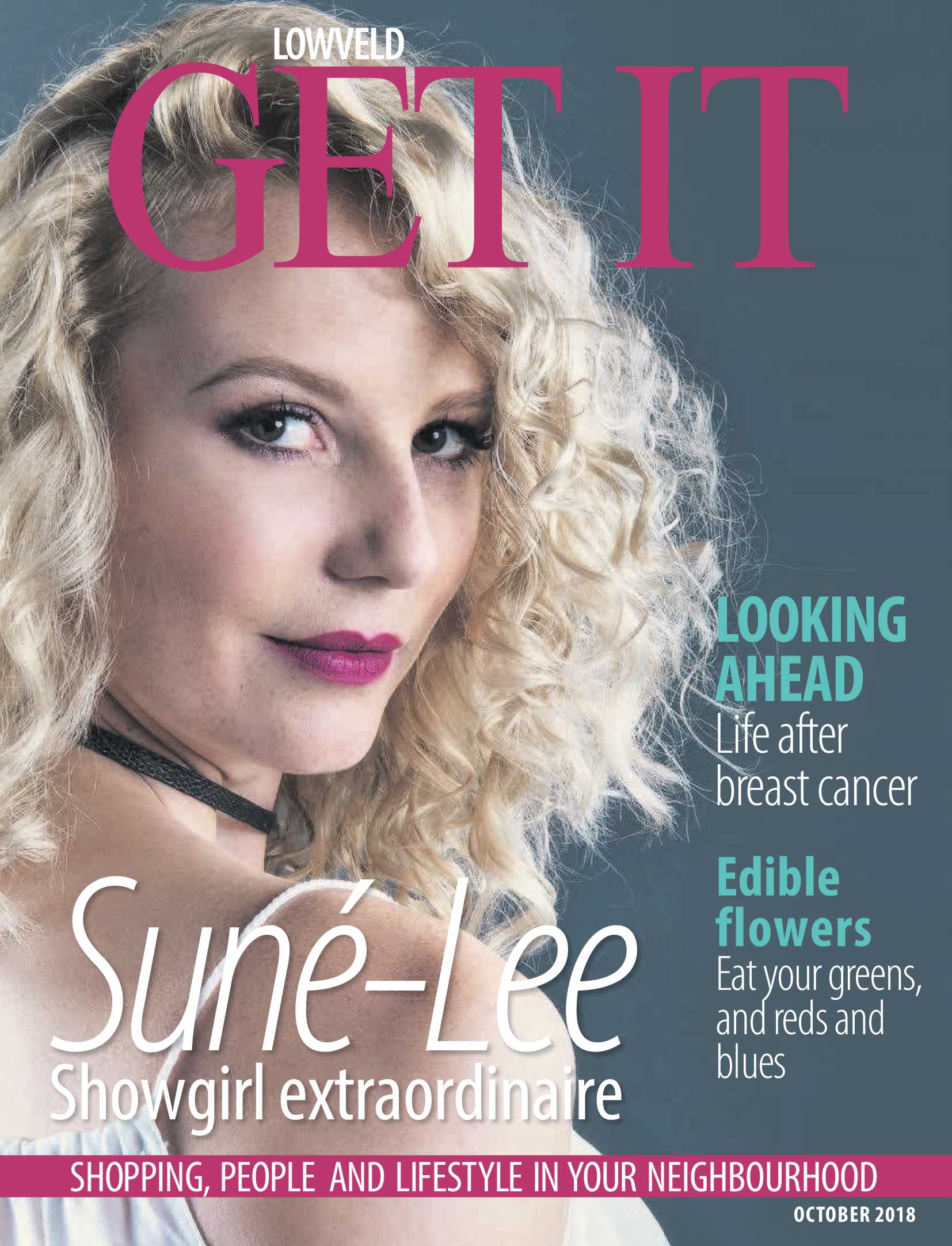 October 2018
This month's fabulous Get It Lowveld magazine!
View magazine

It's burger time!
Most of us love the idea of a burger, no matter what our food preference is, and burgers are certainly not for meat eaters alone.
Our October spoil
With your face to the wind you will feel the power of change this month.
Share the pet love
Entries have been streaming in for the Love your Pet competition and these pets are too precious!
is a national brand of premium free magazines available in centres across the country.
to see other Get It magazines in the network.