Daddy cool
Bongi Chawane: Changing the world
Bongi is thought of as the father of many, although there are four who have a slight edge. They go by the names of Xongi (17), Neri (12), Niki (10) and Fuma (4), and each is the apple of their dad's eye.
"I don't have a minute of peace with them around," this White River pastor smiles fondly as his brood clambers all over him. "You are never prepared and cannot possibly know what to expect when you have a family; God has a plan and you fit in. There are always challenges, but you deal with them as they come."
Bongi and his beautiful wife, Nomvula, never expected to have four children; after complications with their firstborn they thought that would be it. Clearly, that was not meant to be. There are four very strong and vibrant personalities to deal with, each one with distinct differences.
"You have to juggle these various temperaments," he says, "and you can't have favourites, you know. Each one has to be dealt with in a specific way, each one is unique."
Bongi is very much a hands-on dad. He loves to cook, he has great fun playing with them, and they often forget that they are no longer little and jump all over him. "They exhaust me!" he laughs, "they don't always realise that I'm tired after a long day and that they aren't small any longer."
The church is their extended family, and the children need to understand that there will be times they have to share their dad with the community. "I never take a break, my responsibilities escalate every day, and sometimes it feels as if I am juggling everything. But I wouldn't change it for anything."
When asked whether or not he thinks he is a strict father, he laughs. "I think so, but with responsibility. When I was growing up, respect was a big thing, and it's important to me to instil that in them."
He also acknowledges that times have changed, and the added pressure of television, Internet and games, plays a major role in what children of today are exposed to.
"I try to limit their screen time. It isn't healthy to be on the computer or in front of the TV all the time, but I trust them not to abuse this. It is important to make them responsible. They must learn that they are accountable for their actions; there are always consequences."
Bongi is adamant that his kids always remember that as long as they work hard and choose the right path, the world is theirs for the taking.
"The important thing for me as a father is to make sure they understand that anything they set their minds to, they can achieve. There are so many opportunities; they just need to choose the path that is right for them.
"You need to make the most of life, if you don't limit yourself you can accomplish anything. My guidance as a father can only take them so far, the rest is up to them."
Bongi is raising his children according to God's plan, and sees each one as a blessing. Another important factor as a dad, possibly the most significant, is to teach them values, and also that in life, you are never alone.
"As a pastor, my door always has to be open, and so does my heart, to everyone – not only my family. You have to love people regardless and live by the principles that God instilled in us. After all, to change the world, you have to contribute to the world."
Dax Lambourn: Quality time
Dax, a Mbombelan, is a bundle of laughs as he bounces around on the trampoline with his son Daniel, now eight years old. It's not clear who is enjoying the game more, but it's a close call.
"To me, being a dad means happiness. We jump on the trampoline, swim, ride bikes, play darts, go for walks. We have so much fun together, and that's how it should be.
"I strongly believe that 20 minutes of quality time spent with my son – with no cellphones, no television, and no interruptions – is far more valuable than two hours spent without giving him my full attention. Sitting on your cellphone and giving yes or no answers doesn't work, you have to leave everything else you are doing and focus on giving your all."
Daniel has Asperger's syndrome, which affects his social interaction. At times, life can seem overwhelming, but he is a super-busy little boy and likes to keep his parents on their toes.
"I'm fortunate to have the best partner in the world – my wife Maxine. And fortunately for me, she is the disciplinarian, I'm the go-to when it comes to fun and games and playtime. I'm not really a strict dad, but at the same time I am a parent and not a friend, that has to come first," he says thoughtfully.
Dax strongly believes in the importance of investing in the future; the time he spends with Daniel now will determine their relationship further on down the line. "It is important to set the foundation now, so that he always knows he can come to me later on, for any reason.
"It's also very important to restrict time spent with technology, and Daniel is only allowed to play games or on his tablet for a limited time. It can become an obsession, and that's not healthy, so we only allow him a certain amount of screen time. He is given an hour and when that's up, the tablet is switched off; we find this works very well."
Keeping a child young is important, especially their innocence, which is so fleeting. "I don't want him to become an adult, and everything that goes along with it, too quickly," he sighs.
"At eight years old, he is just a child, and must enjoy that as long as possible. It's important to spend as much time outdoors as possible, doing things we love, and because we live in such a beautiful part of the world; we try to spend time in nature wherever possible.
"I set special time aside to spend with my son, and appreciate that time spent with him immensely. It's vital to spend time with your children because you want to not because you have to, the emphasis is on quality not quantity."
Dax is adamant about following your heart, and wants Daniel to fulfil his dreams someday – no matter what they are – and to be exactly what he wants to be. "The most valuable things you can teach a child are empathy and respect, I believe. Time with family teaches them that. And priorities.
"You have to be balanced, it's good to be emotional but also to be in control. For example, I allow Maxine to play her role, and I play mine, we complement each other perfectly."
Initially terrified of being a dad, he and Max waited a long time before having Daniel. "It can be challenging. Being a parent is difficult, but being a parent of an Asperger's child even more so at times. Feedback is especially important, and you always want only the best for your children, in every way possible.
"I'm a very hands-on dad; I want Danny to know that no matter what I am always there. I believe that a good parent is the true hero in this world, and even more so that our children are why we have meaning in life."
Werner Bester: Little miracles
Werner is a man of many talents, and with three very young children, he has to be. Reuben is five years old, Jean 14 months and Mia a mere four months. And he wouldn't exchange it for anything in the world.
"Every day is a miracle," he says, smiling as he holds little Mia, crooning softly to keep her happy. "The best parts of being a dad are the unconditional love, the happiness I get from being with them, and the joy they show each time they see me.
"The boys are both very different, one is more sensitive while the other is rough and tumble, but both love being with their father. They enjoy being outside, love playing with balls and they adore cricket. We do quite a lot of educational stuff together too, like drawing and building puzzles. We have a lot of fun," he laughs, as Jean climbs onto his lap and Reuben watches shyly from behind the safety of Larissa, his mom.
Werner explains how he and Larissa only ever planned on having two children. "We wanted to give them the best, especially financially. The more kids you have the more you need to split things evenly between them. But we also always wanted a little girl, and when Mia came along we knew we were incredibly fortunate. She may not have been planned, but we have no regrets! And now we have the girl we always wanted; our family is complete."
Bringing up children is not for the faint-hearted, and there are so many different things we want for our kids one day.
"I want them to be happy. That's all, in whatever they choose to do, they must be happy. These days we so often do what we do because we have to put food on the table, but are so often miserable in our jobs. I don't want that for them.
"I worry about them and about their future, but at the same time I don't think that has ever changed – our parents worried about us and our children will worry about theirs."
To Werner being a father means so much more than what you can see and touch. You can put a roof over their head, make sure they are well fed and safe, but one of the greatest roles is teaching them about love.
And to understand it's not about what you've got but about love, treating people with respect, and setting a solid foundation. They must know that even with all the money and material things in the world, without love and respect you have nothing. And even if life is not quite what you want it to be, there is always hope.
Especially important is honesty. "My children know never to lie to me, that they can talk to me about anything that has gone wrong. Reuben knows the difference between right and wrong, but not necessarily why.
"It is important to teach that there are repercussions to every action. You have to think very carefully about your actions, and the consequences thereof. No one is perfect and everyone makes mistakes, but you need to know that once made, you can learn from them." Werner looks like anything but a strict dad, and the close family bond is palpable.
"I'm not very strict," he laughs. "But I do have strict boundaries. They are set far apart, but they are there, and they cannot be pushed. You can't be too strict as a father; they have such different personalities and to be too strict with a sensitive child, for example, would maybe cause him to withdraw.
"There is no situation of I'm the ruler in this house. We all make mistakes and we are here to fix them together. Parenting is not what I thought it would be, it's even better.
"Whenever you worry that you aren't doing it right, every parent should remind themselves that we never get a manual, you just have to do the best you can."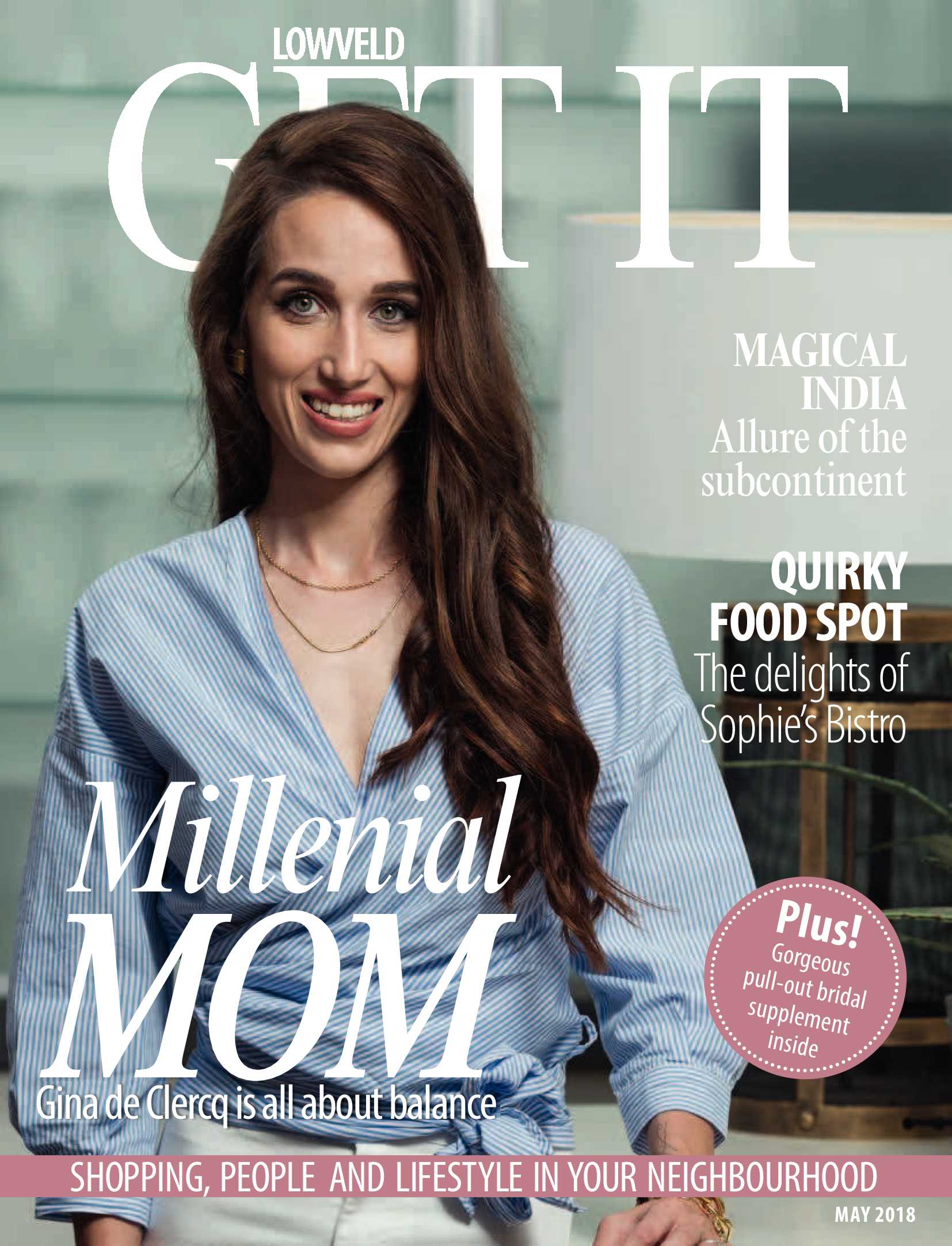 May Spoil
The utterly gorgeous Mugler Alien Flora Futura!
Canon's SNAPSHOT of the neighbourhood!
We're all about neighbourhoods. The streets. The restaurants. The parks. But most importantly… the people. This is your opportunity to capture what's best about the people and places where you live. Your chance to show off your neighbours and the hood… and to win not only fabulous Canon cameras, but also to have your work published in your local Get it magazine. What are you waiting for? Get out your camera, get snapping and you show off your skills and your neighbourhood.
is a national brand of premium free magazines available in centres across the country.
to see other Get It magazines in the network.