Warrior woman
Born in Pietermaritzburg, this dynamic go-getter has a sparkling, bubbly way about her, and clearly loves everything life has chosen to offer her. "I grew up in a very happy, stable home, and lived in the same house all my life, up until I got married," she beams. Nicky and her husband, Warren, moved to Mbombela in 2006, and she has never been happier.
Her practice is thriving and the city is very much her home now. Clinical psychology isn't for the faint-hearted though. It takes a fair amount of studying, along with an internship and required community service at a hospital in a rural area. All in all, she studied for seven years and loves her work.
Clinical psychology covers quite a few bases, all of which relate to the understanding of human behaviour. Apart from diagnosing and treating mental, emotional and behavioural disorders, there are also circumstances involving substance abuse, all of which can pertain to both adults and children.
"I find it immensely rewarding to walk with someone on this journey, and to see both the physical and emotional changes taking place, to watch the transformation and know that you have helped that person take the bull by the horns and make the necessary modifications to their life. "If people come to me for help, it means they have already walked half way."
Nicky finds that people, especially those suffering from depression, need someone who mirrors them by showing them the best version of themselves. "Depression robs you of your sense of self, you feel as if you have lost who you are," she explains. "After treatment, you once again start to live out what you have left behind, and the symptoms of depression such as social withdrawal and demotivation begin to recede."
She works closely with other professionals at White River Manor, a drug-and-alcohol rehabilitation institution with a bit of a difference. "It's a wonderful place to recuperate," she says. "Unlike many other centres of its kind, you are not kept isolated and on a strict regimental basis.
"They do not confiscate your phone, you can still use your laptop and keep in contact with the outside world, continue doing business if you need to. Many of the patients suffer from anxiety, depression and stress, but still need to keep a foot in the outside world."They are given five-star meals and every luxury available. I enjoy the group therapy immensely, and love working with other specialists."
"The important thing is to find someone you can connect with, and feel comfortable with because they are going to be your support system. It's very hard to go to someone and admit that you are vulnerable, but rock bottom is a good place to start, it means you are motivated to change."
While Nicky hopes to see her practice grow in the future, she is content with where she is currently. "I do hope to someday expand or work in a more group-orientated setting because we learn so much from one another. It is also important to keep ahead of any new medical trends or breakthroughs. "And I love the Lowveld! I really don't want to move anywhere else," she smiles, a mischievous twinkle in her eye.
Nicky is not all work and seriousness though, there is another side to her that shows itself in a rather robust way. She trains for Warrior Races, and as with everything, she has set her mind to succeed. "I love the challenge. I see it as a metaphor for life; it can seem so daunting, but you take one obstacle at a time and break it down. And being so healthy and physically stronger makes me feel stronger." Warrior training takes place every weekend at Core 360, and during the week Nicky alternates between CrossFit Nelspruit and Core 360. "I love the group setting, the variety and training with other people. It challenges and motivates me. We also alternate, the routines are always different, some days we run, some days we flip tyres."
Whatever they do, it's working; this mother recently came third in the Toyota Warrior Race held in Gauteng in April.
Despite this rather fearsome image of tyre-flipping warriors, Nicky is a very calm and peaceful person, resistant to change and upheaval. "I have two distinct sides to me: the peacemaker and the achiever. One always wants to get ahead, one always wants to keep the peace no matter what. If I had to say which is the stronger, it would be the peacemaker. I would always try to adjust to accommodate those closest to me, such as my family.
"When we moved here, I fell in love with the area. I am immensely happy and very blessed to be where I am at this point in my life. I have a wonderful husband, two gorgeous children, a successful business, and my relationship with God – which is very important to me – keeps me grounded."
GET IN TOUCH
Nicky Munro on 013-744-0358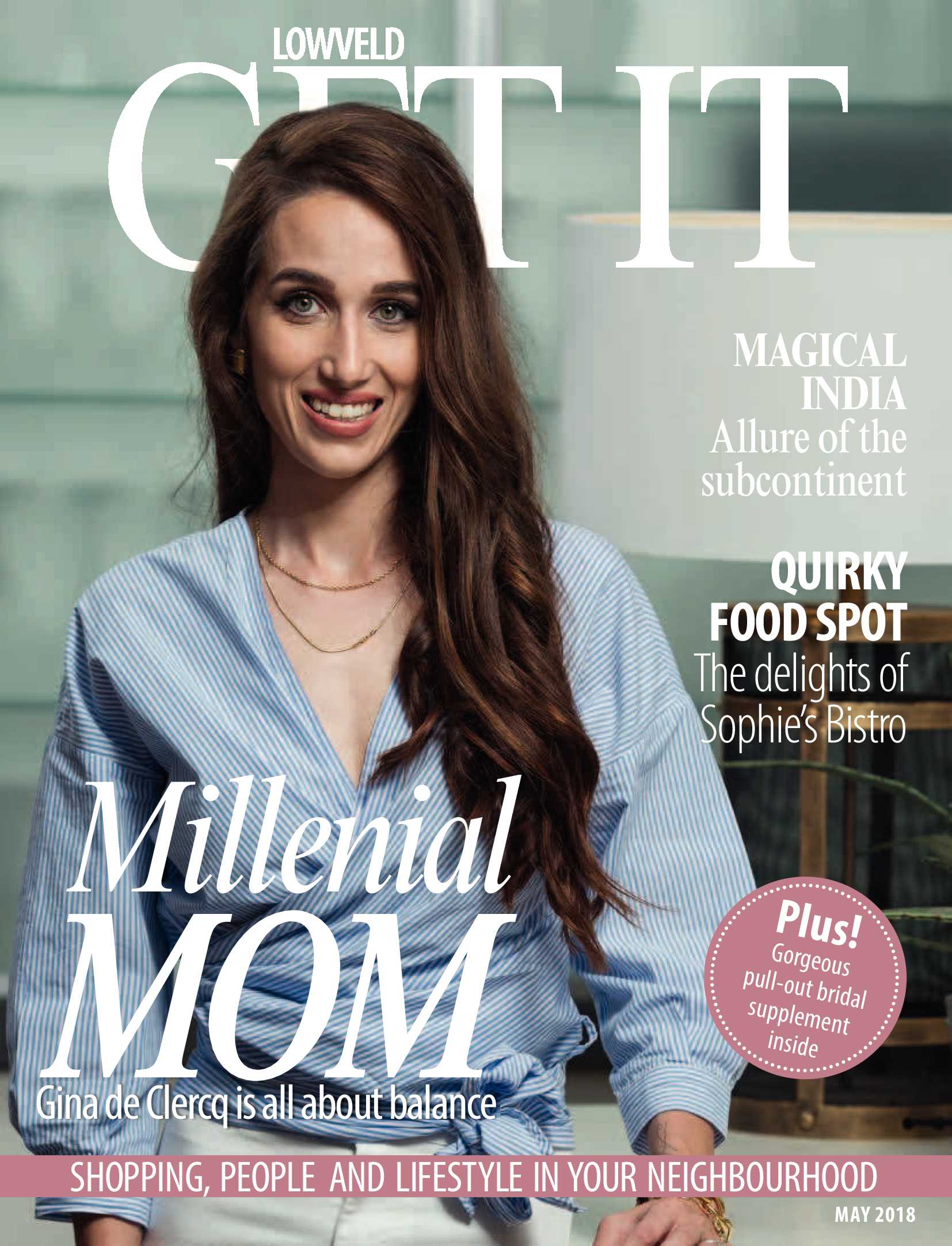 May Spoil
The utterly gorgeous Mugler Alien Flora Futura!
Canon's SNAPSHOT of the neighbourhood!
We're all about neighbourhoods. The streets. The restaurants. The parks. But most importantly… the people. This is your opportunity to capture what's best about the people and places where you live. Your chance to show off your neighbours and the hood… and to win not only fabulous Canon cameras, but also to have your work published in your local Get it magazine. What are you waiting for? Get out your camera, get snapping and you show off your skills and your neighbourhood.
is a national brand of premium free magazines available in centres across the country.
to see other Get It magazines in the network.