Cooking with heart
While he rolls out his home-made pastry, Koos laughs about the old-fashioned rolling pin. "It looks antique," he says. He is in the process of moving house and is making use of a friend's home, and large kitchen, to prepare this delectable meal.
"My kitchen is tiny, so this is perfect. I don't always know where everything is, and in this case I left my rolling pin at home, but I'm here fairly often so it's a bit like a home away from home." The pastry looks incredible, smooth and delicate, with a consistency every pastry chef dreams of. "It's my mother's recipe, and it never fails. It is completely flop-proof and very forgiving," he remarks as he gives it a gentle pat before cutting it into shape.
Koos then scoops the hearty filling into an oven-proof dish and tops it with the pastry. Opening up the oven, he checks on the roast root vegetables. A stir yields the tantalising fragrance of fresh herbs and scrumptious sweet potatoes, the skins of which are starting to crisp and curl on the edges, the flesh soft and tender.
This is where this intrepid chef is most at home, with his hands busy creating culinary delights. He has a food background – his mother also did catering – but deviated for a while when he went into restaurant management and ownership, and is ecstatic to be able to focus on his passion once again.
He is enjoying much-needed time with his family. "Because I've spent so many Father's Days without my family, I am really looking forward to this year," he reflects. "I feel as if I've missed so much and now I'm able to spend time with them and be part of what they are doing.
"So I've been on a bit of a sabbatical these past few months. Although I miss the music and the vibe of the restaurant life I feel that I am where I am supposed to be now and I am excited about going back to my roots: focusing on food."
Koos' son was three weeks old (he was 28) when he went for his interview at The International Hotel School in Sandton. "I was a bit of an old toppie there, everyone else was just out of school," he laughs. After two years and a lot of hard work he obtained his chef's diploma summa cum laude.
"Two of us were chosen as representatives to go to Cyprus and we had to cook an eight-course meal for 100 people. We cooked for six days straight, it was incredibly stressful and we barely touched ground, but it was a wonderful experience. It was here that my love of Mediterranean food started."
Koos refers to himself as a bit of a dabbler in this and that. Very much a travelling chef, he does catering for events like weddings, helps out when restaurants have customer overflow, and he supplies meals for the busy professional, among other things.
"I do a bit of everything, enough to keep the pot boiling," he laughs. "Single people and people who work long hours often phone me and order pre-cooked meals like lasagne, ravioli or a wholesome pie, and then they pop them in the freezer and simply reheat them when they get home. Whip up a tasty salad and you've got an excellent, home-made meal. People often think that because it's frozen food it's similar to takeaway food, but nothing could be further from the truth. My meals are full of goodness, fresh ingredients, no preservatives or colourants and also, I cook from the heart."
This is a dream that has been simmering away for a long time, and one evening, after a few bottles of wine between friends and a scrumptious meal, someone came up with the name "Koos Kook", and the rest is history. Catering for anything from two to 200, he has no set menu or prices. Everything is to order.
"People often ask me what I charge, but I prefer my customers to tell me what their budget is and I will work around it." Everything is freshly made, and made with care. Koos firmly believes that if you don't cook from your heart it shows in the end result.
Food must be freshly prepared using the best ingredients, never mass-produced. And it must be enjoyed in the same way, with time taken to savour good companionship and delicious fare. "We need to slow down," he says philosophically.
"Everything in life today is a rush, even here in the Lowveld. It's not healthy; we need to learn to appreciate long afternoons spent savouring a good meal with wine and friends like the Italians do."
As for the future, there are many interesting plans afoot. Koos wants to build up his travelling catering business, and ideally have a dedicated team which works with him.
"And I want to be able to do just about anything, from a starlight dinner deep in the African bush to a five-star occasion in the heart of the big city. And of course I'm always available for relief work, which is something I enjoyed doing thoroughly in the past.
"For example when one of the lodges in the park needs help in the kitchen, they call on me to pitch in and lend a hand. It's very exciting because it's always something different, and you get to experience new places."
Koos is especially looking forward to Father's Day this year. "My wife is an excellent cook, and we will spend the day together as a family. My kids will set the table, we'll probably have friends come over, and enjoy a long afternoon in good company with excellent food, lots of wine and exceptional conversation."
And at the end of the day, that is exactly how Father's Day should be spent.
Steak and ale pie
Serves: 6
Ingredients
Filling
• 750g diced braising steak, cubed (you can use your favourite: sirloin, rump)
• Salt and freshly ground pepper
• 2 tsp plain flour, heaped
• 3 tbs olive oil
• 1 onion, peeled and diced
• 1 clove garlic, chopped
• 3 carrots, peeled and diced
• 4 diced celery sticks (about 15cm each)
• 1 small handful fresh herbs (basil, thyme, sage)
• 2 bottles (340ml) pale ale
• 1 tbs tomato paste
• 1 (400g) tin whole peeled tomatoes
• 2 tsp brown sugar.
Pastry (you can use store-bought puff pastry)
• 6 cups (250ml) cake flour
• 3 tsp baking powder
• 3 tsp salt
• 500g butter, softened
• 2 eggs
• 1 cup (250ml) ice water
• 1 tbs vinegar.
Method
Pastry
1. In a large mixing bowl, sieve together the cake flour, baking powder and salt.
2. With your hands, rub the butter into the flour until thoroughly mixed in. It must be loose and crumbly.
3. Lightly beat the eggs, ice water and vinegar.
4. Make a well in the middle of the flour mixture and pour the egg mixture in. Mix together until the pastry forms a soft ball of dough. If it is still sticky add a bit more flour and mix through. The pastry should not stick to your hands.
5. Cover the pastry and let it rest until needed. Leftover pastry dough can be wrapped and frozen for future use.
Meat
1. Season your beef well with the salt and pepper to taste, sprinkle with flour and toss around until coated.
2. Heat the olive oil in a large casserole–type pot and fry your meat until well browned.
3. Add the onion and garlic and fry for a minute or two. Add the celery, carrots and herbs and cook for another 5 minutes.
4. Add the pale ale, tomato paste, chopped whole peeled tomatoes and sugar, bring to the boil. Stir well, then simmer for 2 hours or until the meat is tender.
5. The sauce should be nice and thick with lots of flavour. Season with salt and pepper if needed.
6. To make the pies, preheat the oven to 180ºC.
7. Butter a large oven dish and pour in the meat.
8. Roll out enough pastry dough to cover the top of the oven dish with an overlap of at least 2cm. Tuck the pastry in between the meat and the dish all around the edges. Brush with eggwash. With a fork, puncture the top of the pastry shell a few times to release air.
9. Bake in preheated oven for 30 to 40 minutes or until golden brown on top.
10. Let the pie cool down for 10 minutes before serving.
11. Serve with oven-roasted veggies of your choosing, a salad or chips.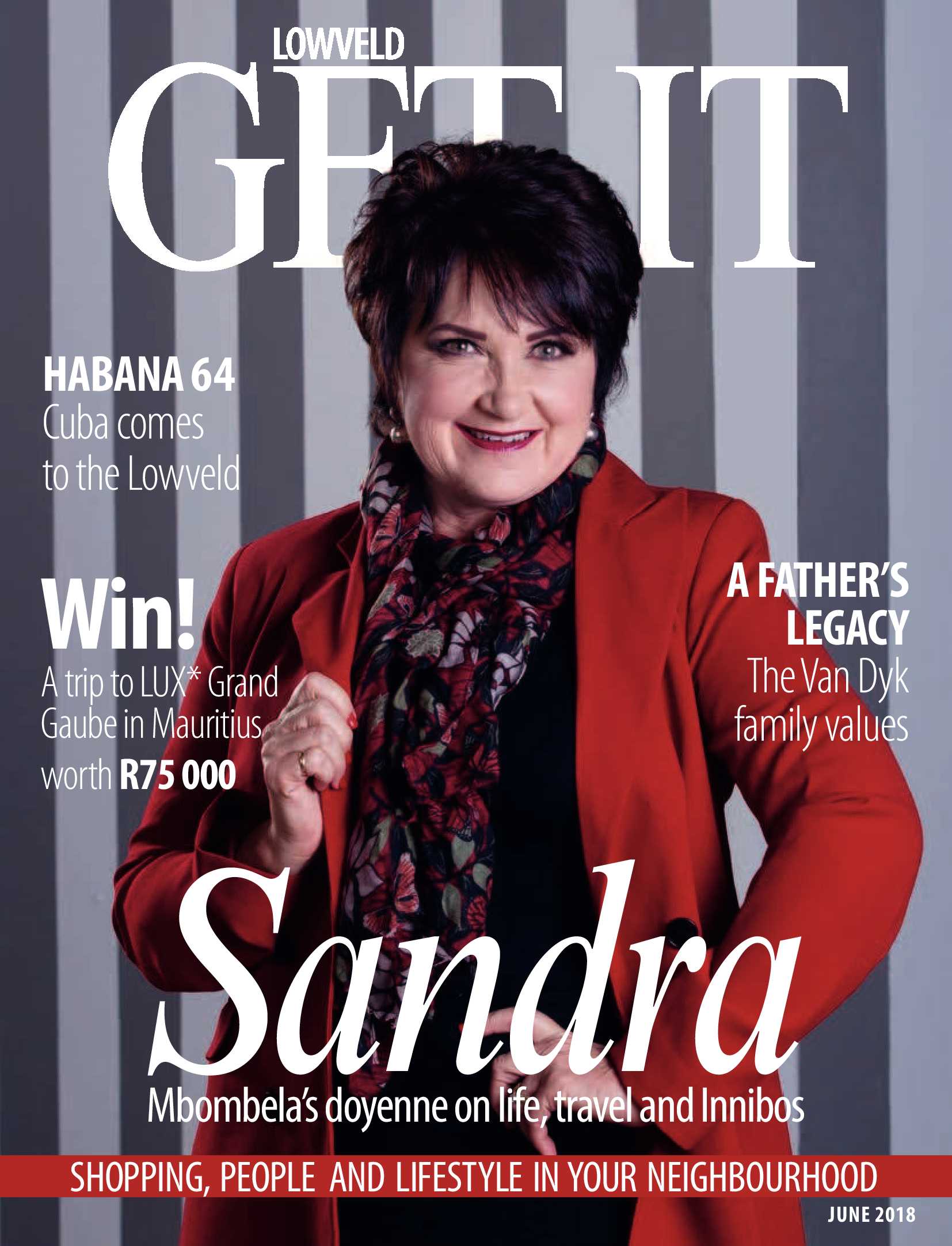 Win!! 2 sets of double Tickets to Stroomop Inspirasie
Ivan Botha and Donnalee Roberts's new film, Stroomop, launches on 9 Aug, and as part of the campaign we are giving away two sets of tickets to two lucky readers to attend the Inspiration Day at Innibos on 30 June from 11h00 – 13h00. 
Win!
Keep warm… A scarf is the ultimate accessory, whether you wrap it around you in chilly winter weather or lightly drape it over a shoulder for summery evenings. This month we are giving away this super stylish pashmina from Nevills in Riverside Mall.
June Spoil – An island holiday for two
In need of a really special treat?
A fairy tale for modern times
Being massive fans of everything royal (especially the recent wedding between Meghan Markle and Prince Harry) we absolutely cannot wait for the release of this 124 page royal bookazine, The Royal Wedding: A People Magazine Exclusive Collector's Souvenir (R100).  
is a national brand of premium free magazines available in centres across the country.
to see other Get It magazines in the network.