Fly Girl
Go-getter
Candice's love of travel and flying goes way back she tells us. "When I was 15, I flew on Emirates and I remember being intrigued by the air hostesses and the lives they lead." Candice wanted to apply when she turned 18, but due to an age restriction of 21, she instead moved to Dubai and worked as a hostess in a restaurant.
"I always saw the Emirates girls while I was living in Dubai, and I said I want to be one too one day." Just after Candice's 21st birthday she applied and got through to the final round of interviews, but two weeks later was sent a rejection letter. It was a bitter pill to swallow, but it didn't stop her from pursuing her dream.
A few years later she gave it another shot and reapplied, keeping in the back of her head, "If it's meant to be it will be", and it was meant to be after all…
The process
Candice admits that the application process for Emirates takes perseverance, and a ton of paperwork. "It's a lengthy affair; I applied online in May 2015, and was invited to the open day in July. I joined the company in October that year," she says, "When I arrived at the open day I was pretty intimidated, I was one of about 200 others trying to make it with Emirates.
"I spent three days doing group activities, interviews and discussions, and each day the list would shorten and I was still there. By the end of day three, I had an intense one-on-one interview, and I made it!"
The company, she says, really takes good care of its employees and after arriving in Dubai she was met by a welcoming group, and given everything she would need to live there.
There was a group of new hires with her, she recalls, and she was assigned to a very nice apartment which she shared with two other girls. "The company pays all of your utilities and rent, they treat us really well."
"The first eight weeks in Dubai were a series of intense safety, medical and service trainings. Our main priority on board as cabin crew is safety."
Candice says the company prepares you well for what your life will entail, as it can be hectic with all the travel, waking up at crazy hours and the crossing of time zones.
The ups and downs
The company is strict on making sure that each employee has adequate rest periods before and after flights, and of course days off within the month.
"Our job is really rewarding, but can be exhausting at times. You have to take care of yourself. Eat well, rest well and exercise. You have to try maintaining as healthy a lifestyle as possible or it will catch up with you."

The Emirates crew members are given a monthly roster which has all the information for their upcoming itineraries. "Roster day is a big day for us," she laughs, "We all eagerly await our schedules for the month. We can't wait to know where we are setting off to."
One of the many benefits of being a flight attendant is they always stay in splendid hotels during layovers and are given a spending allowance for their time at the destinations.
"After a flight sometimes all you want to do is just fall into bed, but once you reach the destination, you become so excited you forget the tiredness."
Candice beams, "I remember on one occasion we had just done a 15-hour flight to New York, and I was shattered but when I got to my hotel, I could see the snow falling outside my window, and the yellow taxis in the street. Central Park was down the road, and Time Square around the corner, and I couldn't wait to go out and explore.
"Feeling tired disappears when you see where you are, well most of the time." She admits that there have been times when she has overslept, and missed moments where she could have been sightseeing.
We ask Candice how she feels about Dubai, and adjusting to the different culture. "I loved Dubai the first time I lived there, and always wanted to return. I love the energy and the people there. It's very metropolitan; it's so alive and always busy,"

One of the many highlights for her is that she has met and made friends with people from all over the world. She confesses that as much as she enjoys what she does, she does get homesick. "I have great benefits though, we can travel anywhere for really good prices and if I have days off I'll come home.
"Usually I come home for about five days every month. I know it sounds short," Candice laughs, "but it's not a big deal for us to just hop on a plane and go overseas for a few days, whereas for 'normal' people it is. Taking a flight for us is like hopping on a Citybug down to Mbombela for a weekend, quick and easy." She admits that it can be challenging dealing with passengers from so many nationalities on board.

"Sometimes we have people who have never even seen an aircraft, let alone flown in one, on our flights. I always try to be understanding, especially when there is a language barrier and help them as much as possible. I always picture if this was my gran on the plane, how would I want someone to treat her, and I do the same for the passenger."
Highlights
"It's been a whirlwind two years for me, but it feels great to have finally achieved a dream that I've wanted for so long. I feel privileged to have seen 32 countries in a year and to have worn the Emirates hat," Candice giggles. "It was always my dream to wear that red hat, and now I have finally worn it."
We ask her what some of her top moments have been, and she smiles. "That's a tough one: hang-gliding over Rio de Janeiro and seeing Christ the Redeemer, visiting New York, and walking around Time Square, that was something I dreamt of my whole life, going for a ride in a gondolier in Venice, eating pizza in Italy, holding a koala in Australia.
"There are just so many things on my bucket list that I've been able to tick off. Sometimes I'll walk around in a city, and get teary eyed when I think of what I'm seeing. I went to Cannes while they were setting up for the film festival. I was like, 'Oh my goodness I can't believe I'm standing here'. I'd always seen it on TV, but never thought I'd be lucky enough to see it in real life."
The next step
She would like to be promoted to a business-class air hostess. "Right now I'm in economy, and when you get to business class, it's like being a waitress in a five-star restaurant" she laughs.
Candice also confesses that she is by no means cured of the travel bug. "There are also still tons of places I want to travel to and visit. The nice thing about our job is we get snapshots of each place, because we aren't there for long enough to see everything, but it works well because then you know which places you'd like to visit again for a longer time."
Dream big
Candice recites the quote, "It's never too late to become what you might have been", and says she lives by that. "I always think if my 18-year-old self could see me now… would she be proud? And I think she would be proud of what I've accomplished so far."
She radiates beauty with her passion for life and her infectious love of travel.
"I would encourage anyone who is young and wants to travel to do this. It has changed me into a different person, taught me how to deal with people from all walks of life, and has given me so much confidence. It's been an eye-opener seeing some of the massive world we live in."
Get in touch
For info on careers with Emirates, visit www.emiratesgroupcareers.com/english/. Follow Candice on Instagram for more of her adventures @candiceaucamp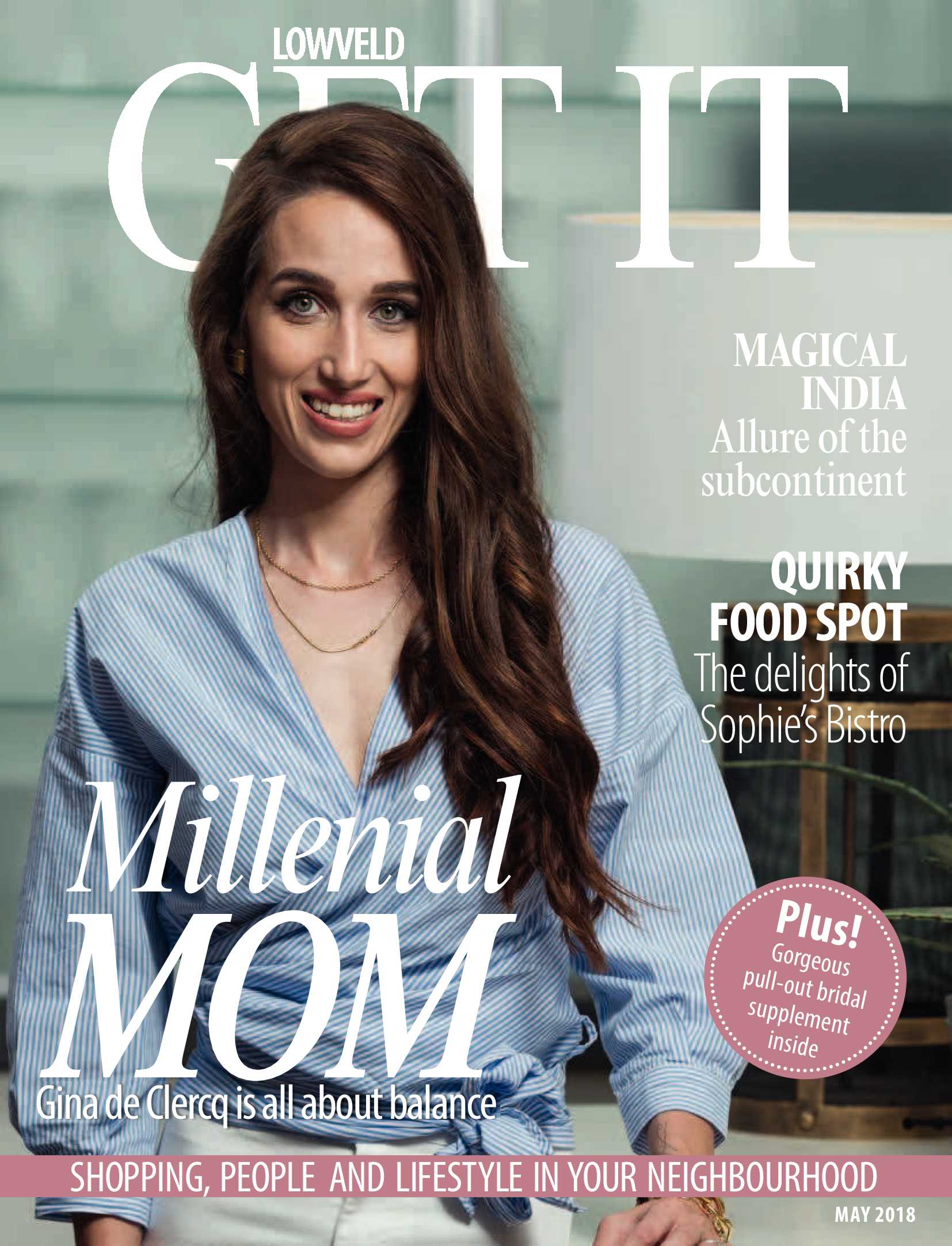 May Spoil
The utterly gorgeous Mugler Alien Flora Futura!
Canon's SNAPSHOT of the neighbourhood!
We're all about neighbourhoods. The streets. The restaurants. The parks. But most importantly… the people. This is your opportunity to capture what's best about the people and places where you live. Your chance to show off your neighbours and the hood… and to win not only fabulous Canon cameras, but also to have your work published in your local Get it magazine. What are you waiting for? Get out your camera, get snapping and you show off your skills and your neighbourhood.
is a national brand of premium free magazines available in centres across the country.
to see other Get It magazines in the network.