Lowveld gems
The Fig Tree House
Located on the Mara Road in the Crocodile Gorge Conservancy, The Fig Tree House leaves you nostalgic and adventurous. The wooden structure, situated in the heart of a forest giant, reminds us of a scene from Tarzan. The sleeping platforms, with mattresses, are suspended among the branches and provide comfortable accommodation. Surrounded by leafy branches, open to the elements and glorious fresh air, you will experience peace and quiet minutes after arriving.
The Fig Tree House sleeps six. It has basic, rustic amenities that include ablutions, a hot shower, cooking facilities, beds and a "lounge" area complete with a couch. Cooking facilities consist of a fireplace, and guests are reminded that there is no electricity. They should pack torches and or lamps for at night. You should not bother to take your cellphone as there is no signal in the area. Close by is a peaceful sanctuary surrounded by granite rocks and a verdant forest where guests can sit around a sizzling fire and enjoy a glorious view of the night sky.
The tree house started out as a basic wooden platform to provide "camp" facilities for survivalist students, and was the brainchild of Hunt Cheney. He constructed it with care and avoided cutting branches to accommodate the structure. Today it has evolved into a naturalist's dream breakaway.
Get in touch
www.thefigtreehouse.com
thefigtreehouse@gmail.com
Kaapsehoop Adventures
If traversing the road to this establishment, situated at Coetzeestroom, is not adventurous enough, staying over for a few nights is sure to get your sense of adventure going. The dormitory rooms provide comfortable accommodation and the rustic kitchen is more than enough with gas cooking facilities if you don't feel like braaiing.

To slake your thirst for adventure you can embark on a rigorous hike, a daring mountain-bike ride or try your hand at archery. If that doesn't spark your interest enjoy a lovely glass of wine at the fireside while gazing up at the spectacular Milky Way. You can sign up for a guided horseback adventure and explore nature in a more eco-friendly way.
Get in touch
kaapsehoopadventures@gmail.com
Pierre on 072-267-6130
24 Degrees South
All true gems in the Lowveld are hidden in the bush. This one is a little farther away on the Klaserie Road (R531) towards Hoedspruit. At the foot of Mariepskop, 24 Degrees South is a vibrant shopping centre under the shade of bushveld trees. It is home to craft shops, restaurants and colourful picture walls for that ultimate, funky selfie. The silk showroom includes the G&G (Godding&Godding) Spa where you will be treated with its special African silk-infused skincare products. Visitors have a choice of savouring a delicious meal at the Cotton Club Café or a quick snack at the Snack Shack. The portions are generous and the sitting area is a colour burst under the trees.
For the kids there is an outdoor chess set and jungle gym. The beautiful collection of classic cars also features Charlize Theron's spidey ride from Mad Max: Fury Road. For those who prefer two wheels there is an exhibit of classic bikes. Guided adventure bike rides in the area are also offered.
Get in touch
24 Degrees South (Facebook)
072-467-3310
Carmel Café
This little White River cafe serves up a hearty pie and delicious home-style treats with your favourite cuppa Joe. If the savoury pastries leave you wanting more, fill that last spot with a creamy slice of master baker Tilly Marucchi's delightful melktert. She also does catering and you can fill your picnic basket with a few traditional venison pies and quiches for your picnic at the next stop. The cafe is situated in Alie van Bergen Street and shares the building with a beauty salon, spa, gift shop and private gym.
Get in touch
Carmel Beauty Hair Wellness
013-750-2693
Lone Creek Falls
In the vicinity of these falls you will find some of the best mountain-bike trails in South Africa. There are several self-guided options available and the picnic area makes a welcome rest stop along your route.
The falls were declared a national monument in 1983. It is one of several well-known falls that spill over the eastern escarpment. Lone Creek Falls cascade over 68 metres into a clear pool and the spray is a welcome cooler after a hard ride on your mountain bike. The walkway to the pool is paved with stones and can be slippery in wet conditions. A small fee of R5 is charged at the entry and the facilities are basic, but clean.

Bike-route options vary from easy – yellow route of six kilometres – to the more technical, difficult rides on the black- and red-graded routes. You will need to obtain a permit to ride in the Ceylon Plantation and surrounds. Permits and route maps can be obtained from Merry Pebbles Resort.
Get in touch
Merry Pebbles Resort
013-764-2266
R30pp or one or two days
R60pp for two to five days
www.sabie.co.za/about/mountainbiking
Shiyalongubo Pass
A vehicle with high clearance is advisable. The gravel road to Shiyalongubo Dam can be found on the Josefsdal/Bulembu Border Post route (R40) towards Swaziland. The road runs along the Shiyalongubo stream.
The highlight along the way is the indigenous forest called Pedlar's Bush. This is a known favourite with birders who come to see if they can spot Gurney's sugarbirds, malachite sunbirds, crowned eagles, Narina trogons, Knysna turacos and chorister robin-chats, to name but a few.

The Shiyalongubo Pass begins once you make a right turn at the T-junction marked with a yellow roadwork sign at the dam. It descends through tight hairpin bends and was rock-strewn and slightly rutted when we explored the route in June. You will pass homesteads and cows, goats and geese roam freely. If the driving is not interesting enough you can go cache hunting. See if you can find the true hidden gems listed on www.geocaching.com.
Get in touch
For more info on passes, visit
www.mountainpassesofsouthafrica.co.za
National Park Butchers
After all your hiking, cycling and adventuring you have to enjoy a braai to remember. This Kaapmuiden butchery is the place to get the goods and it has even been featured on national television. It is renowned for it babalaas sausages, boerewors and biltong. The babalaas sausage was created in 1984 when local partygoers believed the spicy, high-protein delicacy would cure a hangover. The sausages strongly resemble Portuguese/Mozambican chorizo. It contains 70% pork and 30% beef, and is flavoured with spices and chillies obtained from local farmers.

It is then cured by smoking. It can be eaten as is or fried in a pan over the fire. Steven Lundy, a butcher, suggests that we melt apricot jam in a hot pan, baste the babalaas sausage with it, and fry over the hot fire. The sweet basting will tone down the bite of the chilli and bring out the meat's true flavour.
Tip: Chop it up before frying and add to chargrilled sweet peppers and button mushrooms on a bed of quinoa or brown rice. Add soft feta or grated cheese on top.
Get in touch
013-726-0319 or 013-726-0022
nationalparkbutchery@gmail.com
Cocktails at Kuka at Perry's Bridge
Now that you've explored the beauty of the Lowveld by car, bike and or by bicycle, you surely deserve to enjoy a tall, cool umbrella-style drink. We recommend a leisurely drive to Kuka Restaurant in Hazyview. Order a refreshing kiwi daiquiri or awaken your inner pirate with The Zombie. The latter, served in a tall glass, is a heady mixture of four different types of rum combined with pineapple, orange juice and grenadine – a sure-fire way to bring out the swashbuckler in you.
Line your stomach with a good meal before becoming zombified or have someone drive you home!
Get in touch
013-737-6957
The 12th SAI Battalion Dog School
If you are into quiet and abandoned places make your way towards Bourke's Luck. To be more precise, a few kilometres before you reach Bourke's Luck Potholes you will find the settlement of Dientjie. On the northern face of the hillside the bowed roofs of the old army barracks still stand out above the tall grass. The 12th South African Infantry Battalion dog-training facility's last stand is now an empty shell where barn owls flit overhead and escape through broken windows to nest among the rafters. Rumour has it that the bungalows at the bottom of the hill also served as the morgue. They were referred to as "ovens" because of the Lowveld climate. The basic construction was a door, a bowed concrete roof and another window on the far end of the building. The ablutions were in separate buildings and the hot water was supplied via a donkey system. Today a few of the building are utilised as a clinic.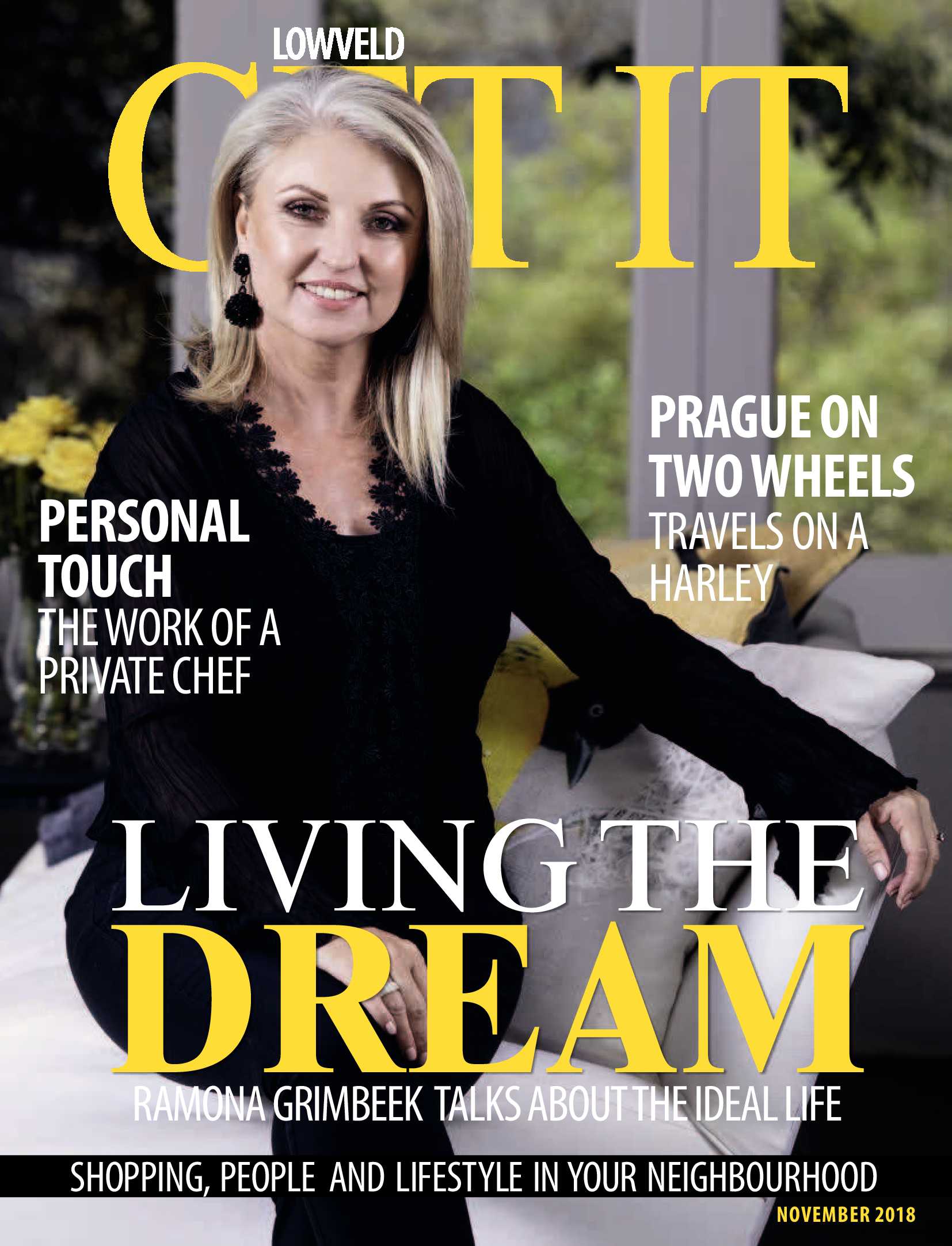 November 2018
The November 2018 edition of Get It Lowveld is online now!
View magazine

November Spoil
When it's this easy, winning a gorgeous timepiece is on pretty much everyone's to-do list.
is a national brand of premium free magazines available in centres across the country.
to see other Get It magazines in the network.