Brewtastic
SABIE BREWING COMPANY
Housed in the original trading store on the main road, here Shaun McCartney brews up a storm, or rather, beer. This establishment has become a regular stop for bikers, tourists and travellers en route to the sites of the Panorama Route and others in the region. Their beers share the table with good fare for the hungry. A few specialities on the menu are homebaked rolls and locally produced cheese. Since meeting Shaun in 2015 his enthusiasm and passion for producing quality, local craft beer have not waned. The unbridled gusto with which he speaks of his craft makes it impossible not to get excited to start tasting.
A new addition on offer is Safari Gold. "Seeing as safari and drinking beer go hand in hand, we wanted to make a drink that holds true to this tradition," Shaun says. Safari Gold is based on a London ale. It is a clear, easy-drinking beer with delicious hoppy floral hints and a distinctive marula flavour. Based on the Glynn's Gold recipe, it has become a best-seller.
"We source the fruit pulp used to infuse our beers, from local juice makers, Bronpro," he informs us. Through the Wild Card series they are able to introduce their discerning customers to new styles of beer and also experiment with different flavours such as marula, apple and a brow-raising hemp, the brewery is sure to cater for customers who expect quality for their hard-earned money. The Monkey Apple Ale is a malt beer infused with pulp. This pink drink is specifically aimed at the female market, Shaun says. This fruit-infused beer is bitter with a touch of appley sweetness.
They recently introduced a beerista course aimed at educating servers and tappers. Future plans include brewing an alcoholic ginger beer, and a single-malt whisky is also on the cards.
Get in touch
45 Main Road, Sabie
013-764-1005
HOPS HOLLOW BREW
Heading up the Long Tom Pass on a misty day is enough to raise your adrenalin levels. Especially when you consider the truck and ever-impatient driver speeding down the hill. A stop at Hops Hollow is all about calming your nerves and quenching your thirst.
The brewery, which was established in 1994 by local brewer extraordinaire Theo de Beer, is owned by Willie Botha. We arrive amid the malty smells of a fresh brew with Willie Botha Jr and Colin Ntshangase stirring the pot. "We currently have five beers on our menu. Four of which are ales and the fifth a lager," Willie Jr explains.
Master brewer, Colin joined Hops Hollow in 2013. "I love brewing beer. I want to inspire others to do the same and want to experiment more. Trial and error are part of brewing craft beer," he beams. Willie Jr explains that theirs are clear beers you throw back with ease.

Tappers Brew is their only lager and this Bohemian-style beverage is equally bitter and crispy. Lagers are typically fermented at lower temperatures than ales. "We like to keep our beers local and supply mostly to local restaurants where the customers are more selective in their choice."
A favourite among the female beer drinkers is Blacksmith's Brew. This Begium Weiss/blonde-based beer's ingredients include ginger and dried naartjie peel. These give it a refreshing, citrusy flavour that goes particularly well with their proper English breakfast.
Hops Hollow has the capacity to brew 2 000 litres per month, ideal for small batches of handcrafted masterpieces. Unpasteurised beer has a limited shelf life and is best preserved in cold conditions in proper storage facilities. Accommodation is available, so there is no reason not to try the other ales on offer. You can enjoy the impressive view of the valley while sipping an ale or two. Or three.
Get in touch
Milstone 22/2 on the Long Tom Pass
013-235-8910
ANVIL ALE BREWERY
We sit on the stoep, sipping a frosty Anvil Ale blonde beer when we meet Theo de Beer. The 67-year-old started his journey in his kitchen and is still as fired up and energetic about beer as he was 32 years ago.
Hops Hollow was his first commercial brewing venture and gave him the time to experiment and learn. "I worked in conservation for the old Transvaal provincial administration and Hops Hollow was a great place to live and brew beer. It had its challenges, but it was where I gained valuable knowledge about brewing beer commercially," he says.
Theo soon found that he had to wear two hats: the one of brewer and the other of businessman. "When you make 20 litres of beer at home, and it is a mess – you can always invite your friends over for a few cold ones. But brewing 2 000 litres at a time is a whole different ball game."
It takes a lot of reading, looking, listening and experimenting to craft a good batch. His philosophy is to stay true to the craft, this gave birth to artisanal beer brewing in Anvil Ale – producing seven unique, quality craft beers, including a limited-edition Belgian Double.
Named Patersous, this winter beverage has a heavier taste and higher alcohol volume than usual ales and a special yeast is used to ferment the brew. It took four years to perfect this recipe and resulted in a tipple with a fuller body and an excellent mouthfeel. Father's Tipple will have you savouring the drink from the tip of your tongue to where it settles comfortably in your bloodstream.

Although the German brewers' Reinheitsgebot ensures that only the best natural products are used, the beer kings – the Belgians – say anything goes, providing it works. Theo also handcrafts seasonal flavoured beers. He only uses local products of the best quality. Anvil Ale has been rewarded with a gold medal at the London International Beer Challenge making him a true master brewer.
Theo guides us through the taste sensations of the beers on offer. It is when we swirl the White Anvil over our tongues that his artist's reputation is confirmed. "We, beer connoisseurs, have evolved beyond spitting it out," he says. To truly taste beer, you have to experience it from the tip of your tongue to the back, and even after swallowing it. From taking the first sip of our white beer and letting it roll slowly to the back of our tongue, we experience the subtle taste of ginger and imported Indian coriander.
"The brewer's craft is exceptional when the drinker cannot single out one specific taste. He will ponder the combination of flavours and aromas long after swallowing the beer."
Get in touch
R540, Main Road, Dullstroom
013-254-0197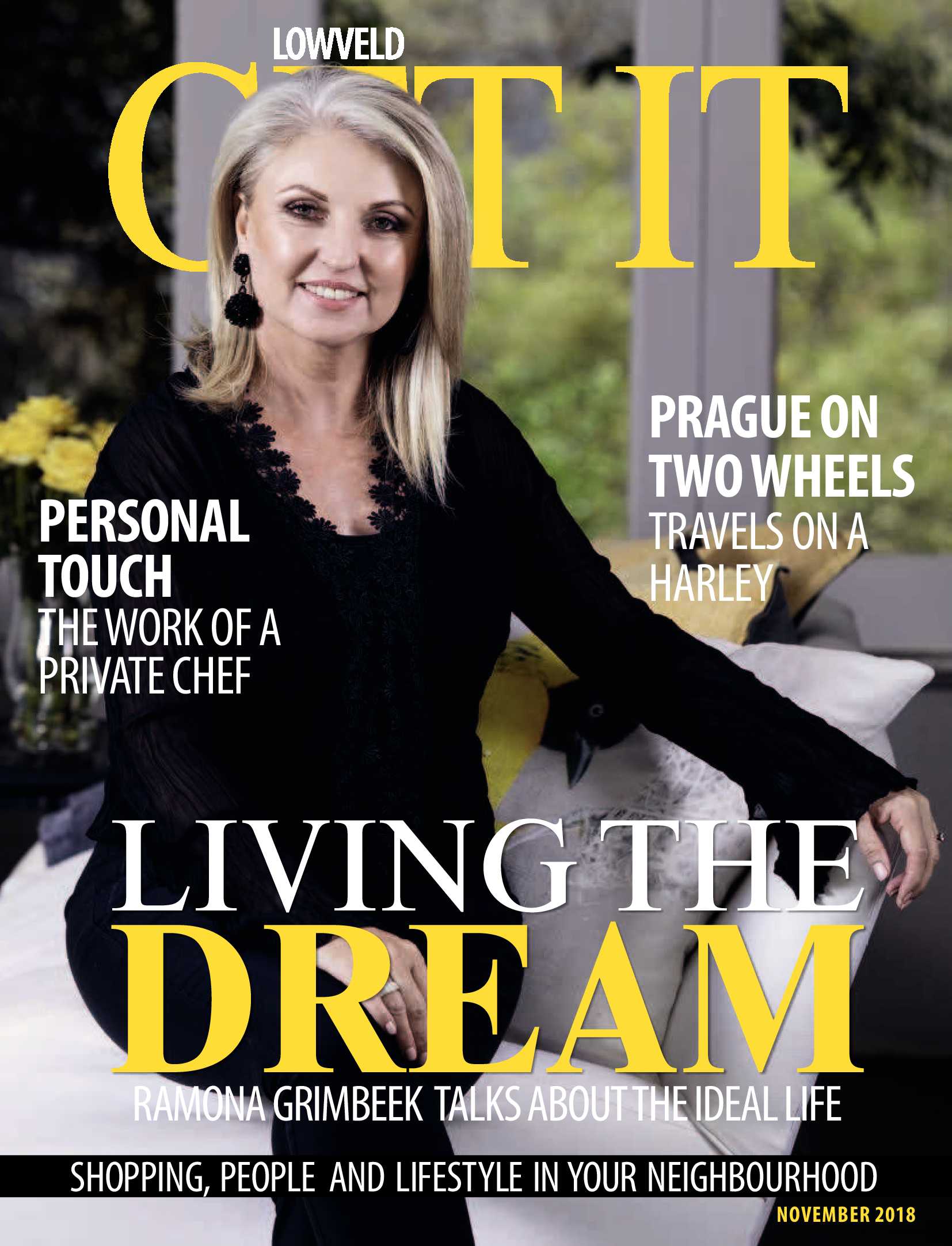 November 2018
The November 2018 edition of Get It Lowveld is online now!
View magazine

November Spoil
When it's this easy, winning a gorgeous timepiece is on pretty much everyone's to-do list.
is a national brand of premium free magazines available in centres across the country.
to see other Get It magazines in the network.