Aim High
She sits with perfect posture as only an avid horse rider would, takes a sip of her cappuccino, and with complete ease and a lively spark in her eyes, she begins to tell us her story…
For Jessica, it was only a matter of time before her mom's, Kraai Kamffer, love of the sport brushed off on her, and she began riding. "I remember my mom telling me her childhood stories of how she would ride the milk cart pulled by donkeys. She taught herself how to ride, and always loved it."
When Kraai went into the army she had an instructor who helped her to become an even more brilliant horse rider. After some time she decided to get out of the army and make the move from Potch, where they had been based.
The Lowveld happened to be the perfect spot, and Kraai was offered to run the stables at Rottcher Wineries in White River. A few years later they bought a farm on the Plaston Road which is now the prestigious Nottinghill Stables. "There were only eight stables which we built in the garage when we started out, and now there are 80," Jessica smiles.
In 1999 she began competing in dressage and showjumping, she recalls. "My first pony was so naughty, I remember my first show with him; I was in the warm-up arena and he threw me off. Then I got Bukkenburg Cabashon, she was a gorgeous chestnut mare, I had her for forever, and competed with her a lot. "
We ask her what it was like having her mom as a riding instructor. "We had a good understanding, when she spoke I knew what she wanted from me. She has always been there for me, and has taught me to make the most of every opportunity."
Soon enough Jessica herself gave horse-riding lessons on the farm. "I started out small, and my mom would give me a few students to give lunging lessons to. I also watched army videos to get my teaching tips," she laughs. "When I turned 18, I did my FEI level instructor's course; I was the youngest to have done it. I've now done my Sanef level one, two and three and am currently busy with module four."
Jessica tells us that her mother has a great relationship with owner of the Brandenburg stud farm, Frank Dittman, and would send horses to them that they'd work, school and sell.
"That's when I got Brandenburg Safari. I got her in 2002, and started competing in the SA Junior Champs. We schooled her from the very beginning. I jumped in the 1,2 metres with her, and got my colours all through the grades. I also went to my first international show in Swaziland, and jumped in the 1,1 metres. Together we won all of the
classes, and I was victrix ludorum."
Her achievements are most impressive, and she has been privileged enough to have participated in countless competitions during her time as an avid equestrian. She has represented the Mpumalanga team, competed at the South African Junior and Adult championships, and was also ranked the top 1,2-metre showjumper in the country, to highlight but a few.
For Jessica horse riding is so much more than just a competitive sport, it's about the connection, and bond she develops with her horses.
I have no fear when I am riding. I feel like I'm on top of the world. It's a connection you have with that animal that is both exhilarating and terrifying, it's not that I'm scared but it's an adrenalin rush.

"You're not in control; it's just this mutual respect you have with the animal. My mom always teases me that I have a love affair with my horse. They are never nasty, they aim to please. As long as you understand your horse, they'll do everything for you. It's about understanding each other."
She matriculated in 2006, and went off to the University of Potch to do her bachelors in human movement science and psychology. She continued to ride while studying, but not as much as when she was living in the Lowveld. She was still competing in the 1,2 metres for showjumping, and was placing in the top three with her horse, Katanga Ixchel. This rider moved to Vanderbijlpark, did her teacher's degree, and honours in learners' support, and began teaching at her current school, Oliver Lodge Primary.
Jessica says there are many similarities between being a teacher and a riding instructor with regard to children's development. Horse riding is a wonderful remedial therapy for kids who struggle.
It focuses on coordination, and having to balance on a mount has been known to help children who battle with maths. Jessica also says animals have an amazing calming effect on children with special needs, emotional cases and those with autism. "I took my class to the stable yard last year, and got them to interact and groom the horses, and they absolutely loved it. It's been the talk since."
She tells us with excitement that she has been approached to be coached by horse trainer, national showjumper and riding instructor, Tarryn-Anne Combrink of Maple Ridge Equestrian Farm."Tarryn is currently doing her thesis in coaching to be able to teach the top grades overseas. She will work with me for eight months to help me improve the technical aspect of my riding and to prepare me for a national show. She's a huge deal. "It's exciting for me as I'll get to go to shows at Maple Ridge, and will be sponsored by her. The judges are international – they're from France and Belgium – so it'll be nice to have my name out there."
She is devoted to being the best athlete she can possibly be and strives to lead a healthy life; she goes to the gym at 5am, five days a week. "As a horse rider, you are an athlete. You still need to look after your body and be fit. It's also important to know how you should be training your body so you can work with your horse. You need to train the muscles you use to ride."
Although her schedule is pretty jam-packed, she still freelances as an instructor at a private stable yard in Vanderbijlpark, six days a week. "My youngest student is seven and my oldest is 65," she laughs.
"I teach dressage and showjumping. Dressage is very important for showjumping actually, you need to have good flatwork in order to be better at jumping. My students compete at shows every three weeks. I have a couple of riders who are jumping in the 1,1 and 1,2 metres."
She also coaches netball and the u/11 cricket boys at Oliver Lodge. "Any kind of teaching is an extremely rewarding job, you don't always see the results immediately, but it's amazing to see over time how they grow and develop."
Jessica still finds time to unwind and enjoy all that life has to offer. She recently married the love of her life, Justin Moreira, and although they are both exceptionally busy with their careers and hobbies, they make time for each other.
"We like going on adventures on our weekends. We got engaged at Afriski in Lesotho, that's a favourite for us. We also like to do the breakfast run on his motorbike."
We asked her, if Justin is also into the horse-riding scene, to which she laughs. "He's scared of horses actually, he's into other extreme sports like wakeboarding and waterskiing, but he's got his things and I have mine. He supports me fully though, he'll drive to shows with me, if he has to tow horse boxes he will, and I love it when he watches me ride. He has a good eye, so even though he doesn't ride he can tell me what I should or shouldn't be doing." There's still so much they want to do as a couple, with travel being at the top of their list.
She is currently competing in the 1,3 metres with White Waters Belton, and although this is quite the achievement, this dynamic go-getter is always looking to her next goal. She aims to compete in the South African Derby, and jump in the 1,5 metres.
"You need to have discipline, patience and self-control. If you don't have these things you cannot perform to the best of your ability. With horse riding there is no place for bad sportsmanship."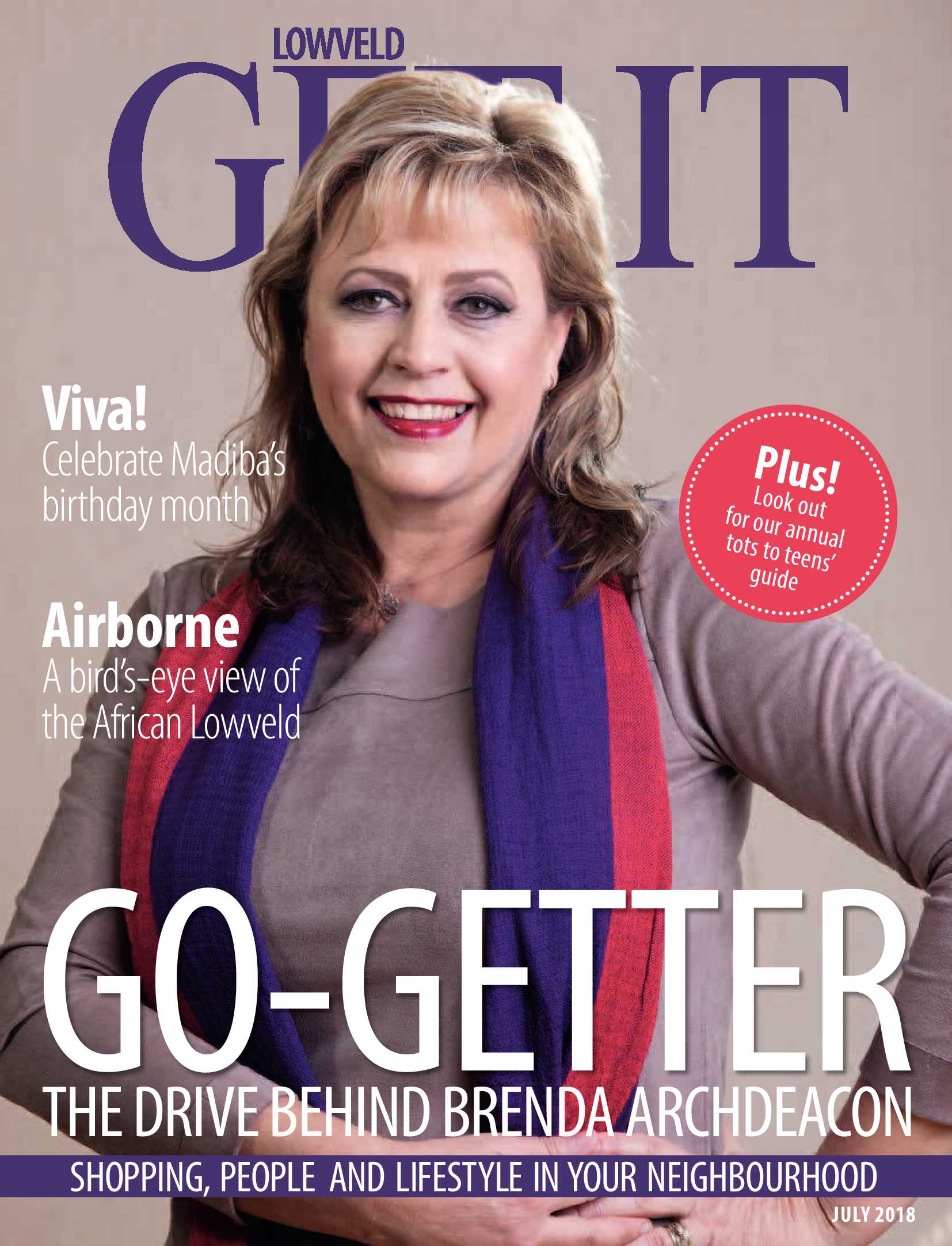 WIN!!!
We have six pairs of high-quality, bespoke shoes from Jackal and Baard up for grabs.
This is Africa
With exquisite scenery and fantastic, five-star service, a trip to Zimbabwe's Victoria Falls Safari Club should be on everyone's bucket list. In just a few quick flights you could be staring into the eye of one of the Seven Natural Wonders of the World.
July Spoil – GUMTREEZ
Because lazy Sunday lunches are just a Lowveld thing!
Glad to go camping
The kids are on their mid-year hols and a camping weekend's on the cards. Woo hoo.
is a national brand of premium free magazines available in centres across the country.
to see other Get It magazines in the network.