Hands-On
Although not originally from this part of the world, Migaul spent his last couple of school years living on the tranquil White River Country Estate and matriculated at Penryn College. "My oupa and most of my dad's side of the family have always lived in the Lowveld, so I was always familiar with the area. I love the mountains and the outdoors, and I believe that this is the very best part of the country to explore. The region offers so much beauty. I made a really great, close-knit group of friends here, and on weekends we'd all go exploring together."

He then moved to Pretoria, and studied a BCom in marketing through Unisa. Halfway through, he decided to take a break, and joined the yacht life abroad. "I felt consumed by the day-to-day routine of normal life. I wanted to broaden my horizons, and travel. It was an eye-opening experience, and completely changed my perspective." He spent seven months on the French Riviera, ticking items like the Formula 1 in Monaco and seeing the Cannes Film Festival off his bucket list. "It was unbelievable being soaked up in that lifestyle, especially for a Lowveld boy," he smiles.
When the season finished up though, he knew it was time to return to reality and finish his studies. "I came home with a completely different attitude and decided I needed to make things happen for myself. My goal at the time was to finish my degree, and finish strong." After graduating in 2014, he began working at a financial institution in Johannesburg, but couldn't really see himself in that line of business. That's when his dad offered him a position to help establish a building development company, Geldenhuys Projects, in the Lowveld.

Migaul and his father, Jakkie, began expanding from one successful development in Mbombela to another. "It was a nice father-and-son project for us to work on, but it took effort and was a lot to learn, it being a completely different industry for me."
I have always thought of myself as a person who thrives in the deep end though. I like to swim with the big fish.
The company is a family business in the true sense of the word, and everyone is involved, including his mom, Hanlie, and younger brother, Etienne.
Migaul does project managing, alongside his father. Currently they are making headway with another housing development, Bikki Wes, in Belladonna in Mbombela, and while all of this has been going on, Migaul has also recently finished a house for himself. "I think as a young person, owning your own home is a dream everyone would like to fulfil. I am fortunate to be in this industry, and was able to build my own. It was incredibly stressful, but what a great challenge."

He admits that he loves entertaining guests and his idea was to create a space where his friends and family could come together, and he wanted it to be completely original. When he couldn't find the furniture he wanted in the stores, he made it himself. The house is the perfect size. It's absolutely gorgeous, and gives off a modern, bold statement.
Migaul follows a healthy lifestyle, and believes that staying fit is key. He spends a great deal of time in the gym, and recently completed the Ironman in KwaZulu-Natal, he also loves to spend his weekends outdoors.

"I am always trying new stuff, I'm erratic like that. I constantly have to be on the move and challenging myself. I'm always up for trying new hobbies, and sports, and meeting new people wherever I can. I love to explore the waterfalls in Graskop, or take the bikes into the mountains, or find bush baths in Kaapsehoop. I'm even collecting bonsai now, which is new for me. Eventually I'm going to have a whole bonsai yard," he laughs.
Migaul confesses that he is also always looking for personal development and growth. "I've pushed myself to get everything I wanted. It's become a natural habit for me, to put my mind to something, and then achieve it. There are always challenges and things trying to hold you back, but at the end of the day you have to persevere and see yourself at the finish line. I want to continue to grow the family business, I think we have a good reputation in the Lowveld, and I have big shoes to fill."
Get in touch
mig911@yahoo.com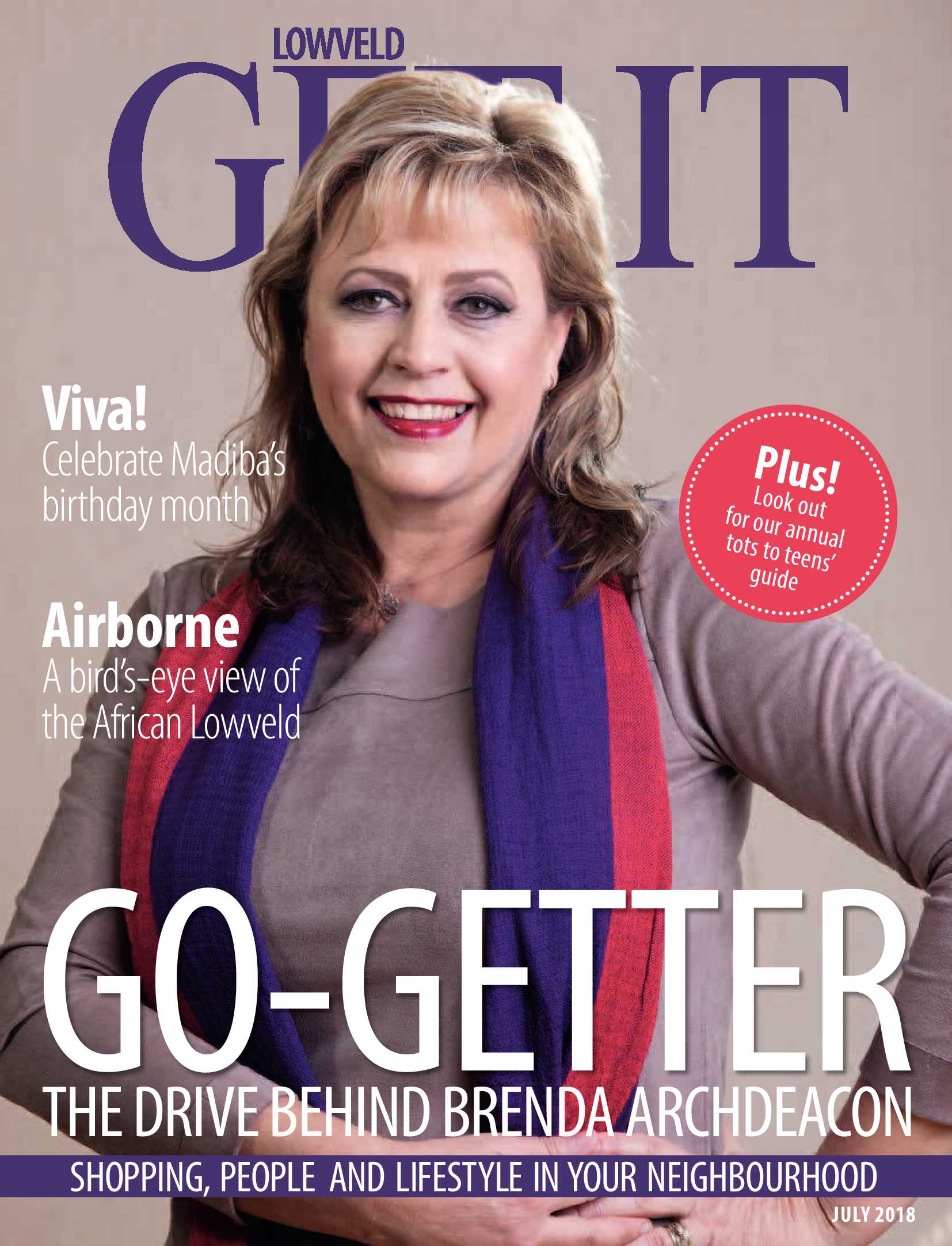 WIN!!!
We have six pairs of high-quality, bespoke shoes from Jackal and Baard up for grabs.
This is Africa
With exquisite scenery and fantastic, five-star service, a trip to Zimbabwe's Victoria Falls Safari Club should be on everyone's bucket list. In just a few quick flights you could be staring into the eye of one of the Seven Natural Wonders of the World.
July Spoil – GUMTREEZ
Because lazy Sunday lunches are just a Lowveld thing!
Glad to go camping
The kids are on their mid-year hols and a camping weekend's on the cards. Woo hoo.
is a national brand of premium free magazines available in centres across the country.
to see other Get It magazines in the network.