Fresh take
Noelene du Plessis
You would easily be forgiven for thinking Noelene might very well be Leonardo's da Vinci's Mona Lisa. But underneath her calm and collected demeanour lies a highly accomplished plastic surgeon with a no-nonsense reputation.
Namibian-born Noelene has lived and worked in a number of places, but fortunately for Mbombela, eventually settled here. She studied medicine in Bloemfontein, did her internship at Bushbuckridge, and then went back to the Free State to do general surgery, which is when she decided to apply for plastic surgery. Not an easy field to get into, Noelene submitted her application and was accepted.
When looking to set up her practice, Noelene and her partner needed somewhere that offered theatre space, which at that time was scarce. She eventually went over to England to work for a while, when the call came that there was theatre space available in the Lowveld, and she leapt at the chance. "Coming from Namibia, which is so dry and barren, this area is a lush, green oasis," she laughs. "I was very happy to make the move."
By definition, plastic surgery has a rather broad spectrum. "Many people think only of cosmetic surgery when they hear about plastic surgery, such as facelifts or tummy tucks. But that is only a very small part of it. The important part for me is the reconstructive aspect, where there is a defect, and possible function loss, that needs correcting. This can happen after cancer or injury. Cosmetic surgery on the other hand is to improve appearance or sometimes function."
Noelene is a perfectionist. Sometimes, being left with a scar is not an issue for a patient, whereas she will want to try everything to minimise it as far as possible. "It took me a while to learn that what you may think is acceptable is not necessarily the same as what I want to achieve," she says. "It's a matter of professional pride I suppose. But patient profile is key for me, each patient brings their own element of something personal about what they are looking for, and that is what makes it interesting."
Plastic surgery by its very nature is an extremely defined and precise discipline, one that would require nerves of steel. "Actually, I find social situations nerve-racking!" she laughs, "but when I am at that table, everything goes quiet and I am in complete control. I take it one step at a time. I am more worried about the after, when my patient is in the ward. That part of it is out of my control, and that's what I don't like."
All of this discipline and precision require rest occasionally, and Noelene says it is vital for her to recharge, as is time spent on her own. "I need that, or I cannot function. Finding the time to do so is not always possible, but it is imperative." She also misses doing state work, despite many of the facilities having changed. "The fact that my work, so important in poorer communities, is only being utilised by a very small percentage of the population is a problem for me. The skills are not being put to use where they are most needed, and ultimately, I would like to do more in that line."
She laughs about the outdated notion of a doctor being an older generation male. "I find that there is still very much a perception of a doctor being 'an old oomie with a stethoscope'," she says. "I have had a few patients asking me, very politely, just how old I am, and how many procedures I have done. Depending on the person, I sometimes joke and tell them I watched a video on the Internet and saw how easy it was! That puts them at ease most of the time. It will take a while, I think, to get rid of that perception, but if you look around, so many professional medical specialists are female and young that it's really not an issue any longer."
Noelene loves working with children, although sometimes it is difficult to distance herself from them. "I love little people," she says. "They are so trusting and honest. And so much calmer than adults, it's as if they know you are trying to help them, and no matter how bad it is they sit quietly and allow you to get on with it." She has no plans to leave South Africa anytime soon, which is a boon for the Lowveld. We certainly need more of this particular brand of medical professional!
Get in touch
013 745 7091
Carine Smit
Although new in town, Carine is no stranger to the Lowveld. Her husband hails from White River, and as frequent visitors to this beautiful part of the world, making the move to Mbombela felt like coming home.
Still very new to the practice (she started on September 1), Carine is still finding her feet. "I have been so busy that I have hardly had time to do anything! When I get home it's already dark, and while I have a beautiful view from my house, I have yet to spend enough time relaxing and enjoying it." Carine has her rounds at Mediclinic, and apart from seeing patients is also often on call for emergency C-sections. "For some reason, they often seem to happen at 1am! You just have to be prepared to go in and assist whenever necessary," she laughs.
Carine loves this part of the world and is very happy to have made the move from the Cape to come here, both because her husband's family are here, having since moved from White River to Mbombela, and also because she loves the region.
"I've been in Cape Town for eight years," she smiles. "And I was very happy there, but I'm a Joburg girl, and missed the bush far more than I'll miss the sea. I miss the people and friends I made there, but I'm very happy to be here, I love the Lowveld. What's not to love? It is beautiful, the people are so friendly and of course, the weather is so much better! I was sitting outside with friends a while ago, and they complained about the wind that was blowing, but I hadn't even noticed it."
Carine was offered a position with doctor Johan Botha, who has ties with her family from way back when. He was looking for someone young and vibrant to join his practice, and knowing that Carine had only just finished her studies, felt she would be the ideal person. "I am very privileged to have been offered this opportunity at an established practice," says Carine. "Dr Botha has been in paediatrics for 25 years and is a highly respected man in his field. This is the perfect opportunity for me to learn from someone who has been in the industry this long. Up until now, I have only worked at state facilities, this is my first experience with a private practice, and I am enjoying the journey immensely."
It goes without saying that Carine loves children. "It sounds clichéd, but I have wanted to do this my whole life," she laughs. "Ever since I can remember, this was my dream. I found an old schoolbook autobiography from when I was in standard five a while ago, and it stated that my life's goal was to be a children's doctor. And now here I am." It stands to reason that Carine loves kids, but her favourite ages are the tiny neo-nates, helpless and brand new, and also the toddlers. Age four to five is wonderful because they tell it like it is. "Children of that age just have a knack for saying things exactly as they see them, and they have a wonderful way of looking at the world," she laughs.
And while there are times when she may have to be the bad guy, when vaccination time comes around, for example, she has two large colourful jars on her desk, one full of sweets, and one with little toys and trinkets for the moms who object to sweets. "I have to sometimes resort to bribery," she smiles. "But when they leave here, they always leave happy, and they always leave with a hug."
Carine has two small children of her own, both little boys. Michail (5) and Daniel (3) have had to share their mom with her studies for long enough, and she is now concentrating on her work and children.
"Although I would like to study again someday, I'd love to do an allergy diploma and also investigate ICU." But considering Carine has been studying for 12 years, perhaps some time off to concentrate on her boys and enjoy the fruits of her hard work is definitely in order for this young mom.
Get in touch
013 745 7179
Carike Camphor
This doctor is a pint-sized breath of fresh air. Hailing from Pretoria, she came to Mbombela five years ago and hasn't looked back.Carike's family are from the Lowveld, and she chose to do her internship at Rob Ferreira Hospital for exactly this reason. Having grown up visiting the Lowveld and the Kruger National Park, it was like coming home. Her husband came along too, as the lifestyle suits him to a T.
Carike has wanted to be a doctor ever since she can remember. "It's quite funny," she laughs. "My mother and I were talking about this on the weekend, and I asked her if there was anything else I ever wanted to do and she said, 'No, you only ever wanted to be a doctor'. And here I am," she smiles broadly, dimples flashing.
"You cannot rush me, I like to take my time in my consultations," she says. "I made that very clear from the start when I first began practising here. I believe in getting to know your patient and taking the time to find out their history. I am very thorough!"
Carike runs a pre- and antenatal course for expectant parents as well as first aid courses for parents and nannies, and she strongly believes in patient education. This ties in nicely with her current client base. "After all, how many people know how to do CPR, for example? And with everything that can go wrong, I think it is such a good idea that people learn basic first aid skills, especially for mothers of young children and nannies.
"Many parents panic when their child has a fever of 38,5ºC, and yet this, and many other common complaints, especially in young kids, can be monitored and dealt with at home without the use of antibiotics or unnecessary stress on the part of the parents, which inevitably spills over to the child." Carike loves this aspect of her work, the educating. She feels it is as important as the consulting.
Ultimately, she would love to have her own practice that is more dedicated in her area of special interest being women and children's health. "This is only going to be in the future though," she smiles. "I would like to find the perfect balance between spending time with family and work. I'm not sure how it will work out, but I'm sure it will all fall into place." And Carike's effervescent smile and cheerful demeanour are certain to put anyone at ease immediately.
Get in touch
013-755-4292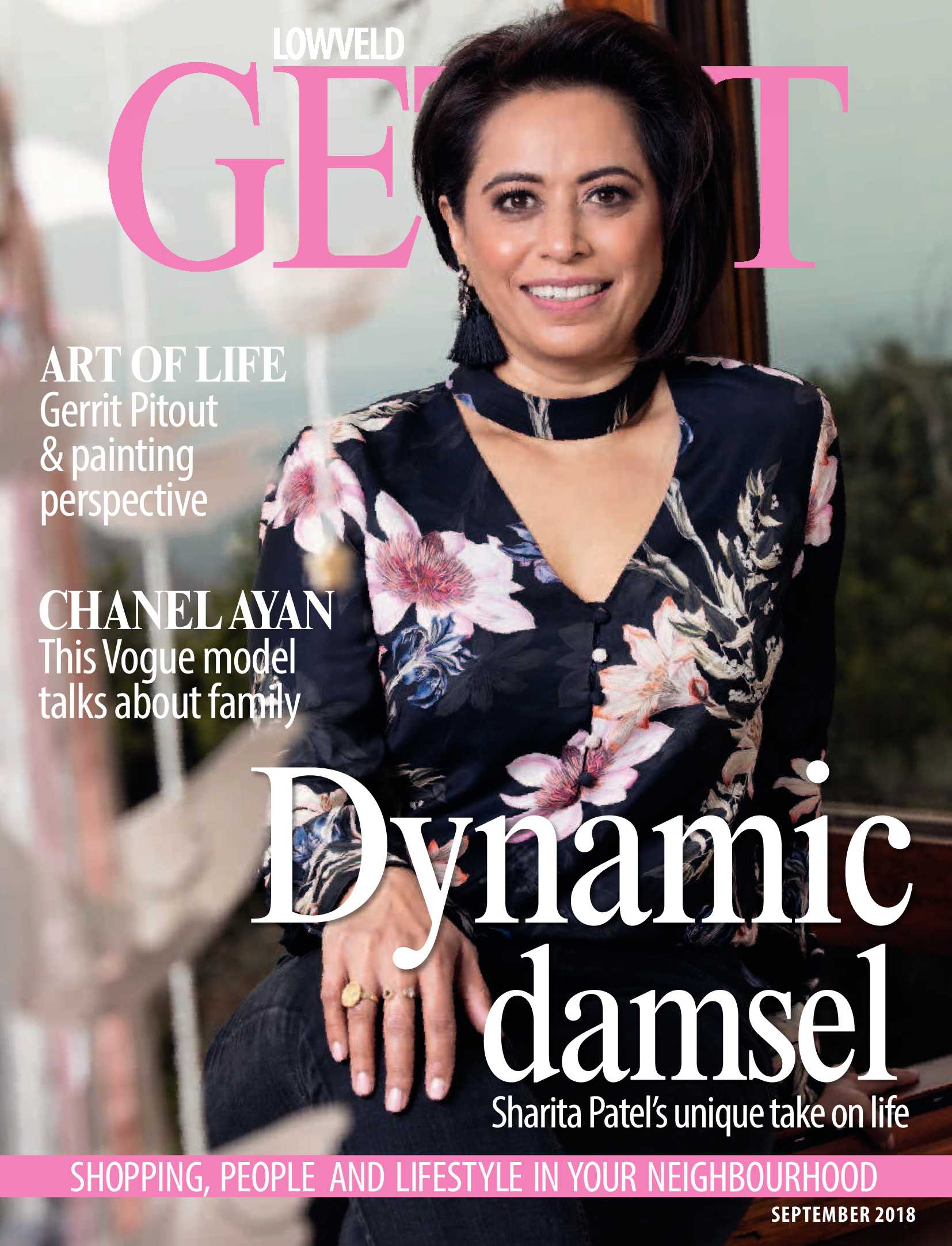 Share the pet love
Entries have been streaming in for the Love your Pet competition and these pets are too precious!
Spoil your locks this September
Time for a fresh cut, for a fresh look.
Happy birthday FAT bastard!
Life, like FAT bastard, should be filled to the brim and enjoyed in large, delicious gulps. 
is a national brand of premium free magazines available in centres across the country.
to see other Get It magazines in the network.