Driver's seat
Born in Bristol in the south-west of England, Adam is one of six siblings. He lived in Wales for nine years but did not find the cold and wet climate to his liking, so at the impressionable age of 21, he headed out to sunny South Africa, where he has been ever since.
Adam started out in the casino industry working on tables in Bristol and after some European opportunities went to the Wild Coast. He was part of the opening crew at The Dome, and then Montecasino, where he stayed for 14 years. From there he went to Gold Reef City for four years, then back to Montecasino.
When the call came for Adam to come to Mbombela's Emnotweni, he jumped at the opportunity. He has been here for six months and hasn't looked back. "I love the Lowveld, the beautiful climate, incredible scenery and of course the laid-back lifestyle. The first thing people said to me was 'welcome to the Slowveld' and I've heard it referred to as 'Snailspruit' on more than one occasion!" he laughs. "I love it though. I love the bush, in fact, I actually trained as a ranger. Camping, walking safaris and time spent in nature are my favourite past-times, and my wife Olivia and I do a lot of walking safaris."
Indeed, Adam proposed to Olivia on a walking safari at Klaserie Private Nature Reserve in what can only be described as a true Out of Africa moment.
Coming from Gauteng, one of Adam's favourite things about the Lowveld is the lack of traffic, and the sense of community is also a drawcard. "Gauteng doesn't have that, you know," he says as a matter of fact. "Over here you find community spirit, a sense of camaraderie and fellowship. "There it is very much a case of 'to each his own', but here it's very different. I went to the Innibos National Arts Festival for the first time this year and expected to be somewhat alienated, but even though it was Afrikaans I never felt left out at all. And I am making an effort to adapt to the habits and idiosyncrasies of the Lowveld, and I have to say, I've been made to feel very welcome.
"And what a fabulous life it is really. I wake up every morning to blesbok and zebra wandering around on my front lawn. Who can possibly ask for more?"
The one cloud to this silver lining is the fact that Olivia cannot join him yet.
Their first child, a baby girl, is due on December 5 – a Christmas baby. Until then, life continues with a lot of travelling to Johannesburg and back.
Adam will join Olivia for the birth, and then both will return here – a prospect he is anticipating with relish. Apart from baby-to-be, this jolly little family consists of three dogs, all Labradors. And a cat, whose name is, rather oddly, Kat.
"She arrived one day and decided to stay. We tried to shoo her off, but she was having none of it. She demanded to be fed, and that was it.
"I cannot believe I'm saying this, much less that I did it, but I drove all the way back to Johannesburg to collect her and bring her here so that she could get settled. She is very happy here, and keeps a sharp eye on me, as cats do."
Recently, a local grade 12 asked to use Adam's car, an F-Type Jaguar, for his matric farewell. This request came via an Emnotweni staff member, to whom he replied that the youngster must do the right thing, and ask Adam himself. Which he did.
The evening was a spectacular success, and the pupil in question had the experience of a lifetime.
Adam took him for a little spin, and it is a given that this is one event that will stay with the lad for a long time to come.
"The point at the end of the day is the old cliché of paying it forward," he says. "Someday, someone may come to him and ask him a favour, and he will remember that someone once gave him the opportunity to do something out of the ordinary, and that will make all the difference."
On the topic, the Jag is a thing of absolute beauty, all sleek lines and smooth perfection. "I love that car, it's just something I've always wanted," Adam says, beaming.
While a suit and tie will always have its place in the world, there is also room for a little more on the lighter side of life, less formal and more approachable go a long way, and in this industry you have to balance that, it's a crucial part of developing community spirit and loyalty, both of which are an essential part of Adam's modus operandi.
So when he's not out there doing what he loves, camping or going on a walking safari with Olivia, Adam can be found expertly managing the well-oiled machine that is Emnotweni Casino and Entertainment Complex.
And when being desk-bound gets a bit much, you might spot him up in the GlassBar, looking out over the botanical garden, admiring the view.
"A beautiful outlook on trees and nature, it is so cathartic." As if to prove his point, a fish eagle glides by as he speaks, giving credence to the idea that Lowvelders truly are incredibly fortunate.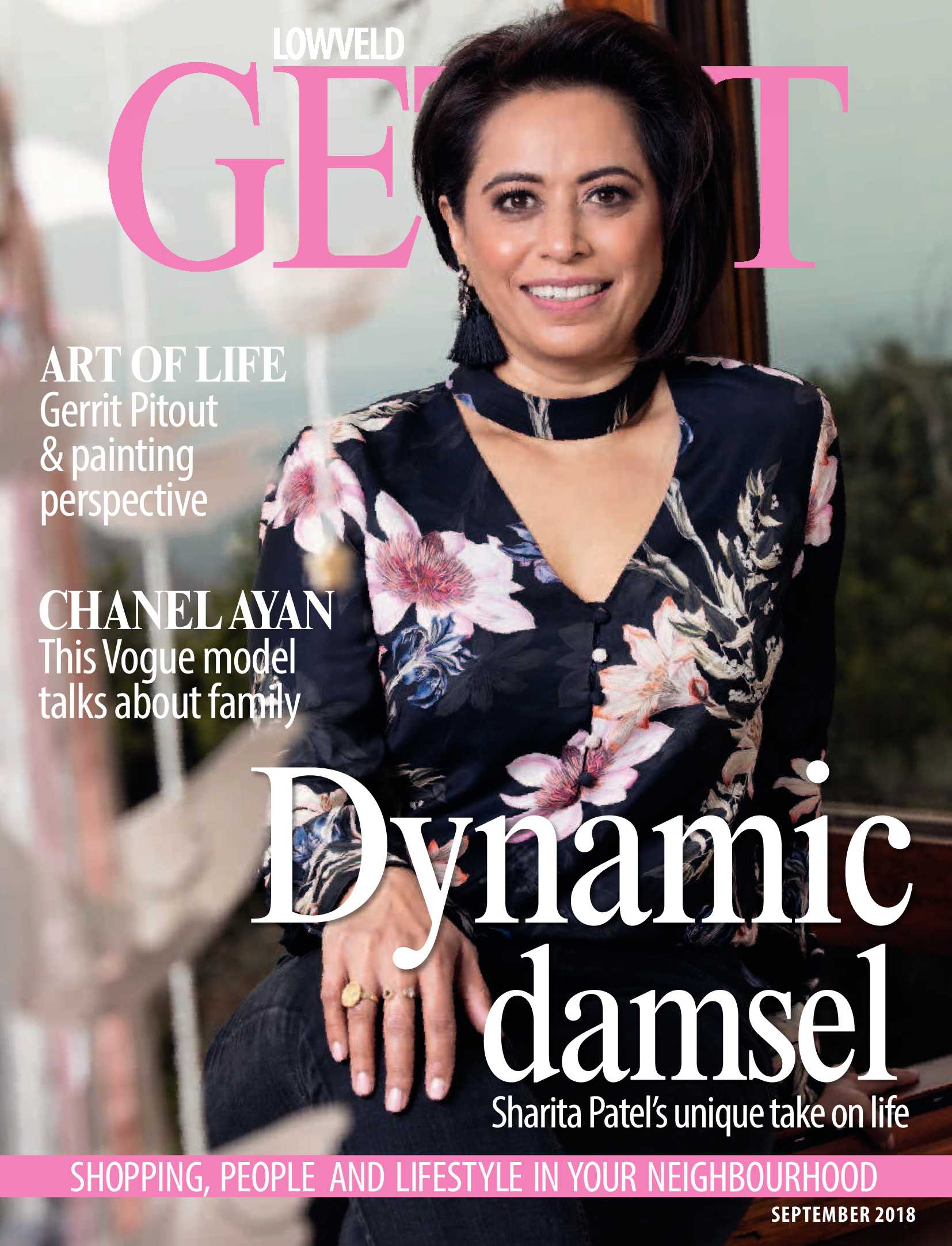 Share the pet love
Entries have been streaming in for the Love your Pet competition and these pets are too precious!
Spoil your locks this September
Time for a fresh cut, for a fresh look.
is a national brand of premium free magazines available in centres across the country.
to see other Get It magazines in the network.