The Midas touch
Twelve years ago, after a career in labour law spanning two decades, Janine was enticed to redecorate a friend's guest house and her life took a new direction. Although never trained in the field, and with no advertising (not even on Facebook), she is responsible for a few of the Lowveld's most stunning home and business transformations, including Ingwenyama Lodge and Orange Restaurant. "It was an opportunity which turned into something else, but what a wonderful change," she says.
A relative newbie to the area, Janine moved here seven years ago, when her husband, Ed, accepted the position of general manager at Macro in Mbombela. Before the relocation, she had only been to Mbombela once and knew very little about this part of the world. "I thought it would be boiling hot and got rid of all my jackets and coats," she laughs. "When we got to White River, I almost died!" Her house, a stylish ode to relaxed, yet organised living, is a reflection of who she is. "One's home is an intimate space and part of your heart," she says. "A disconnected life goes hand in hand with an untidy house."
The perception that decorators come in and simply discard of everything in a home is wrong, she says, and is certainly untrue in her case. "The biggest challenge is not to get what you want, but to love what you have," Janine smiles. The trend is definitely towards minimalism, and although not to her own taste, she enjoys doing it.
The biggest challenge is not to get what you want, but to love what you have.
Everybody is moving towards buying less stuff, but of better quality. Now a client would rather buy one beautiful feature lamp that'll last for years, rather than two or three of a cheaper version. "There is still a budget, but the money is being spent differently," Janine explains. She laughs about clients seemingly getting younger, and says the next generation is not interested in making costly mistakes. Although she's sensitive to ideas, she also believes that saying exactly what clients want to hear, is not doing them any favours. The art is always in the compromise, between all parties concerned, as is making the home occupier's voice heard.
Rather than replacing, Janine prefers to adapt and repurpose, making the most of what people already have. "A house becomes a home when it's filled with things you love – and your taste reflects your character," she says.  Hearing a client say "Janine and I did it" gives her great pride. "I love the empowerment you leave behind, of someone now believing they can do it. I encourage people to come up with ideas or to think: what if?" An organised, disciplined person, Janine is meticulous about looking after herself, believing it reflects self-respect and value.
Two of her three sons have flown the coup, but maintaining a nurturing, easy to live in base for her family is as important as ever. Homemaking is an art form, of which decorating is but a part, she feels. The greatest challenge of her life was years of homeschooling her dyslexic son, nurturing him to successful adulthood. Without her input, his future would have been limited.
At times, juggling a career and her child's needs were near impossible, but in today's world, she says, one has to be able to function in the rhythm of chaos. "I've always been a mom who works on the side," Janine explains, "not the other way around. It was tough, but every experience makes us who we are."
She's about to become a granny for the first time and finds the thought exciting, as it signifies a new phase in her life. Also, her hubby is nearing retirement age, so changes are afoot, but she enjoys new obstacles. They might retire to their home in Knysna, but nothing's set in stone. Janine's ready to go with the flow, wherever it may be. "I'm not anchored to any one place. I've always believed we are where we are meant to be."
Get in touch
Contact Janine on 083-602-6233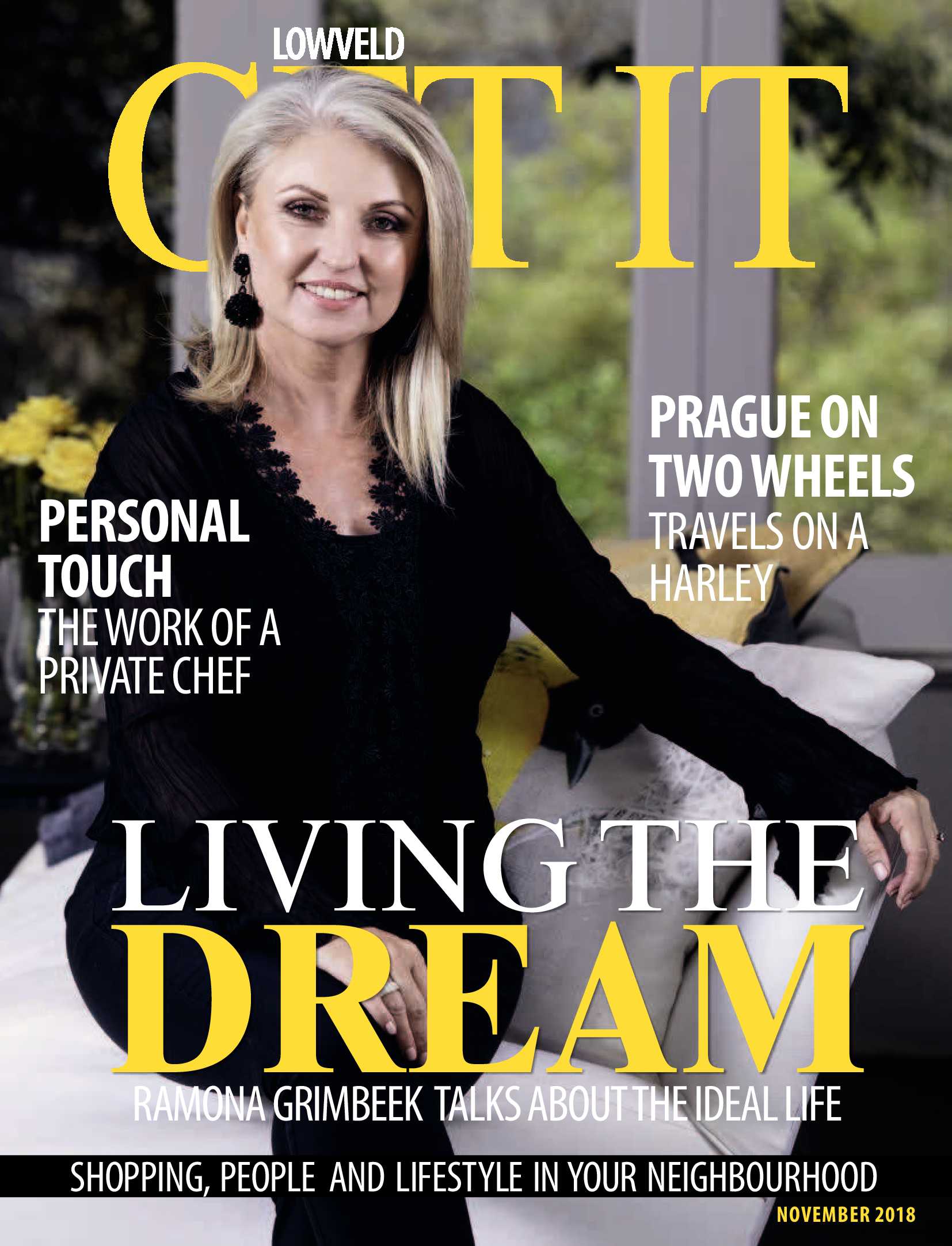 November 2018
The November 2018 edition of Get It Lowveld is online now!
View magazine

November Spoil
When it's this easy, winning a gorgeous timepiece is on pretty much everyone's to-do list.
is a national brand of premium free magazines available in centres across the country.
to see other Get It magazines in the network.