Head over Heels
The Nivens' story starts with the proverbial eyes across a crowded room, but in this case it was a crowded dance floor. "At The Drop Zone in Hatfield of all places!" laughs Nicole, eyes twinkling. This was in May 2008, and they have been inseparable ever since. "The second I saw Nicole, I knew I wanted to marry her," says Craig. He was studying nature conservation at the time, while she was at Tuks, studying teaching.
The couple were married in March 2011, in Gauteng, which is where they were living at the time. However, city life became jaded.
Nicole had spent most of her life in the Lowveld, attending Penryn College, and because nature and the bush are something close to Craig's heart, he thoroughly enjoyed the visits home, to see his mother-in-law in Mbombela. Nicole landed a job at Curro, so the young couple packed up and moved to the Lowveld – a frightening move as Craig did not have a job at the time.
When a stray snake caught the attention of the school, Nicole recommended they give him a call as he had experience removing them, after which he just stayed on.
An opportunity to start up his own enterprise then presented itself in the form of a Slush Puppie operation, and Craig jumped at the chance. Nicole was pregnant with their first child, Ella, at the time, and in July 2013 she handed in her resignation and stayed home to look after their baby. When little Ella was born, Nicole started Always and for Ella, a range of baby kangaroo carriers.
When their second child, Benjamin, came along in February 2016, she changed the name of her range to Ben Ella. Neither Craig nor Nicole has ever looked back, despite being married and starting a family at an early age, they are both exactly where they want to be.
"Marriage for me means security," Nicole muses, "being with that one person you can trust, no matter what, having someone you can always turn to, who knows you inside out, your best friend. The whole thing is that relationships change. It boils down to maturity, to growing together and learning that the small things really don't matter. I will always tell my children that, one day, if you know in your heart that it's right, then do it. But it's equally important not to rush into anything, especially marriage, which should be a lifelong commitment."
Craig agrees wholeheartedly. "Marriage is about someone who I have chosen to be with in this lifetime, out of all others. And it is unconditional – something you don't always realise until it has been tested – that one someone who supports you, no matter what." When Craig left Curro to start the Slush Puppie business, it was Nicole who gave him the confidence to try; she made it clear that irrespective of what he chose to do, she was 100% behind him.
Both the Nivens are keen on the outdoors and keeping fit. Craig competes in the Warrior Race's Black Ops Elite and has recently completed his second one to date. "I love the challenge," he laughs. "And the people who do this event are so encouraging and goal-driven; they are always upbeat and supportive of one another, it's a positive and healthy environment."
Craig also loves birding, and many of his Slush Puppie clients are, strangely enough, on a known birding route. "I recently went to deliver a machine in Komatipoort," he says, eyes twinkling. "The main reason I offered the machine in the first place was because of the birding opportunities in the area! Just this week I spotted two lifers," he grins broadly. Nicole laughs, dimples flashing.
"It's almost as if we have another child, there is Ella, Benjamin, and then the lens. It travels everywhere with us, because who knows when you might get the chance to go birding? But I don't mind, it's better than him playing golf. This is also something that we can do together as a family – the kids love it. And it's a healthy environment, growing up knowing about and loving the wild, like their dad."
It's very obvious that these two people belong together. The easy camaraderie between them shows how comfortable they are with each other. Marriage and being in a relationship is hard work; a good marriage, just like a good friendship, doesn't simply fall into your lap. It requires effort, patience and loyalty, and of course putting up with someone no matter what their bad habits are. And when it's written in the stars, it is just that little bit easier.
Get in touch
Nicole on 082-042-3851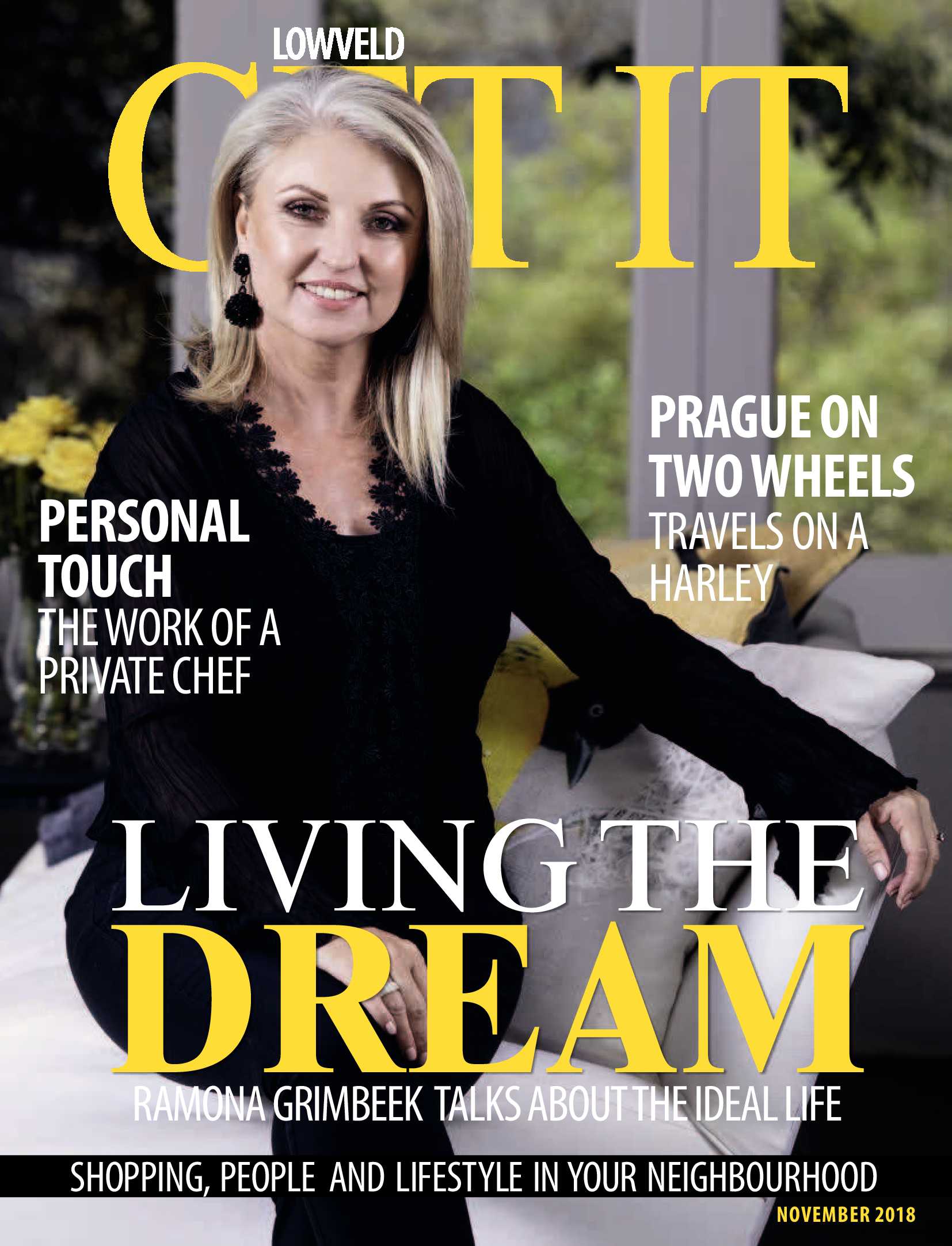 November 2018
The November 2018 edition of Get It Lowveld is online now!
View magazine

November Spoil
When it's this easy, winning a gorgeous timepiece is on pretty much everyone's to-do list.
is a national brand of premium free magazines available in centres across the country.
to see other Get It magazines in the network.