Just Beat It
Up until her diagnosis, Izelle was a self-described sugar addict. "My dad is Dutch and they're chocolate mad. I've lived on sugar since childhood," she says. A teacher at Curro, she grew up in Gauteng, studied in Pretoria and met her husband Johan, a professional athlete and Lowveld native, while working in Joburg.

Their move to Mbombela was swift, prompted by rush-hour traffic. "While we were sitting in the car one day, I turned to Johan and said, 'Can't we just move to the Lowveld?' Within a week, I had a teaching post at Laerskool Nelspruit."
In spite of her husband's profession, she describes herself as lazy and inactive, and kept this up her entire adult life. She had lost family members to cancer, and was aware of danger potentially lurking.
After her first son's, Ihvan, birth in 2008, she had two mammograms, both showing nothing untoward. When she discovered the lump during her second pregnancy in 2011, and it persisted after her second son, Stian, was born, yet another mammogram came up empty. It was only during a subsequent scan that fibroids were identified and a biopsy done.

Izelle was busy at a swimming gala when the call from the doctor's office came. Johan answered her phone: they were asked back for the results. He was told it would be best if he accompanied his wife. At this point, Izelle says, she knew what it was: "It's a sixth sense, an instinct, that something is wrong".
At 37, she was diagnosed with stage 3 breast cancer. By the size of the tumours, it was determined that the illness had been lurking undetected for six to eight years. In younger women, dense breast tissue sometimes masks cancer, making it difficult to spot. Sadly, when it is diagnosed in women under 40, it is often aggressive, as it was in Izelle's case.

Her reaction to the news caught people off guard as her overwhelming emotion was a sense of relief. "I think people thought I was in shock or not fully understanding what I was being told, but I had worse fears, like leukaemia or brain cancer," she explains. Thankful that hers was localised and treatable, she was outright focused on beating this thing, throwing everything she had at it.
On October 28, 2015, on her 38th birthday, she underwent a left mastectomy. Ihvan was four and Stian seven months old. The cancer had already infected 10 of her 15 lymph nodes, but was matched by an equally aggressive treatment: 10 chemotherapy and 25 radiation sessions were followed by a pre-emptive right mastectomy and hysterectomy.

Izelle is a carrier of the BRCA-2 gene, which puts her at an increased risk for cervical cancer. She also decided against reconstructive surgery as it makes the return of breast cancer more difficult to detect, something she doesn't want to risk.
With her mom Isabel patiently crocheting out in the waiting area, she got through chemotherapy relatively unscathed. "I took it well and never felt terrible," she says. "I didn't get depressed or nauseous, but would sleep for three days in a row. I can't describe the exhaustion I felt. It's like being in a coma." It was tough on everyone, but Izelle believes facing cancer head-on, and focusing on a higher power and purpose, got them through.

Profound lifestyle changes followed. With the help of Melissa Wessels, a naturopath at Altmed Clinic, she embarked on a life of healthy eating, eliminating sugar from her diet entirely and exploring natural products to build up her immune system. "I really try to expose my children to more healthy food," she says. Although going sugar-free is a difficult and expensive road to embark on, she believes it's about knowing the enemy's likes and dislikes, and beating it at its own game – and cancer loves sugar.
The story doesn't end here, however. During one of her chemotherapy sessions, Izelle made a glib remark to a fellow patient. Commenting on what she'd rather be doing in that moment, she said training for the Ironman 70.3, a gruelling 113km triathlon, a race her husband had competed in often. "I don't even know why I said it," she reflects back with a smile.

When Johan phoned after completing yet another, he told her that a woman who had beaten ovarian cancer raced on the day. "You should do it too," he said. "And weirdly, I just went 'OK'," she laughs. In February last year she started training and in June, completed her first Ironman 70.3 in a time of six hours 20 minutes. Johan stayed by her side for the entire race and the couple crossed the finishing line together.
"I really didn't know what to expect and in hindsight, I would have walked a lot more," she smiles. Her husband, she says, was relentless in spurring her on. She used the event to launch her "Don't Battle It – Beat It!" campaign, aiming to inspire with her head-on approach. "If my story can change one person's life, I would have achieved my goal," she says.
Fully immersed in a busy life, Izelle is still training, planning many more races in future. "The bug bit me, big time – although I'm still paying off on my bike!" she laughs. The boys keep her busy. Her youngest is a terror, she says, and a constant embarrassment to his older brother.

After 10 years at Laerskool Nelspruit, she made a move to Curro, the smaller school providing a gentler working environment. Her mom and mother-in-law play a huge role in her life, and she's close to both of them. If she has any message to other women, it's to be responsible about their health and lifestyle choices. "Also, trust your instincts. If you think there's something wrong, have it checked out. Do the tests, go for the mammogram… don't be afraid. You'll be surprised at how well you handle it if you do find yourself in that situation."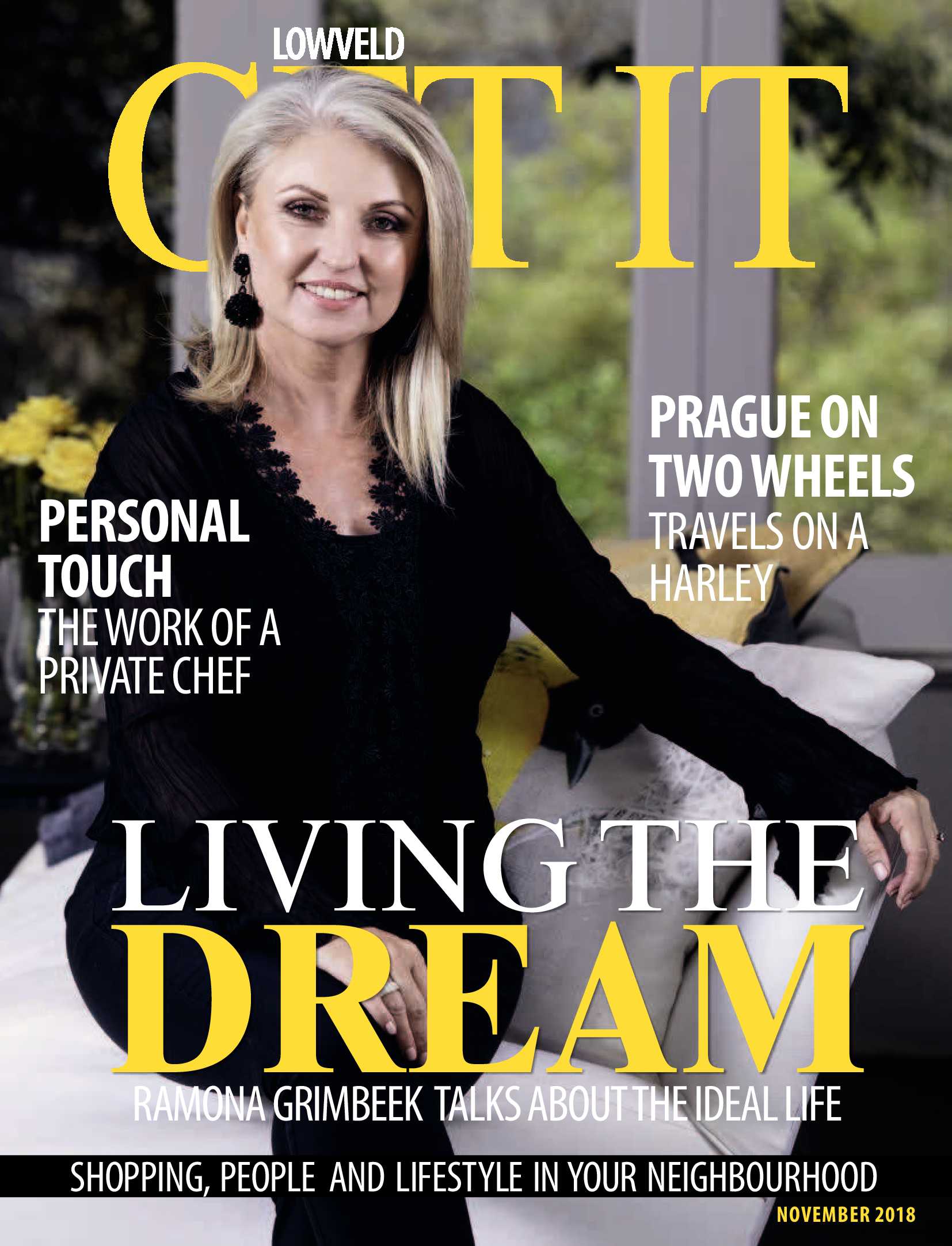 November 2018
The November 2018 edition of Get It Lowveld is online now!
View magazine

November Spoil
When it's this easy, winning a gorgeous timepiece is on pretty much everyone's to-do list.
is a national brand of premium free magazines available in centres across the country.
to see other Get It magazines in the network.