Less is more
The White River-based young mother has put all her energy into a stationery undertaking and called it Underlined Creative. Not quite as simple as it may seem, designing and creating beautiful, bespoke stationery isn't all a bed of roses.
Much of Rozanne's business comes from weddings, and most brides have a limited budget, and of course there are always the clients who want a little more for less, or who are never happy. "I aim to please them all," she smiles. "We work closely together, it is a relationship built on trust and a mutual understanding of what the client's needs are."
Underlined Creative turns one this month, and despite ups and downs, she hasn't looked back. Print and media aren't new to Rozanne, she comes from a 12-year background in the industry, and is quick to say it certainly isn't as easy as it looks.
The work is based on specific criteria and fine details are crucial, for example, knowing the best paper grammage and the perfect weave for the project, as well as the ideal balance between beautiful and affordable.
Finding the perfect stationery isn't limited to wedding invitations or a corporate identity, although branding is everything in business. Birthdays, christenings, special event parties such as sweet 16 or 21st celebrations are also major affairs which require a little glamour and romance to announce them to the world.
By the same token, there is a number of new and innovative ways to go about this, with vinyl cut-outs and Perspex artworks being the new kids on the block.
Rozanne starts out by meeting with her client for an informal chat, to get a feeling for who they are and what would best suit their needs, tastes, and pocket. She will then discuss themes, colours and ideas, putting together a mood board. Samples are used to create mock-ups, and it is always a good idea to look on Pinterest to help with elements, images and colours.
Once three to four different sample types have been combined, a look will start to materialise and together artist and client can choose the one most suited. From there the type of paper will be decided on and then the project is signed off and goes into production.
'Everything has to be just right, and the client has to have complete faith in me and vice versa'
"This is not something you would do if you don't have a love of all things stylish and beautiful," Rozanne smiles wistfully. "My motto is less is more; the classic sophistication of understated elegance, stylish and bold is something that will never go out of fashion and speaks volumes about who you are. It is important to never go over the top and overdo it, it begins to look tacky."
Rozanne also loves to play around with colour and different design elements. "Suddenly something will just click," she says. "For example ripe oranges paired with macadamia twigs, the vivid green and orange set each other off beautifully and are the ideal duo for the fresh, crisp flavour of infused gin. Packaging is crucial! You look with your eyes after all, and first appearances speak from the heart."
She says while it isn't always possible to agree with what a client wants, she tries to advise as best she can, and explain to them exactly why she feels the way she does about what they are specifically looking for. "This is very personal," she says. "You have to trust each other 110%, or else you will pick up trouble further down the line, especially when it comes to a bride.
"Everything has to be just right, and the client has to have complete faith in me and vice versa. You build a relationship with them after all, a crucial one. They need to know that this is just one less thing they need to worry about."
Underlined Creative is already a force to be reckoned with, but Rozanne wants her business to be the "go-to" place if you want to get things done, from a spectacular wedding, intimate anniversary or crisp, professional corporate look. Sabie Valley Coffees recently approached her to redesign its packaging, and the result is a fresh and contemporary take on a well-known and loved brand, and the results are spectacular. There is the definitive Sabie Valley Coffees look, but with a whole new approach.
Rozanne loves challenges, and works on the premise of simunye or we are one. The personal touch is everything, and another vital part of this industry is the social media aspect. "To get your name out there is so important, " says Charné du Plessis, Rozanne's intern who is helping out with this.
"Existing clients can keep track of what you are doing and of course, potential clients get a taste of your particular style of work."
Rozanne is hard at work behind the scenes at the up-and-coming Lowveld Gin Festival to be held at Mbombela in April, and if the current workload is anything to go by, she is going to have her hands full for a very long time. Which is all for the best really, when you set your sights so high.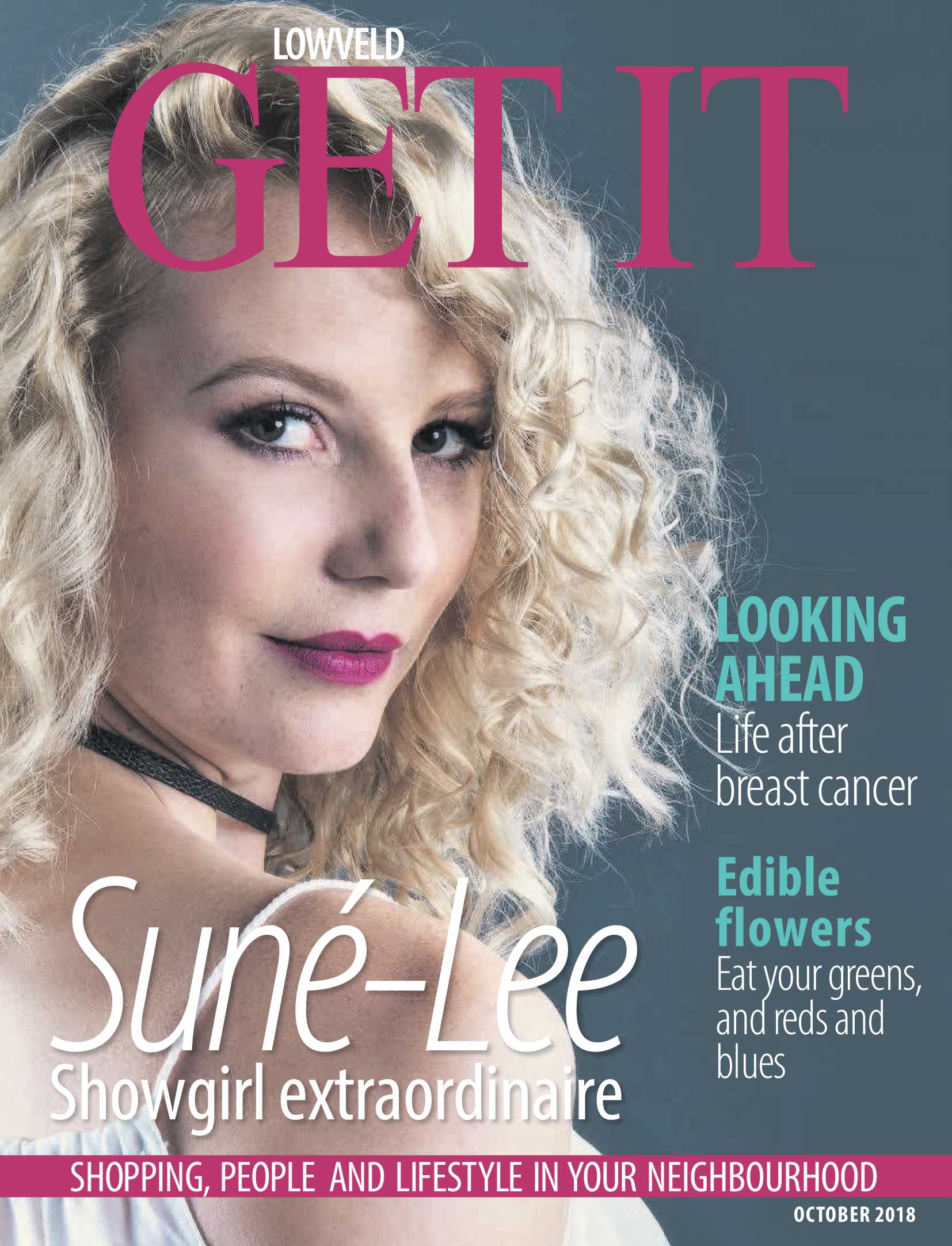 October 2018
This month's fabulous Get It Lowveld magazine!
View magazine

It's burger time!
Most of us love the idea of a burger, no matter what our food preference is, and burgers are certainly not for meat eaters alone.
Our October spoil
With your face to the wind you will feel the power of change this month.
Share the pet love
Entries have been streaming in for the Love your Pet competition and these pets are too precious!
is a national brand of premium free magazines available in centres across the country.
to see other Get It magazines in the network.