On the forefront of beauty
Zeenit loves telling the story of how they met in the corridors of Rob Ferreira Hospital in 2009. A tale of love at first sight, both were doing their community service at the time. She, a local girl who matriculated at Lowveld High, completed her studies at Wits, after which she applied for and was accepted at the hospital closest to home.
Shahien, on the other hand, hails from Cape Town and studied at UCT. After completing his internship in KZN, he applied to hospitals from all over the country – and got stuck with choice number 15, his wife laughs. Not that he's complaining. "I fell in love with the place," he smiles. "There's the Kruger, Mozambique… and at least we have water."
They both dabbled in other fields before finding their passion: Shahien in orthopaedics and Zeenit in psychiatry. However, when they discovered aesthetic medicine, a whole new world opened up
to them.
After watching a TV programme on Botox and fillers, they were fascinated and went off to a congress to find out more. They came back inspired, knowing it was something they could see themselves doing.
Non-surgical aesthetics is a new speciality, requiring skills and knowledge previously not focused in any other branch of medicine. Both doctors subsequently graduated cum laude with an advanced diploma in aesthetic medicine, a two-year course recognised by the Health Professionals Council of South Africa.
To them, improving appearance is not about vanity, but self-confidence. "Think about a woman who spends an hour in the morning trying to hide under make-up. If she can go out with only a bit of sunscreen on her face, it's life-changing. We do little things that are life-changing," says Shahien.
They emphasise not overtreating and sticking to a natural look, saying "frozen face" is terribly last century. "Perception changes the way people interact," Zeenit continues, using the example of a deep frown line unwittingly projecting anger or frustration.
Bags under the eyes are another case in point, making its owner look rundown and exhausted. "Nobody likes being told they look tired," she says. "But lifts are not necessary. These days, we work at a more realistic level."
The first consultation will involve a lengthy chat about a patient's medical history, as well as diet and lifestyle factors. Using a sophisticated scanner, the skin will be analysed and an individual treatment plan will be decided on.
The doctors cover the full spectrum, from teenagers with acne problems and runners with sun damage, to older men, reflecting a move away from the traditional taboo.
What you do at home, and the skincare regimen you follow (or not), is of critical importance, Zeenit emphasises.
There's never a bad time to start looking after your skin, but the younger you start, the easier it will be to maintain healthy, beautiful skin. Their best advice regarding skincare is to use sunscreen, even if you do nothing else, Zeenit says. "The sun is so much stronger now, so it takes less time to get damage."
The couple work hand in hand with plastic surgeons and dermatologists, saying their fields of expertise overlap and are complementary to each other, rather than combative. Their practice in Sonheuwel occupies an entire house, with several consulting and therapy rooms, including space for Zeenit's brother, cosmetic dentist Nazim Sheikh.
Aesthetic medicine is an ever-evolving field and to stay abreast of new technology, they travel to international congresses, where Shahien is often invited to address the audience – a gathering of the best in the world. "He's put Mbombela on the map," his wife smiles.
Asked what they do in their spare time, they laugh: "Research", but enjoy going to the movies and doing "normal things", like visiting the Kruger Park. Once a year, they take a trip to Cape Town to see family.
They admit they aren't magicians, but urge those who are afraid or reluctant, not to be scared to make the first move. "It all starts with a first consultation," Shahien says. "You can't be someone else, but we can help you to be the best 'you' you can be."
GET IN TOUCH
To find out what they offer, visit www.theaestheticdrs.com or call the consulting rooms on 072-893-6132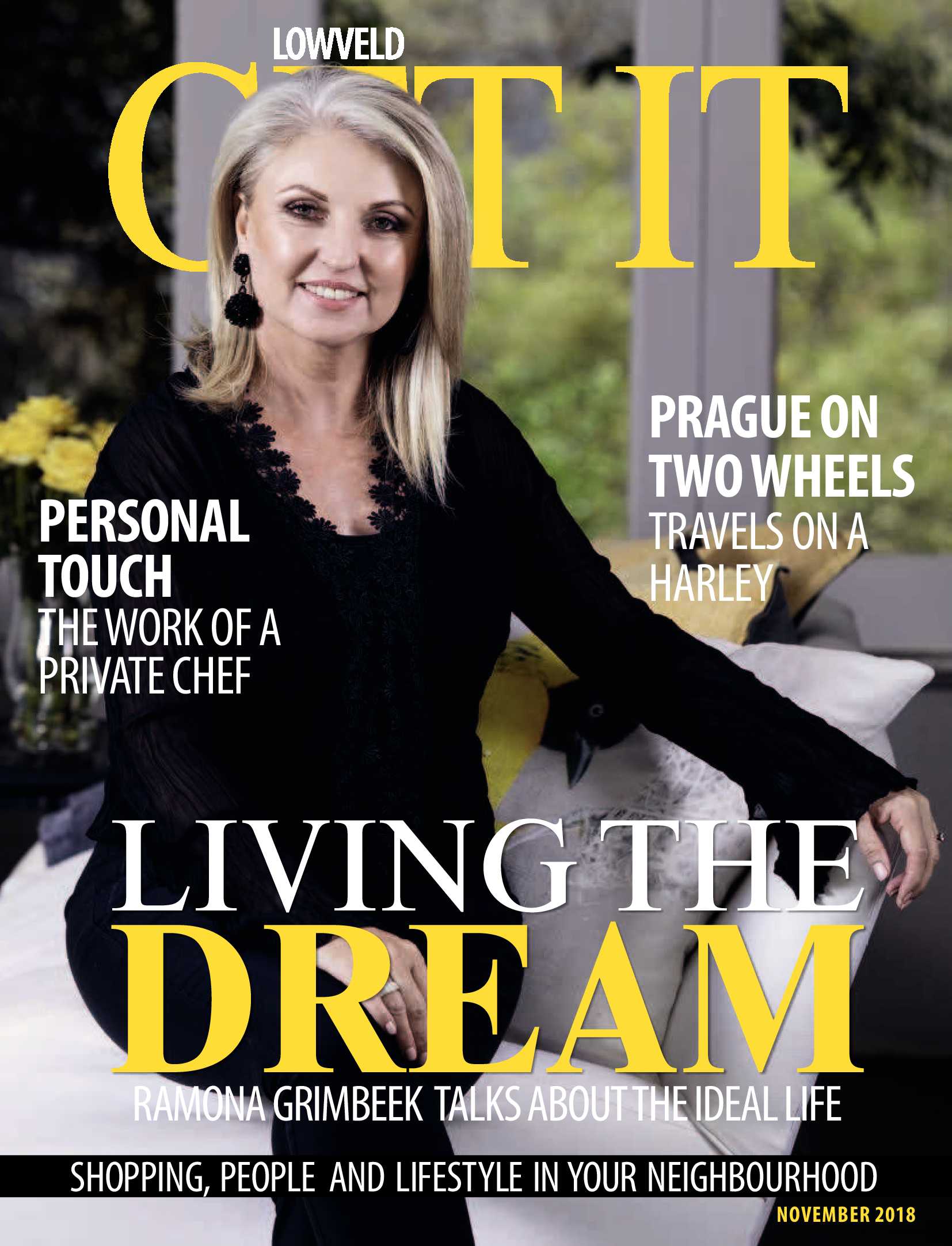 November 2018
The November 2018 edition of Get It Lowveld is online now!
View magazine

November Spoil
When it's this easy, winning a gorgeous timepiece is on pretty much everyone's to-do list.
is a national brand of premium free magazines available in centres across the country.
to see other Get It magazines in the network.