Pain in the neck?
He started on this path when his wife had an issue with her neck and the neurosurgeon recommended drastic surgery, but someone suggested a chiropractor and after three sessions her neck was sorted out.
Rene is quick to point out that this isn't always the case. "I always wanted to study something in the medical field, and after this happened I decided that the chiropractic discipline was definitely the field I wanted to pursue," he smiles. Not everyone understands what being a chiropractor means, and there are quite a few misconceptions floating about. "You need to remember that this is a Western field, not Eastern, and a chiropractor is not here to move energy fields about. Then you should rather go to a reiki practitioner, although there are a few chiropractors who practise in this way, it is not technically what being one means, nor does it follow the tenets of our training."
Part of this training is about teaching the students how to stimulate the joints, enabling them to move the way they should. This, in turn, stimulates the muscle, causing the nerves to respond. Training and experience are the tools of the trade, especially experience. "You need to adjust the position of the joints by means of speed and accuracy, not force. It's all in the fingers!" he smiles. It is important to remember that the body likes to move, which is why people are sometimes restless at night.
"The body moves around trying to find a comfortable position. It is unnatural to lie completely still. It's all about the dynamic and simulating the motion of the joints, not actually moving them. Think of it as a car being stuck in neutral, the bone is stuck and needs to be encouraged to move."
"We do not fix bones that are out of place, and if three to five sessions with me have not yielded some sort of improvement, I recommend the patient consult a doctor, as the cause is most likely something that a chiropractor cannot remedy. Physiotherapy, for example, overlaps somewhat with chiropractic in that both treat musculoskeletal and joint problems, increasing mobility and strength, but a physiotherapist focuses more on maintenance. If a chiropractor wants to see you 20 times, he is trying to take your money, and unfortunately, this gives the profession a bad name, even though it is the doctor who is at fault and not the line of work." The point is to improve the patient's quality of life, not drain their bank balance."
Rene is also hands-on in other respects. His working hours are from 8am to 4pm, but he will even come out at night if the circumstances warrant it. His bedside manner is matter-of-fact and straightforward, he tells it like it is and believes that that is the only way to go forward, in life and as a doctor.
Part of the work Rene does is myofascial needling therapy or dry needling. This makes use of solid filiform needles or hollow-core hypodermic ones to target muscle tension and spasms relating to conditions such as migraines, ligament strain, arthritis and herniated discs. The needles used are similar in nature to acupuncture ones, but right off the bat he mentions that the procedure is not related to acupuncture in any way.
Colic babies also benefit from chiropractic. "Seven out of every 10 babies show a marked improvement after being treated," Rene says, "and if there is no significant change after two treatments, I adjust the technique. Getting a kid to first trust me is my top priority, even if it takes a week of the child and mother visiting and just chatting and laughing to put them at ease, then so be it.
"I don't charge for that, the reward of having a kid open up to me in time, especially one who is in pain or uncomfortable and has been for a while, is worth it. I stress that this is not, and never should be, about money."
People who suffer from stress, migraines and headaches, back pain, neck pain, sciatica, scoliosis and carpal tunnel syndrome, among others, can all benefit from a few sessions with Rene. "And remember," he says, "it should not be sore, and if it is something is being done incorrectly, alarm bells should sound."
GET IN TOUCH
Rene Bruckner on 013-752-4442/
083-574-9022 or visit www.chiropractic.co.za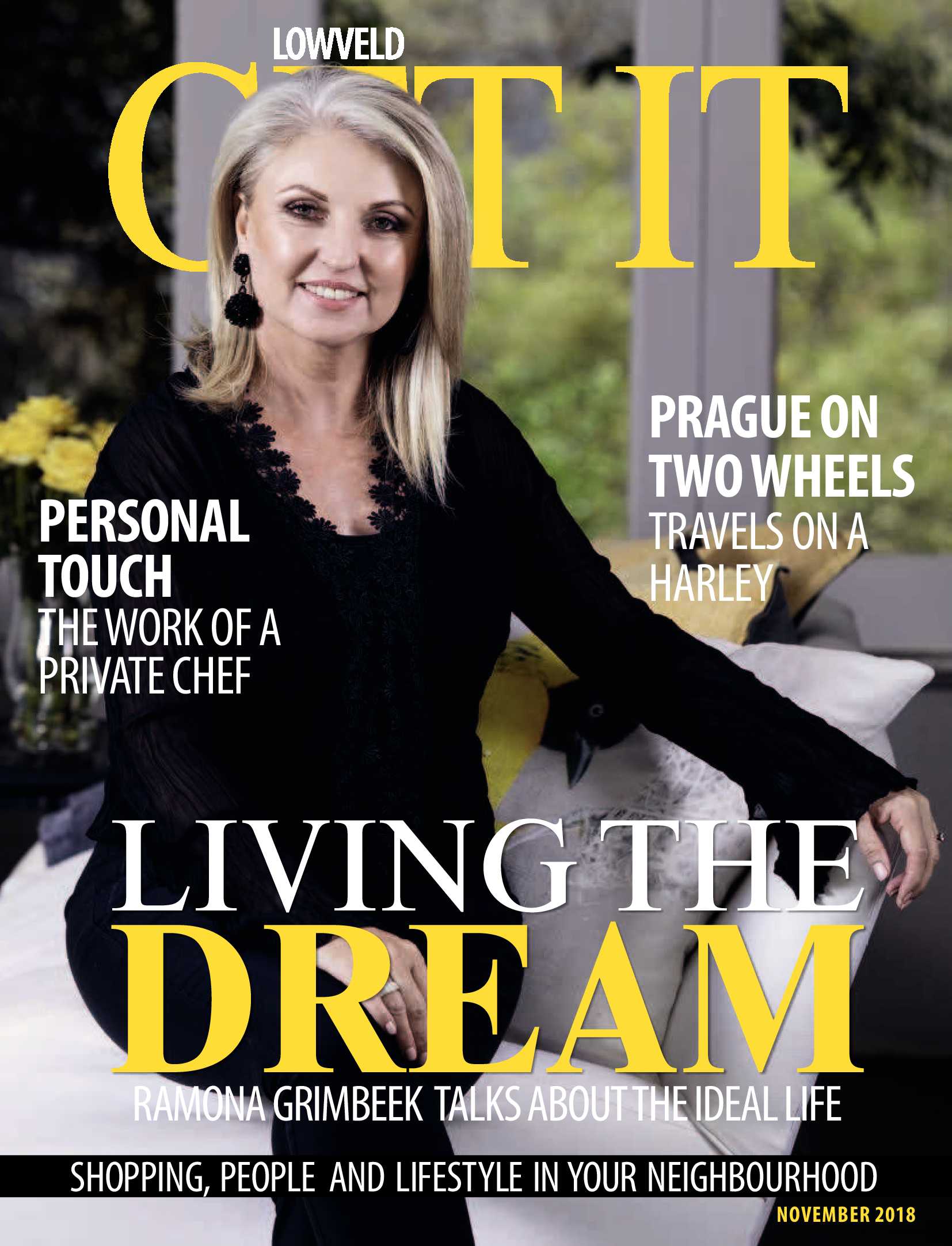 November 2018
The November 2018 edition of Get It Lowveld is online now!
View magazine

November Spoil
When it's this easy, winning a gorgeous timepiece is on pretty much everyone's to-do list.
is a national brand of premium free magazines available in centres across the country.
to see other Get It magazines in the network.