In the shade of the blue gums
The venue, which is situated on the outskirts of White River, was born out of a passion for food, which Greg and Tracey De Bruno Austin have in spades.
After most of the general maintenance and building work was completed in the early months, GumTreez opened, this time more officially, in September 2009. "You have to have a palate for food," says Tracey, "which I definitely do; it comes from a solid background of women who can cook, and cook well. The basic concept of this love of cooking is born out of a love of food, and of course also a more practical need to create a viable income – a business that would put a solid roof over our heads and pay for the school fees!" she laughs.
It is pertinent to mention that this business is no mean feat, nor is it for the faint-hearted. "Surviving in the restaurant world isn't for sissies," Tracey says. "It is an ongoing balancing act of hard work, and constantly ploughing every cent back into the investment you have made. You'll never make loads of money, but I wouldn't change it for anything."
Apart from the challenge of dealing with customers and making sure you get the balance right when it comes to the menu, you also have to worry about your staff, who are like family in many ways. "If they have a crisis, you can be sure that you have a crisis," she sighs. "But what can you do? It's like an orphanage of youngsters, and I am like their mother. And of course, if I can help them then I will do so, because I believe in giving people chances and helping where needed."
Being the mother of two teens, a daughter of 17 and son of 15, means the balancing act extends a little further than that, because now you have to juggle your own kids and your staff. "Fortunately, my kids are tough; they have their feet on the ground. They are like restaurant rats, they know the drill!" They have learnt to love the lifestyle, and have a healthy respect for what goes into making it run smoothly and the hard work it takes to keep it that way – which is imperative to keep a family sane when your working hours are somewhat unconventional.
"And you have to keep reinventing the wheel, you know," smiles Tracey. "Every single day. You have to balance everyone and having a good cop, bad cop is vital to ensure everything runs smoothly. I'm the bad cop! But while getting the balance right isn't easy, keeping it there is even more difficult."
There is also the ongoing maintenance factor, which doesn't come cheap and also disrupts the restaurant's flow. Tracey's philosophy is that you can only please 90% of the people 90% of the time, and also, there are some things which are not negotiable.
Dogs, for example, are very welcome at GumTreez, so if you don't like dogs, then best you go elsewhere, and the same tenet applies to children. There is also a beautiful fat cat, Jingles, who thinks of the deck as his own personal terrain, as he stretches and curls up in his little ray of sunshine as if the entire world was created purely for his enjoyment.
GumTreez has a large and varied menu, with something for everyone. Bestsellers would include steaks, lamb shanks, eisbein and then the chicken dishes, such as schnitzel and cordon bleu. The spring rolls are crisp and delicious, and the ideal snack when something small will do.
"We often review our menu to see what can be taken off and replaced, and which new items can be introduced, but everything has its place and is popular with someone, so we end up keeping most things. It has taken us eight years to build up a name for ourselves, and develop our regular customers. That's hard work, long hours and dedication."
There is obviously also a definite impact on family life. You're often run off your feet, and of course, there is the social aspect of constantly interacting with your customers and making sure that everyone is happy, including staff.
"Sometimes things slip through the cracks and something goes unnoticed because your focus is often elsewhere when it comes to your kids. But with a good foundation you get through it, which is sort of what life is all about. You get through it, and at times it's necessary to toughen up a bit."
Go along to this chilled and laid-back vibe under the shady blue gums. We recommend a large, ice-cold G & T with pink tonic and a sliver of citrus or sprig of rosemary. Or of course, a tall frosty glass of beer to while away the hours as the wind blows softly through the trees and the kids climb the wall or horse around on the jungle gym. One thing you can be sure of, the GumTreez family will always make you feel at home.
GET IN TOUCH
Contact them on 013-750-0334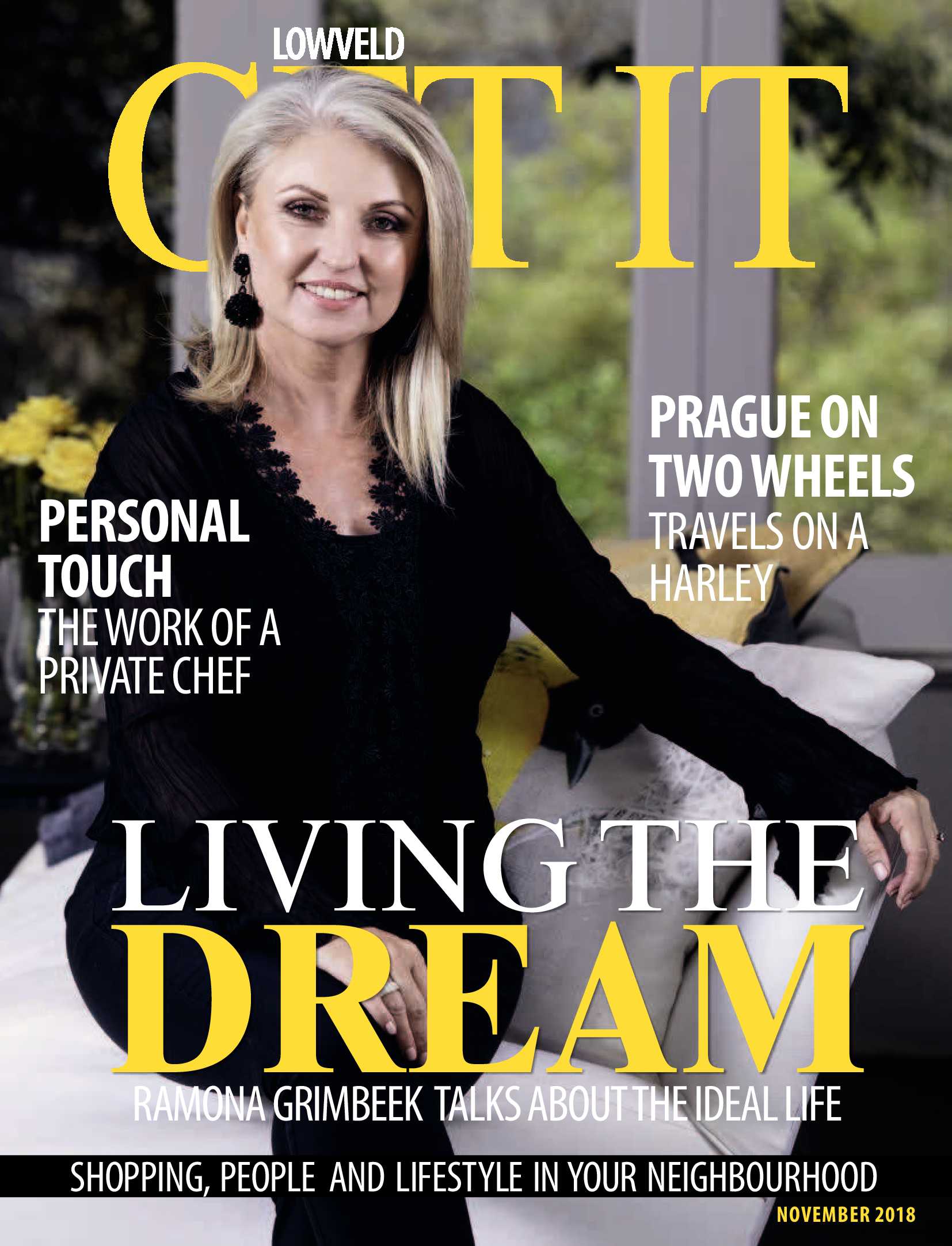 November 2018
The November 2018 edition of Get It Lowveld is online now!
View magazine

November Spoil
When it's this easy, winning a gorgeous timepiece is on pretty much everyone's to-do list.
is a national brand of premium free magazines available in centres across the country.
to see other Get It magazines in the network.