Written in the stars
Sandra was still doing her degree in commercial arts when she decided that she didn't want to be the one drawing the pictures, but would rather conceptualise the ideas. The story of how her path crossed with that of Andy Lubbe, Innibos festival manager, must have been fate. Andy used to have a band in Mbombela, and Sandra was participating in the same show as them. The girl who was his singing partner fell ill, and he asked Sandra if she would join him on stage. Their voices were an immediate perfect match. "For years, we were Nelspruit's wedding singers," she laughs.
When proposed plans for a Lowveld arts festival were laid on the table, it was a foregone conclusion that she and Andy would join forces. At that stage in her life she had managed her own marketing company with a partner for more than 12 years and knew the ropes of the trade. The first Innibos took place in 2004, and it was soon clear that they had the winning recipe. For two consecutive years, it won most popular arts festival in South Africa at the Fiësta Awards.
Don't be fooled by this businesswoman of note though. Like a typical ouma, she grabs her cellphone to boast with pictures of her three grandchildren, Evan (7), Jani (2) and Karli (5 months). She and her husband Kobus, a professional town planner and valuer-turned-developer, have three children. Lindi, the eldest, followed in her father's footsteps and became a town planner – she is also the mother of Sandra's three grandchildren. Her two sons are Francois and Louis. The latter, her youngest, has studied law and is currently working in the banking sector. "My three children are as different as chalk and cheese, but we are very close, and they are all wonderful friends," she says.
Sandra's love of the arts comes from an early age. "As a child, I always knew when someone was at home because there would be music playing. My mother sang beautifully and loved acting, although she never had the opportunity to do it professionally." She is delighted that Francois, her middle child, who is an actor and well known for his role in the Afrikaans movie, Vir die Voëls, has inherited his grandmother's talent. Unfortunately, she died when Francois was only two years old, but this passion for entertainment was clearly in her blood – and is now in his.
Sandra and Kobus recently travelled to Iran. She laughs and spills the beans that hubby actually is the one with wanderlust. He doesn't only have a few destinations on his bucket list, in fact he wants to visit every country in the world and has already ticked off quite a few places. "Iran was a fantastic experience," she says. "I think I enjoyed it even more than Kobus did. It was an incredible destination, everything has the most beautiful detail. "Iran, or Persia as it used to be called, has such a rich history and the Persians are truly highly elevated people." One of the things Sandra likes to do is to collect carpets from the various places that they visit, and this time was no exception. "Of course, no one can go to Iran without bringing back a beautiful Persian carpet!" she laughs heartily.
Innibos is surely not the only thing that makes this woman tick. I'm sure a clever man once said, if you want something done, you need only give it to a busy person. Sandra is the epitome of this. Although it takes fine planning to make sure she has enough time for anything other than Innibos, she is involved in a number of other projects. Sandra is one of the non-executive directors of the Kruger Lowveld Chamber of Business and Tourism, which is something she truly enjoys. Lindi has established an article 21 company that offers a life skills programme for primary school girls and Sandra helps arrange speakers and visits the girls once a term, taking along gift packs. "At a certain stage in my life I felt I was a bit overwhelmed with all the things I was doing, but then I realised, if you have a passion for something, you just have to do it. You only have one life, and instead of complaining that you don't have time for something, make time for it!"
She has also been involved with CANSA for many years and organises the annual spectacular Night of 1000 Stars, in aid of the association. Sonpark's restaurant area is transformed into a festive atmosphere with twinkling lights, tables filled with people and splendid food, and every year sees a different theme to make the occasion that more memorable. This year everyone can look forward to a Pirates and Princesses evening.
Regarding Innibos, Sandra feels that 2018's programme is the best one yet. "I am so excited about it. The entries for the craft competition have already closed and more than 1 000 items were entered, all of an exceptionally high quality. The book lovers will be happy to hear that this part of the programme is more substantial than in previous years, and the stage shows that are being brought in are the best available on the circuit," she enthuses. Art lovers can also look forward to a royal display of wonderful landscape pieces, coincidentally also this year's theme. And as usual, there will be music to suit every taste.
When asked what makes her truly happy, the answer comes without hesitation. "If the people around me are happy, I am happy. Life itself gives me so much joy. No matter what comes my way, I grab the opportunity, and only afterwards wonder, 'What on earth made me do that!' Then I wait for the next adventure or joyride," she muses. "You need to find enjoyment in the little things, and in everything that comes your way. Life is way too short to spend any time being unhappy!"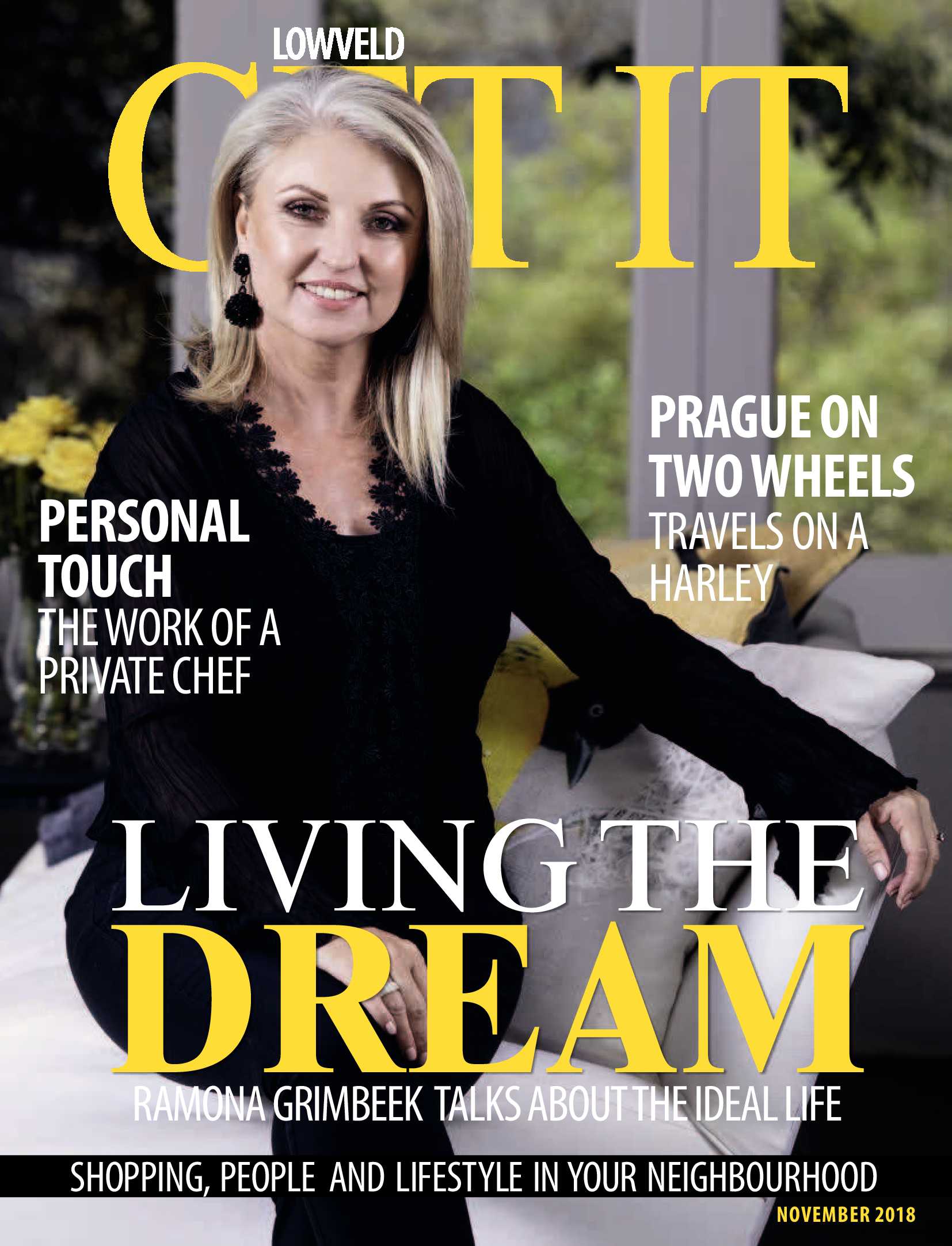 November 2018
The November 2018 edition of Get It Lowveld is online now!
View magazine

November Spoil
When it's this easy, winning a gorgeous timepiece is on pretty much everyone's to-do list.
is a national brand of premium free magazines available in centres across the country.
to see other Get It magazines in the network.