Fabulous at 50!
Brenda was born and bred in Mbombela where she first attended Nelspruit Primary and later on matriculated from Lowveld High. She now resides just outside White River with husband Eric and their 17-year-old twins, Cray and Sara. Eric designs and manufactures wrought iron lifestyle products and according to Brenda, he harmoniously balances her extremities with his more introverted personality.
Brenda and her eldest daughter Megan Palmer, who holds an honours degree in psychology, own Performance by Design – a business specialising in personal growth. She describes her job as exactly what she wants in life and counts herself blessed to be living her purpose. "Our goal is to reach as many individuals as possible, making a difference on a whole new level," she beams.
But Brenda has not always been doing what she does best. Six years ago she lost a business and established an events planning company. "About four years ago I organised an event for the Independent Schools of South Africa. I asked Mel Tomlinson, owner of Performance Booster, to present a vision board session and she gifted me a spot on her next workshop to say thanks," she smiles. "Six months later I decided that this motivational work is what I want to do." At the end of that same year, she bought the Performance Booster licence and started her journey.
According to this 50-year-old, she has not once looked back during the past three and a half years. She fulfils her life's purpose and passion to inspire others, to create awareness and to help people become the greatest version of themselves.
The Performance Booster programme mainly assists companies in encouraging their staff. They maintain that people need to be given the tools to motivate themselves, to affect and change their own behaviour and to make emotionally intelligent decisions.
The business has several national accounts, one of them being Forever Resorts where they have trained managers and heads of department stationed all over South Africa.
As part of the coaching, Megan uses the Enneagram model, which refers to nine different interlocking personality types –
each one representing a model which explains how different people think, feel and act in relation to the world, others and themselves.
Performance by Design has entered into a joint venture with Jenna Clifford; they now present workshops at her Morningside studio. Adding this to Brenda's résumé, you could imagine that she spends a great deal of time away from White River. Luckily Eric works from home and is available to sort out the children and their activities when she is on the road. But it doesn't end there. Brenda has a heart for charity and acts as the chairman of CANSA Lowveld's regional council. She also supports White River Hospice and assists other projects by organising fundraising events. You cannot help but wonder how Brenda manages to balance it all.
Apart from an understanding husband, she has a fine support network of good friends and neighbours. She is also adamant that meticulous time management, planning and good communication are vital to the success of any business. She does, however, put a high premium on recreation and loves relaxing in the bush, frequently visiting Freyja Holistic Wellness & Day Spa at Casterbridge.
Brenda's positive attitude is contagious and we must ask how she stays optimistic in the present turbulent times of economic, political and social uncertainty. "The recent change in South African leadership has definitely brought about a more positive energy countrywide," she remarks.
"Investor confidence is up and the economists are projecting that we should reach or exceed at least 2% growth in 2018." She adds that President Ramaphosa has during his first 100 days in office followed through on his commitment to target corruption and to enforce service delivery. "Through our work at Performance by Design, we have also dealt with several provincial departments which are eager to empower employees to improve service delivery, which is certainly encouraging!"
Her advice to South Africans is to stop complaining, be positive and help those less fortunate. This causes a ripple effect, uplifting the consciousness of communities and ultimately, the whole country.
"This year marks the 100th birthday of Nelson Mandela and his legacy of forgiveness and commitment to service still sets a great example. If we each help one person in need the results will be immeasurable, so do your    67 minutes!"
GET IN TOUCH
Brenda Archdeacon on 082-820-9855 or at brenda@era01.co.za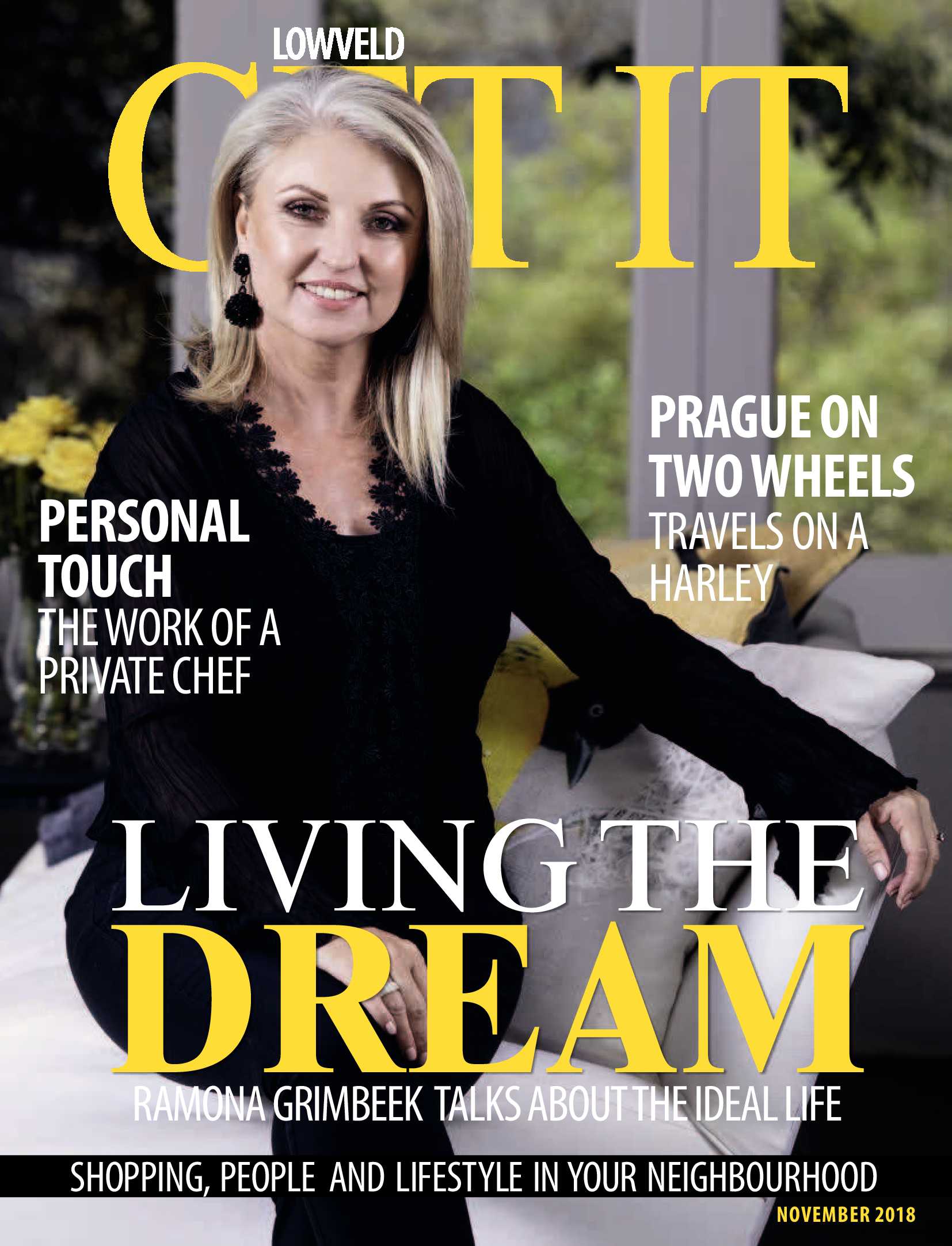 November 2018
The November 2018 edition of Get It Lowveld is online now!
View magazine

November Spoil
When it's this easy, winning a gorgeous timepiece is on pretty much everyone's to-do list.
is a national brand of premium free magazines available in centres across the country.
to see other Get It magazines in the network.