Renaissance man
Charl has been around the block and dabbled in all sorts of mediums. Nowadays, he is known as the graffiti artist, Bru'ster. But do not despair, he is not going to spray-paint any buildings, bridges or walls. He prefers to do graffiti on large canvases, in the comfort of his own studio in Mbombela. These works of art are then sent to Johannesburg to be sold by his agent, Clive Sergey from Alive Art.
Charl is a man of many hats, and the graffiti pop art is simply a new branch of his skill. His career started when he was a 17-year-old schoolboy getting paid for a 20-chapter comic strip for the Vaalweekblad newspaper. During his compulsory national service in 1979, he was sent to Bourke's Luck Dog Unit as the regimental artist and did quite a few projects in Graskop and Sabie. It was during this time that he met a civilian signwriter for Coca-Cola who mentored him on weekends in the fine art of brushmanship. Charl's first job after serving his country was for Lowvelder, where he was a junior layout artist and cartoonist. He soon spread his wings and learnt more about silkscreen printing and various other art forms.
Charl's creations are strewn right across the country, and as far as Angola and Mozambique. His large canvases adorn the entrance lobbies of several high-profile firms, hotels, restaurants and hospitals. "Nowadays people want big art pieces and I love the abstract expressionist style in which I do these works. The markable change in my art came in 2000 when my agent introduced me to an interior designer. We did the interior of two hotels in Angola. For those I did a few big murals. Many people make the mistake of thinking that interior designers only put a few cushions here and there. It is interior architecture and you must change a bare room by adding art, lighting, flooring, carpeting and tile layout, and more. I currently work with three different interior design companies and I enjoy it tremendously," he smiles.
According to Charl, anyone who disregards graffiti as an art form should rethink their stance. Exceptional graffiti artists such as Banksy, who roams the streets of Bristol in England, are wonderfully talented people. What they do is develop a stencil of the piece of art which they then take onto the streets with them. Lookouts are also taken along to ensure they are not caught red-handed.
Wherever the new piece of graffiti is going to be done, they roll out the stencils, take out the spray paint and in a flash the new artwork is on the wall for all to see. Unfortunately, this art is often quickly removed by the authorities, which is why Charl is glad that his works are of a more permanent nature.
"In this graffiti pop art of mine, I use a lot of 20th-century icons – I have always been very nostalgic. To me, it is important that the icon must be positive. You don't want a negative connotation when looking at the art hanging on your wall; we're selling love here. I make use of Marilyn Monroe, Charlie Chaplin, Albert Einstein and a lot of the superhero characters and comic characters. When people look at my art, it must trigger a positive response from their childhood," Charl explains.
When doing these huge canvases, it is important to him not to just add a few random things to the canvas for the sake of it. It should still be in proportion and look like a nice piece of art. When he starts with a new artwork, he has no idea how it is going to develop. The first thing he does is to throw paint at the canvas and sees what comes from that.
In the past, Charl became well known for his amazing wildlife paintings. He created an abstract background with the realistic animals in the front. Right now, he focuses on his pop graffiti art, murals and his nostalgic paintings and drawings of old buildings and cars, which he does in a photorealistic style. Although he usually doesn't plan to sell these paintings and drawings, whenever he puts them on Facebook, people just want to buy them.
He loves the Lowveld. He stayed in Johannesburg for a time, and is quick to say he never wants to go back. He has a wonderful group of friends here, ensuring he doesn't get too lost in his own world. Sometimes he can become quite a hermit, working in his studio – also the living room of his house – with only Smudge the cat as company.
Although Charl knows the hardship of selling paintings on exhibitions, he is glad that things have turned out well for him. "My good friend Richard Spoor recently said, 'We are both in the business of tenacity. Just keep at it. Don't worry about what anybody says and whatever happens around you. Just keep on track and keep at it and just do it well. Eventually, something good is going to come out of it'. So when asked what my motto is, I would say, just do it and do it well!" he laughs.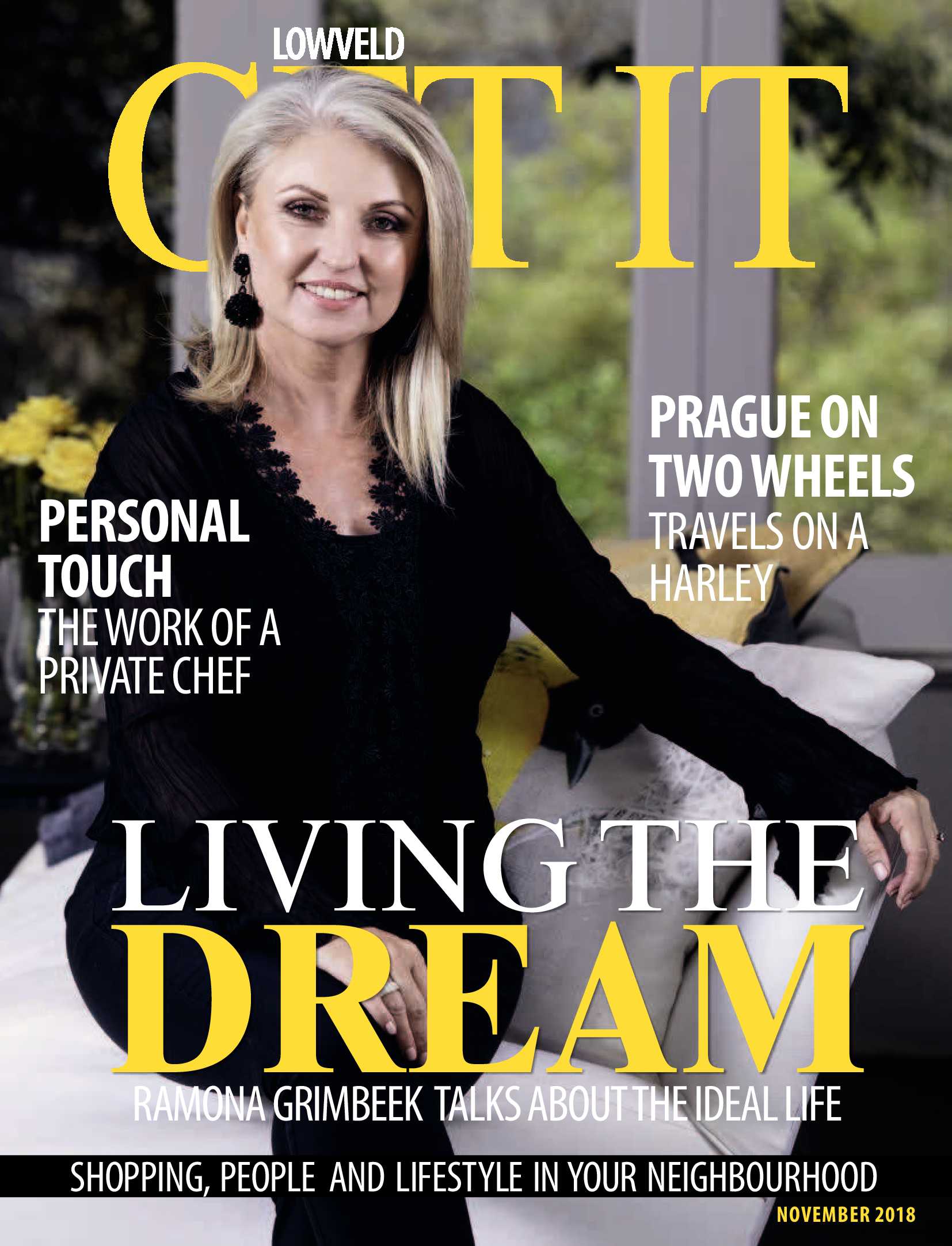 November 2018
The November 2018 edition of Get It Lowveld is online now!
View magazine

November Spoil
When it's this easy, winning a gorgeous timepiece is on pretty much everyone's to-do list.
is a national brand of premium free magazines available in centres across the country.
to see other Get It magazines in the network.