Preggilates: Pilates for moms to be
Any sportsman or -woman knows the pain and frustration of an injury. Lizanne de Villiers is no exception to the rule. While she attended Hoërskool Nelspruit, she was a keen athlete who participated in various sports, until the injuries came along. While working with a physiotherapist, she decided that she would like to become one herself.
During her studies in Pretoria, she met her future husband, Pierre, who was one of her classmates. She brought him back to the Lowveld where they both started working as physiotherapists. The couple are partners in Theron & De Villiers Physiotherapists at LowMed Family Health and Sports Performance Centre in Mbombela.
Lizanne and Pierre are looking forward to the birth of their baby boy in August. On both sides of the family, this will be the first grandchild, and everyone just can't wait for the little one to make his appearance. Lizanne says along with the changes in her body, the biggest change during the pregnancy was to rethink the way to stay fit and healthy. She loves running, cycling, swimming and tennis but had to scale down on all of these activities, except swimming.
While she was a student, Lizanne came across the wonder of Pilates. In her third year, they all had to do a course. It is an exercise that focuses on core strength, muscle toning, body control and flexibility. Pilates takes its name from Joseph Pilates, a German-born émigré who devised the Pilates method as a new approach to exercise and body-conditioning. It gradually became a highly popular way of exercise and soon spread everywhere in the world.
"The combination of Pilates and physiotherapy is excellent," says Lizanne. "A physiotherapist knows everything about the anatomy of the human body, therefore they can be excellent instructors. I would rather see that someone with a back injury do Pilates under the supervision of a physio than just exercising without. I became a Pilates instructor in 2011.
"What I like about it is that it is all controlled. Pilates is about making the correct movement so as to avoid injury," says Lizanne.
When she discovered that she was pregnant, she decided to start with Pregnancy Pilates or as it is also called, Preggilates. She asked a few of her pregnant friends to join her and soon there were enough women to form a class.
Lizanne says Preggilates is a wonderful way to ensure spinal mobility. It also helps with core stabilisation which is necessary if you would like to give birth naturally.
"What I also like about Preggilates is that it is a wonderful way to get relaxed. Another benefit of Pilates is that you become aware of your breathing and we all know how important correct breathing is in the labour process," laughs Lizanne.
Even though she is nearing the end of her pregnancy, she still likes to take her two beagles for a walk on the farm.
The farm near Karino belongs to her parents and they moved there in January. Walking through all the orange and macadamia trees, and seeing a few zebras or blue wildebeests brings a lot of joy.
In her line of work, she focuses on hospital patients who need the assistance of a physiotherapist.
"It gives me great pleasure to be able to help someone in pain. Patients in the hospital are very vulnerable.
"They are afraid and not sure what is going to happen to them. An important part of my job is to calm them down before we can start the recovery process. Just to see someone, who previously couldn't tie his shoelaces, being able to do it, is a wonderful achievement.
"The biggest joy of my job is definitely to experience the gratitude of a patient who can go home without any problems."

GET IN TOUCH
013 741 3825 or 072 610 7648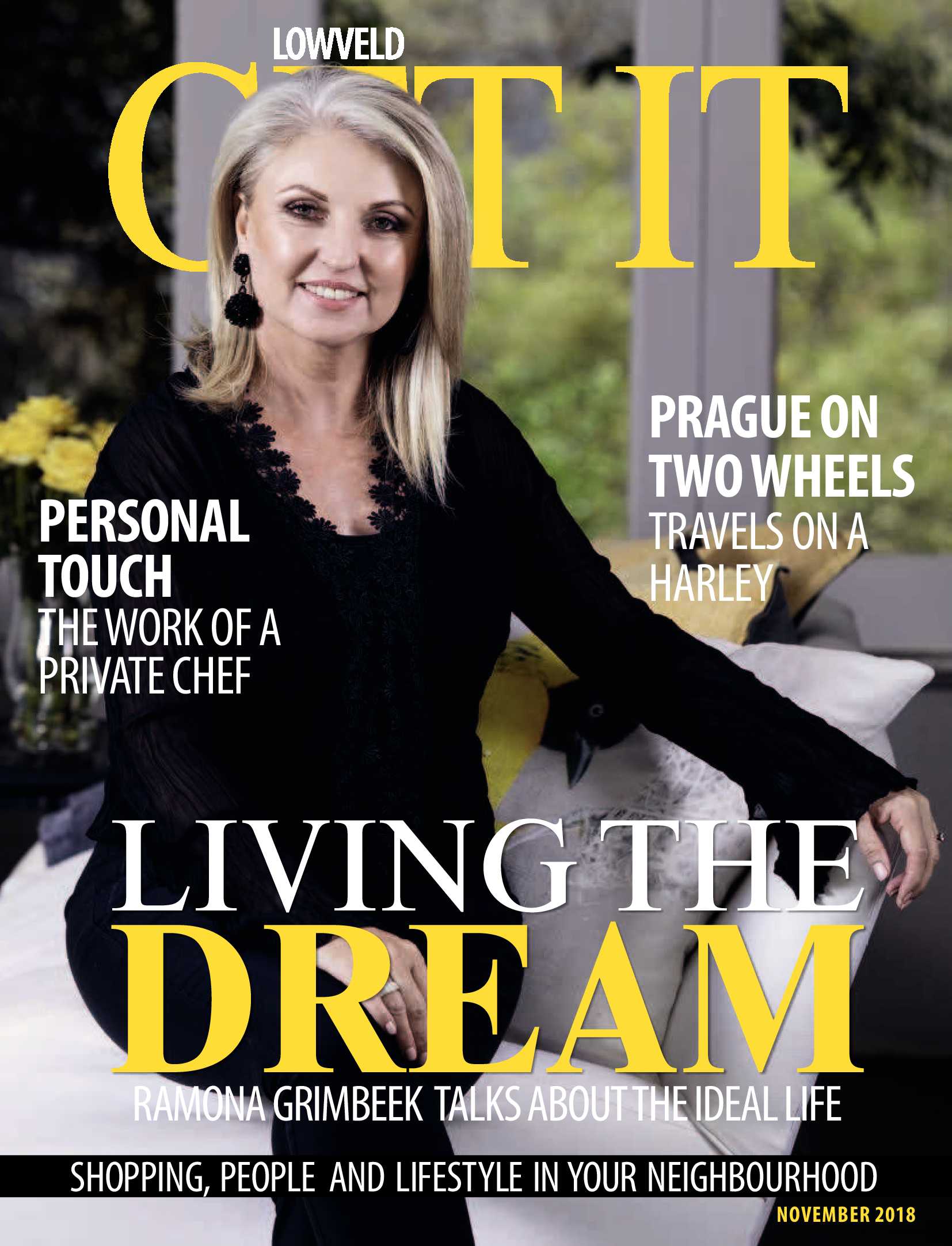 November 2018
The November 2018 edition of Get It Lowveld is online now!
View magazine

November Spoil
When it's this easy, winning a gorgeous timepiece is on pretty much everyone's to-do list.
is a national brand of premium free magazines available in centres across the country.
to see other Get It magazines in the network.