Edge of your seat
With 26 books under her belt, Bets probably belongs on the list of most-published Lowveld writers of all times. She and husband Pieter have been living in White River for 32 years and she describes the Lowveld and surroundings as the ideal inspirational backdrop for writing.
Who is Bets Smith?
I am a former Highvelder who was born and bred in Vereeniging. After completing an education degree at the University of Pretoria, I worked at the South African Department of Defence Archives while reading for an honours degree in history.
Pieter and I got married in 1980 and briefly lived in Hartswater in the Northern Cape before settling in White River, where he was a pastor in the Reformed Church until he retired in 2014. I taught at Hoërskool Rob Ferreira for 27 years until the end of 2016.
I am an enthusiastic fact-finder by heart and love to imaginatively manipulate information into stories.
That sounds interesting. You obviously love research.
Yes, I certainly love research. My days at the DOD Archives and further studies in history were both consequences of this love while strengthening it. The research process usually results in a chain reaction, while investigating one aspect of a story, other facts which could later be helpful or even change the course of a story, come to light. It renders the whole writing process so much more interesting and complex.
The whole life-changing transition from just reading books to writing them also occurred as a result of my love of facts and research. My first novel was suspense fiction in which the heroine was a member of the Defence Force and my days in the army definitely helped to create a credible character.
Don't you also write romantic fiction?
Writing suspense fiction demands strict discipline and much research. When you are a mother of two, full-time teacher and the wife of a pastor, it is much easier to produce lighter fiction.
Romance novels are less daunting and more relaxing to write as there are not so many possible loose ends to consider. Imagination and emotions also play a bigger role and thus it is easier to present a more reliable narrative.
But suspense was, and still is, my first love, and elements of tension are present in many of the romances I have written over
the years.
Kringloop has received several good reviews. It tells the story of a girl being pursued by a stalker. I pondered on the narrative for many years since an acquaintance was horrendously subjected to intense stalking during my fourth year at university.
The whole traumatic ordeal stayed in my mind and last year I started toying with the idea of using it as a theme for a new book.
The story was also influenced by an increase in violence against women and well-known Alison Botha's superhuman will to survive after the traumatic nightmare she suffered in 1994.
Kringloop is my fourth fully-fledged suspense thriller and was preceded by Dodelike Fokus (2001), Skrikkelmaan (2011) and Bloedspoor (2014).
Although the books do not form a series, the same characters make an appearance in both Bloedspoor and Kringloop.
Did being married to a pastor inhibit you in any way?
I can imagine that people may think that being married to a pastor could be suppressive. But I must say that Pieter has been a wonderful husband in many ways. Through the years his ongoing support and encouragement have been indispensable and we make a mean team! I also suppose that being the pastor's wife in a small-town congregation could seem daunting. I am very lucky to say that the church members have accepted me for who I am. A few are even loyal readers of my works and I appreciate their support immensely.
Any books you would recommend?
A writer who does not read must still be born and I am an avid reader. Since I have retired from teaching, I have had more than enough time, between the writing, to catch up on all the books I have missed during the busy years.
I love Afrikaans thrillers and would recommend Chanette Paul, Isa Konraad, Dibi Breytenbach, Martin Steyn and, of course, Deon Meyer, among others.
Over and above these, I have five all-time favourites: Phantom by Susan Kay, Lord of the Flies by William Golding, Shining Through by Susan Isaacs, Mila 18 by Leon Uris and The Ivy Tree by Mary Stuart.
More recently The Puppet Boy of Warsaw by Eva Weaver and Kamphoer by Francois Smith have deeply moved me.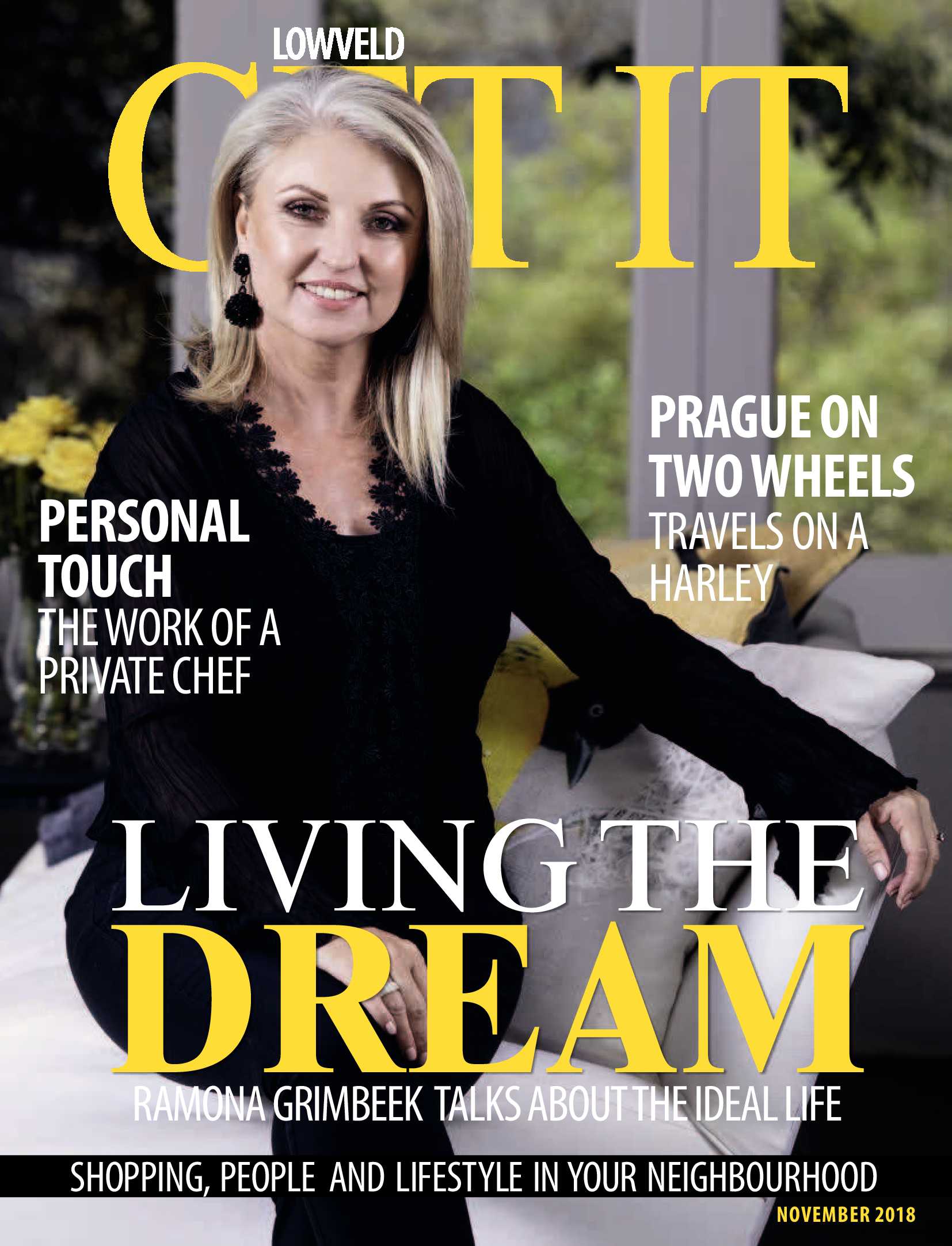 November 2018
The November 2018 edition of Get It Lowveld is online now!
View magazine

November Spoil
When it's this easy, winning a gorgeous timepiece is on pretty much everyone's to-do list.
is a national brand of premium free magazines available in centres across the country.
to see other Get It magazines in the network.