Up, up and away!
Rising early is a crucial part of ballooning, the thermals and other weather hazards are not active yet, and light is crucial to the exercise. A quick cup of tea and it was time to start filling the balloon – an incredible process. As it lifts its head, it brings to mind a massive, prehistoric beast slowly starting to rise, a supple creature with a satin cloak of stained-glass colours draped over its immense body. The massive envelope takes shape and lifts, the basket rises off its side, and then it's all hands on deck.
The ground recedes, and a feeling of exhilaration comes over us, there is nothing quite like this. For the next 45 minutes to an hour, this basket and its inflated dome are our mode of transport, and we certainly aren't going anywhere quickly.
You are so at one with the open space, the world and all its cares and troubles become more and more distant.
"There is not a huge amount of talking up there, the peace and tranquillity are tangible," Manie so aptly says. "We float with the wind and because of that there is no sense of speed, no buffeting, no gusts of air, just you and your thoughts. It's magic with a capital M."
We drift over the magnificent Lowveld, watching the soft blues and pinks melding with the sunrise which caresses the tips of the trees. It's time to listen to this master aviator's tale of distant lands and choices made to traverse the world in a colossal inflatable sphere.
"Aviation has always intrigued and fascinated me," Manie explains, as he pops the cork on a chilled bottle of bubbly. "During the '90s I started flying paragliders and honestly believe it was the most exhilarating thing I had ever done in my life. It is just you and nature; minute inputs have incredible rewards if you read the signs correctly. Unfortunately I had a reasonably bad accident in Middelburg which dampened the spirit for a year or so. I lost my nerve and opted for something where I did not have to rely on my own landing gear – legs and bones are not as strong as you think," he laughs.
"I tried several other forms of flight but ballooning did it for me. It is most probably the closest you will ever get to the proverbial 'magic carpet ride'. It is quiet and surreal. The whisper of the wind on your cheek, the chill on your neck as you go through different air layers, the smoke in the distance, the formation of the cloud above… these are the signs. Question is, can you as the pilot interpret them correctly. Flying a plane is like driving a car: scientific and mechanical. Piloting a balloon or paraglider on the other hand, is an art; you never stop growing and developing."

Manie got his balloon pilot's licence in 2002 but never expected to follow this career path. It took six years to get enough hours to start flying for his commercial operator's licence. At that stage, he was working in the corporate IT world and only flew on weekends and public holidays for reward if and when a flight was available. "In the IT world, the writing was on the wall – too old, too expensive and too white. I had to jump ship or go down, not I!" he laughs, as the gas roars into the balloon and it gently rises up into the blue.
Then, in 2006 he had the opportunity to fly in France, and in 2007 in New Mexico, USA. "The bug had bitten. In 2009 I tried the Serengeti, and in 2010 Cappadocia, Turkey, where I flew for two years. That is an incredible area, with wonderful people, where the Christians hid from the Romans 2 000 years ago. I loved it! Came back to SA, flew here for around two years and then headed off for the red dunes of Sossusvlei, Namibia. Again, a wonderful place, so different to the scenery we are used to. I did three seasons there and in May 2017 settled down in Graskop. I love it here in the Lowveld, the green, the water, and of course loving what I do and doing what I love."
Preparations for a typical balloon flight start around a week before the actual day of departure. "I check and clean equipment, refuel gas cylinders, and start keeping an eye on weather movements via the Internet. This reaches a peak the night before, and I never sleep well. I wake up to make sure that the alarm clock is set. Have I dotted all the Is and crossed all the Ts? Is that wind or rain I hear?
"At last it is time to get up. I go outside to double-check the weather, if it's not good I will, unfortunately, have to cancel, otherwise,   we have a go. Then we get to light the fires, kick the tyres, and it's showtime!"
During this phase of inflation, approximately five kilograms of propane is consumed per minute. Eventually, the balloon will be upright and the passengers can board.
Then it's time for the safety briefing and a final safety check, and afterwards another long burn to get the now-loaded basket buoyant. The tether rope will be released, and there'll be a radio check with the crew chief, who will follow on the ground for the retrieve. Towards the end of the flight, a suitable landing area is selected and they confirm landowner access with the crew.
"We land because we are running low on gas and time, not because we have reached a predetermined destination. Sometimes I wish landowners would understand this reality. Every flight is different and chances are we would never land there again," Manie laughs. "Once the balloon has touched down, the crew pulls the envelope downwind and opens the main vent at the apex of the balloon. It slowly deflates, we disembark and that's it – game over," he smiles mischievously. Well, not quite over. Now it's time to celebrate the flight in true French tradition with a glass of bubbly, a hearty breakfast and the certificate handover. It's the perfect time to reminisce and wind up the morning's flight.

Manie has flown in many places, but to choose a favourite would be impossible. "Each place has it's own uniqueness," he explains. "I love to fly over game, but unfortunately South African National Parks doesn't allow it. Pilanesberg Game Reserve, Entabeni (Legend Resorts) and Mabula would be worth a mention and subsequently worth a visit. Masai Mara and the Serengeti are synonymous with game viewing and ballooning.
"It was unbelievable to fly over the Serengeti, but also disappointing. When the migration is on it is a hive of activity, floating metres above a herd of wildebeest cannot be described, it needs to be experienced. However, if the migration is over we float metres above the ground seldom crossing the path of any animal on the plains.
"Interestingly, animals are not scared of balloons, they obviously have a comfort zone – you come too close and they move away. As they have no predators from above, they do not experience any stress or fear, and quite often they will come closer on landing to meet the new neighbours," he smiles.

"Then there was Turkey, which was incredible: the culture, the music, the religion, the way of life, and the complete lack of aggression. Cappadocia is rural Turkey, uncomplicated, and the landscape was formed by volcanic eruptions forming the Tufa-stone structures. This ash was compressed over millennia to form rock which softens during the winter due to the snow and rain and then hardens again during the summer. Christians hid in man-made caves which were dug during the winters to hide from the Romans centuries ago. The caves are surprisingly mild in summer and warm in winter.
"People still live in cave houses, usually handed down with a Turkish carpet which is hundreds of years old. That is their heritage or family heirloom, along with their gardens which date back to the Ottoman period."
So, next time you are in the mood for a little enchantment and old-world romance, consider a hot air balloon flight. It may be pricey but is worth every single cent. So hop in a basket and get ready to float away on a wind current, barely touching the treetops, but brushing the face of the big blue sky and dreaming of distant lands and ancient wonders. After all, it truly is the next best thing after a magic carpet ride.

Rates
R2 800 per person for two, three or more people R2 400 per person.
GET IN TOUCH
Manie Nel on 082-377-2755 or
manienel@aol.com or
waterfall.balloon@gmail.com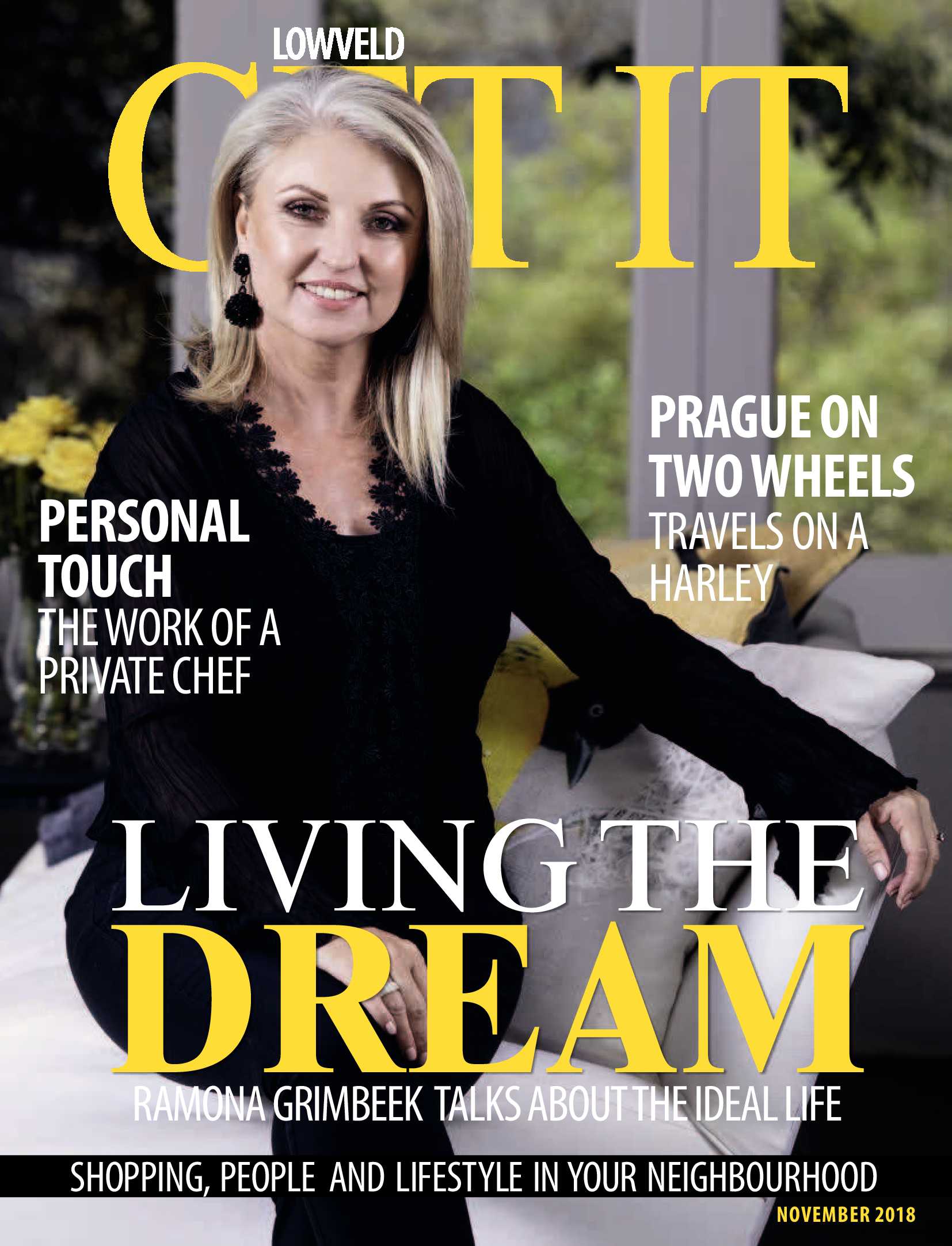 November 2018
The November 2018 edition of Get It Lowveld is online now!
View magazine

November Spoil
When it's this easy, winning a gorgeous timepiece is on pretty much everyone's to-do list.
is a national brand of premium free magazines available in centres across the country.
to see other Get It magazines in the network.