Linda lives a uniquely diverse life
Her sons lovingly refer to her as a "weird hippy fairy" and taking into account how varied Linda's interests are, it is no wonder. She not only practises as a specialist anaesthetist but is also reading for a degree in fine arts through the University of South Africa. This truly takes some doing.
Linda has her own unique style and only minutes into the meeting it is evident that she could not possibly be put in a box comprising preconceived, conventional ideas. Add a dash of high energy and the willingness to explore new ideas and the result is quite surprising.

Growing up on the Vaal River in the industrial city of Vanderbijlpark, Linda matriculated at 17 from Hoërskool Transvalia. She then studied medicine at the University of Pretoria, where she met Alex, her husband. He is a well-known orthopaedic surgeon and many a Lowvelder has been under his knife.
Linda describes him as "having a rare combination of good bedside manner and excellent technical skill". It is clear that her husband embraces his wife's one-of-a-kind style, and it is no wonder they have been happily married for the past 28 years.

Both their sons, Waldi and Andreas, are studying at the University of Stellenbosch. Surprisingly, neither of the boys are following in their parents' medical footsteps and while Waldi studies for a BSc in nature conservation, Andreas is reading for a BCom degree.

The Kuhns' contemporary home doubles as a private gallery and their love of art is seen in the many beautiful and interesting pieces tastefully adorning the walls. Add Sam, the one-year-old, well-mannered Giant Schnauzer to the equation, and they seem to have created the perfect family home in the hills above Mbombela.

Although Linda enjoys her part-time work as an anaesthetist immensely, this is definitely not all she is. On the question of why she decided to study art, of all things, she suggests her experiences as a doctor might have compelled her.
When viewed from this perspective, the two spheres certainly complement each other, resonating with Linda's observation: art is not necessarily easy on the eye, but is rather a commentary on life and its many different facets, whether joyful or traumatic, beautiful or ugly.

She admits that she has learnt to look at art in a whole new, unexpected way since commencing her studies. "I realised that art does not necessarily entail a beautiful picture or sculpture and I am definitely more critical. It is about the concept behind the portrayal and each work seeks to convey a certain message to the viewer," Linda explains.
"Every true artist has something to say and a certain artwork is always an insight into and a depiction of the artist's way of critical thinking."
Studying art has not only opened up a whole new way of thinking for Linda, but also a whole new world of necessary skills to master. She describes how people in her profession usually rely on strict protocols and that there is absolutely no margin for error, as human lives are at stake.
Art is stressful in its own way, although much safer, and there is more room for error. In vast contrast to her medical work, creating art only concerns the creator and, contrary to popular belief, not the perceiver – the artist, in a way, sets the frame and navigates the viewer's insight and even has the potential to change opinions through a specific body of work.

In 2010 Linda suffered a terrible and life-changing ordeal: Andreas' classmate and friend died in her arms. The grade sevens, who attended Uplands Prep at the time, played a cricket match in Lydenburg and a full toss hit Matthew Prior in the chest. He collapsed and Linda tried for three hours in vain to resuscitate him.
For a long time afterwards, she suffered from panic attacks, finding solace in expressing her pain through art and creative writing. Though her life will forever be defined and divided by this season, she was in a way healed by creative expression.
She has also realised that everything will not always be fine; life is often marked by unanticipated loss and suffering. The secret to being fine, however, lies in the human mind's miraculous ability to heal in surprising ways.

Regardless of life's darkness, Linda finds time to enjoy the light. She loves to travel and experience new things, and this wonderlust has taken her and Alex to Sweden, Belgium, Holland, France, Germany, Austria and various destinations within the United States.
Many years ago Linda's father-in-law was the acting ambassador for the South African government in Japan and the couple visited. She loves this country and would have liked to have gone there one more time, but sadly her in-laws returned before she could.

When asked about her most memorable holiday, her visit to the north of India stands out. "A few years ago a friend and I embarked on a yoga tour to the Uttarakhand province. This was certainly an unforgettable experience, which started with our luggage getting lost," Linda tells.
"We had to manage without the basic necessities such as our own clothes and shoes for 10 days." They attended a short course at the Sattva Yoga Academy set on the banks of the Ganges River on the outskirts of Rishikesh.
What made this trip especially remarkable though, was India's stark contrasts and diversity: both the finest and the worst are found only metres apart. The crowds often were overwhelming, but the people's friendliness and hospitality even more so.
Linda's compassion for others does not go unnoticed, and maybe this contributed to the fact that she did not return untouched. After all, in India you must work through a myriad of emotions and experiences.

It is fair to say she leads an interesting and diverse life, and it seems that she could turn her hands to anything. On the question of whether there is anything else she would like to add to her résumé, she answers with a smile, "I would like to start sewing my own clothes." And we do not for a single second doubt that she will!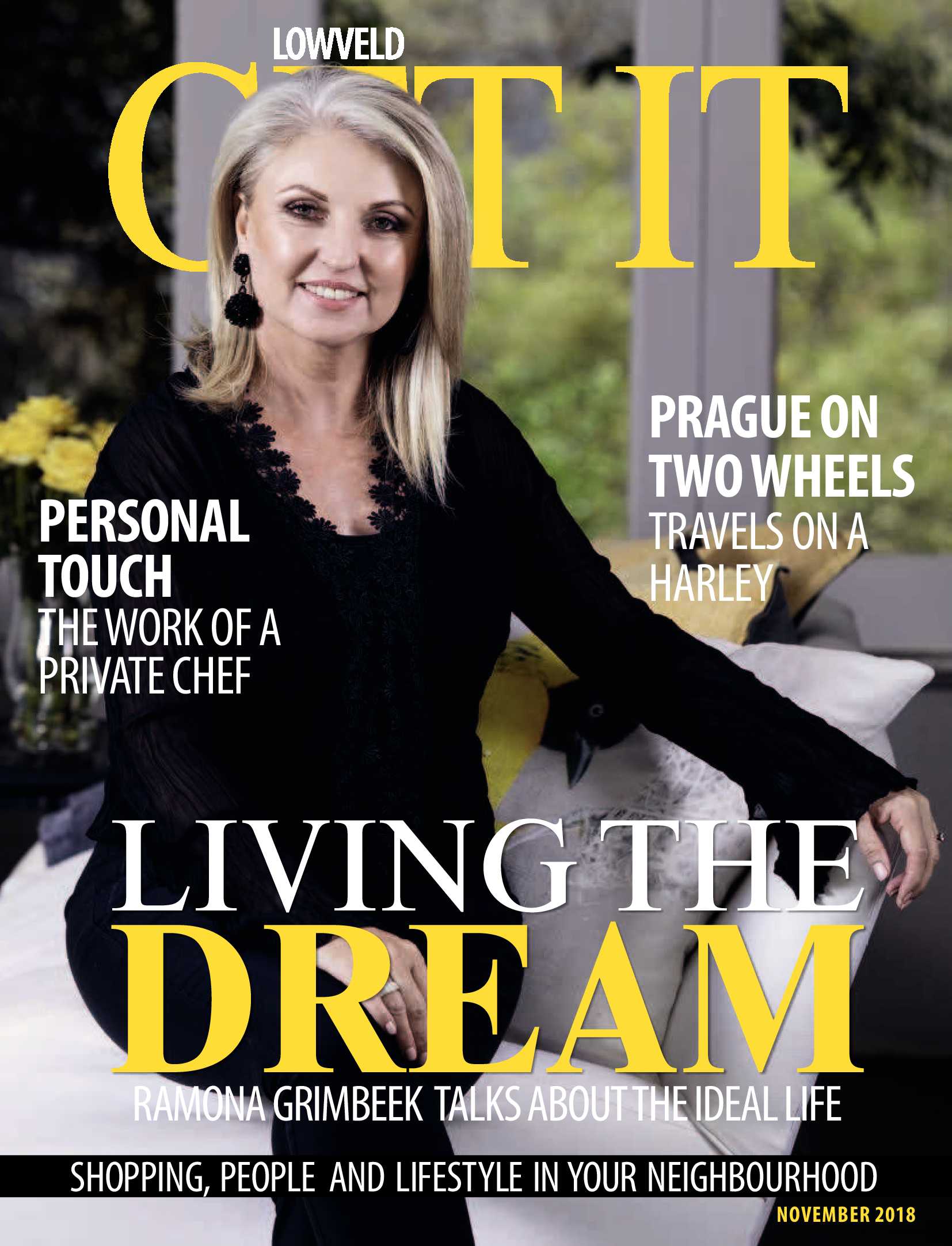 November 2018
The November 2018 edition of Get It Lowveld is online now!
View magazine

November Spoil
When it's this easy, winning a gorgeous timepiece is on pretty much everyone's to-do list.
is a national brand of premium free magazines available in centres across the country.
to see other Get It magazines in the network.