From mom to triathlete, she's a woman on a mission
Not every athlete qualifies for a world championship in the same year they competitively start with a new sport, but Donné achieved the near impossible. "I was getting a little bit bored with running as there are not a lot of races in the Lowveld to compete in. I have been running and swimming all my life and realised that I only had to learn to ride a bicycle competitively to take part in a triathlon. I entered the Lowveld Triathlon Challenge and was quite surprised by the outcome."
In January 2017 she took part in this challenge, her very first, and was chosen to represent the Ehlanzeni Triathlon Association at the South African Championships. Out of 8 700 participants in her age group, she came 10th.
With this performance, Donné managed to secure an entry in the Ironman 70.3 World Championship that took place in Chattanooga, USA in September last year.
Although she regards her race in the championship as one of the toughest she has ever done, she was one of the top South Africans in the 35 to 39 age group. "After doing that well in my age group, I suddenly realised I can do it! I was hooked. I just love the sport. Now it is my absolute passion."
This is definitely Donné's year. In July she took part in the Duathlon World Championships in Denmark. She also managed a fourth place at the Ironman 70.3 South Africa and just missed the podium. For the first time ever, South Africa is hosting the Ironman 70.3 World Championship in Port Elizabeth in September.
This local has qualified for that as well as the ITU World Triathlon that takes place on the Gold Coast in Australia only two weeks after that – she simply needs a sponsorship then she can show the Aussies how it's done.
Although Donné was born and raised in East London in the Eastern Cape, she met her husband Edwin while working in Cape Town after completing her studies in food science. Edwin is a Lowvelder who also did some studying in Cape Town. He decided to return to the family's avocado and macadamia farm close to Da Gama Dam.
"I first came to the Lowveld in 2005 while we were still dating. Then I was planning to do some travelling but when I landed here, I decided that this was where I want to be and never left," Donné smiles, then adds that this region is an excellent place to train.
"Whenever my coach tells me to do an easy 40-minute run or an easy hour cycle I always smile, as there is a hill around every corner which doesn't allow any easy exercise."
Donné is a mother of three. Olivia (8) is the oldest and in grade two. Emily (5) is in grade 0 and Edwin (3) is still in a playgroup. All three attend school at Uplands. Being a mom and an athlete can be quite challenging, and to her time management is of utmost importance.
If you want to achieve something, you must put the effort in. You can't just expect good results, you have to work for it
She trains with an excellent coach, Cindy Schultz, who also is one of South Africa's elite triathletes. Cindy believes in quality training rather than quantity, which makes it easier to balance priorities. She helps Donné with programmes that fit in with her family and that allow her more time with her children.
"Edwin is also a fitness enthusiast. He doesn't do a lot of cardio training like running but prefers to train in a gym though. My kids are all very involved in sports and Olivia does very well in gymnastics and earned her Mpumalanga Junior Colours in the sport. The kids understand that Mommy must race and although they sometimes moan, they usually are okay.
"It is necessary for them to see that if you want to achieve something, you must put the effort in. You can't just expect good results, you have to work hard for it," Donné explains.
With one world championship behind her, and two more waiting in the wings, there remains a lot of training to be done. She hopes to find sponsors to help her compete in Australia later this year.
"My biggest dream right now is to take part in the World Triathlon Champs in September. That is the furthest that I can really go, especially being a mom. I obviously would love to be an elite triathlon athlete, but age is not on my side anymore. Despite that, I would love to still achieve good results.
"I have had wonderful opportunities thanks to the support of the Ehlanzeni Triathlon Association, which strongly believes in its athletes. Hopefully, there will still be many more opportunities to come!"
GET IN TOUCH
0833413065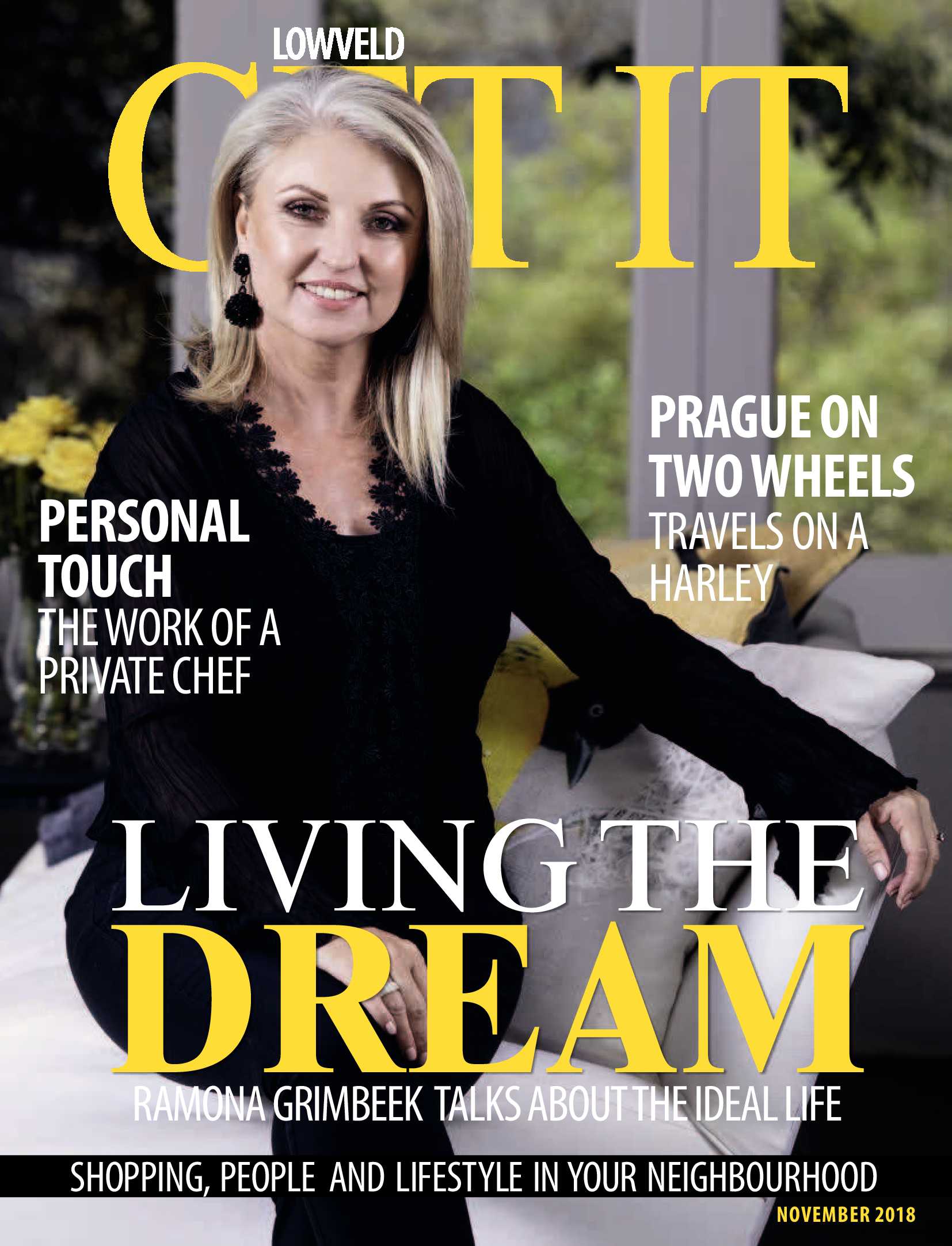 November 2018
The November 2018 edition of Get It Lowveld is online now!
View magazine

November Spoil
When it's this easy, winning a gorgeous timepiece is on pretty much everyone's to-do list.
is a national brand of premium free magazines available in centres across the country.
to see other Get It magazines in the network.