These girls got that gypsy soul
Although food trucks have in the past been associated with basic takeaways, this is no longer the case. These days pop-up food carts are one of the most popular restaurant concepts and you can find a cornucopia of the most delicious gourmet foods at festivals and events.
Though these restaurants have many benefits, there are certain challenges. Some of these include the space available at different events, electricity supply and the number of customers willing to spend money on food and beverages.
For the food vendors, especially, it is important to get the balance between the food served and the fresh ingredients purchased exactly right.
But these hard-working girls definitely do not allow the small foxes to exhaust their enthusiasm.
The Thirsty Bartender
The Decanter is an attractive sight with its forest green paint finish, wooden framework serving hatch and copper light fixtures. This is exactly the reason why Belinda and Andries Erasmus, owners of The Thirsty Bartender, have added this gorgeous little trailer to their portfolio: they love everything pretty.
Belinda's energy is contagious and she obviously has a stylish touch and the ability to turn even the dullest things in life into something beautiful. This is apparent when you look at what she has done with The Decanter, which was a horse trailer in its former life.
Growing up in Hazyview and matriculating at Hoërskool Nelspruit, Belinda settled in Mbombela with her family – once a Lowvelder, always a Lowvelder, some locals would say.
The couple have been in the liquor business for quite some time now and the idea to start a mobile liquor unit came to Belinda while helping at their White River-based business, Wholesale Event Liquor.
The father of a groom visited the store and wondered how he would handle the bar at the wedding. And what better way than to leave it in the hands of a mobile bartender?
Since then they have developed from wedding bars to specialised ones, serving a variety of gins, bespoke cocktails and even candyfloss champagne at any event imaginable. "We can create any backdrop for the perfect bar," Belinda says.
"Nothing is too complicated – every single thing a client sees on Pinterest, we can create." Their custom mobile bars ensure that they are the number-one choice for any event, be it a liquor launch or whatever else.
Recently Belinda and Andries have also added bartender training to their range of services. Their future plans concern this aspect of the business and they dream of establishing an internationally accredited bartender training facility right here in Mbombela.
Both of them agree that good service is, although essential, not easy to come by.
They further stress that The Thirsty Bartender is not only about excellent service, but also about providing a unique experience.
The Thirsty Bartender is not only about excellent service, but also about providing a unique experience
It must be mentioned that Belinda is not only co-owner of the Thirsty Bartender but also a mother of two gorgeous children and co-founder of the Lowveld Gin Fest. The festival was first presented earlier this year at Elmswood and plans for the next one are already under way. We can't wait!
The Thirsty Bartender can be booked for private birthday parties, weddings and functions of any sort.
GET IN TOUCH
Belinda on 0766745536 or at info@thirstybartender.co.za
Crisp Cup
Barista Melanie Bezuidenhout of Crisp Cup Mobile Beverage Solutions is a remarkable woman. She single-handedly manages her business and serves the most delicious coffee in the Lowveld. But this is not the best of it.
Melanie also hooks the trailer, tows it wherever business takes her and sets up the coffee cafe. She then still has a huge smile left for serving her customers, which is her passion in life.
This passion first appeared when she took up waitressing at O'Hagan's pub in Mbombela while attending Hoërskool Bergvlam, where she matriculated. After school she worked at different companies as a receptionist and sales representative, and during this time she learnt something about being a successful entrepreneur.
Melanie also does photography and videography for weddings and other events and recently took up ballroom and Latin dancing. This girl certainly has a love for life, with all its challenges!
"I have been blessed with an enormous passion for people and good service," she says. "Being able to serve a decent cup of coffee with a smile is one of the most fulfilling aspects of what I do. I get paid to socialise!" Melanie laughs.
"If you love what you do for a living, you never have to work a single day in your life!"
In 2009 Melanie met an enthusiastic Italian, Martin. He taught her all she now knows about coffee and the rich culture associated with this unique drink loved by millions across the globe.
'To serve decent coffee with a smile is one of the most fulfilling aspects of what I do. I get paid to socialise'
Martin planted the seed for a coffee trailer and in 2015 she started the mobile business. Many people have helped and given Melanie advice, but Garnett and Jade Parkin of Marseilles Café in Mbombela stand out.
Marseilles is a boutique coffee roastery that supplies freshly roasted arabica coffee beans, which is roasted per order and is deliciously fresh. According to Melanie, the beans she uses have always been roasted during the few weeks before serving.
But she doesn't only serve coffee, her iced coffee, mocktails and smoothies are just as delicious and highly recommended.
Melanie dreams of franchising the Crisp Cup brand, but for now she is content with meeting new people and enjoying the absolute bliss of seeing satisfied customers enjoying a cup of real "boeretroos".
Crisp Cup is available as a beverage solution for any event.
GET IN TOUCH
Melanie on 0829250374 or at info@crispcup.com
Si Bon Street Café
Simoné Maritz and Tanya van Wyk have two pairs of ready hands. Although both have day jobs, they still find the time to manage and run Si Bon Street Café, a mobile food vendor, over weekends.
Simoné, originally from Rustenburg and now working in the marketing industry, is a born entrepreneur and says she has always dreamt of starting at least one business before turning 30.
Recently this became a reality when she started Si Bon with Tanya, who works as a hairdresser at HairTech in Mbombela.
Tanya's friendly enthusiasm is contagious and it is evident that she enjoys the exciting variety associated with a mobile business. She loves the catering industry and entertaining people.
Add to this the fact that she is an excellent gourmet cook and likes to try new things, and you have the perfect recipe for a successful restaurant business.
Si Bon caravan was been renovated in Rustenburg and has a stylish retro look. It is fitted out with a kitchen and is an attractive addition to any event. Together with the two energetic owners, it is the perfect backdrop for any occasion.
They are willing to attend to a customer's every need – the trailer could even double as a photo booth!
Tanya and Simoné are proud to say they are flexible and willing to attend to a customer's every need – the trailer could even double as a photo booth!
They readily adapt to the event's ambience or the customer's needs and in the past they have served anything from crispy chicken strips to delicious stews and curries.
They also specialise in deep-fried brownies, which sound delightful, and bubble waffles. The latter is a waffle in the shape of a cone served with a delicious filling of your choice.
Tanya and Simoné have great aspirations for the future. They would like to expand and renovate a second caravan to cater at festivals or maybe start a Si Bon franchise.
The business couple also dream of managing their own restaurant and bar in Mbombela. And we do not doubt for one second that they would be the perfect hostesses in a more permanent setting.
Si Bon is available for any event, no matter what or where.
GET IN TOUCH
Tanya on 0836279888 or at tanyavanwyk@gmail.com or Simoné on 0828395997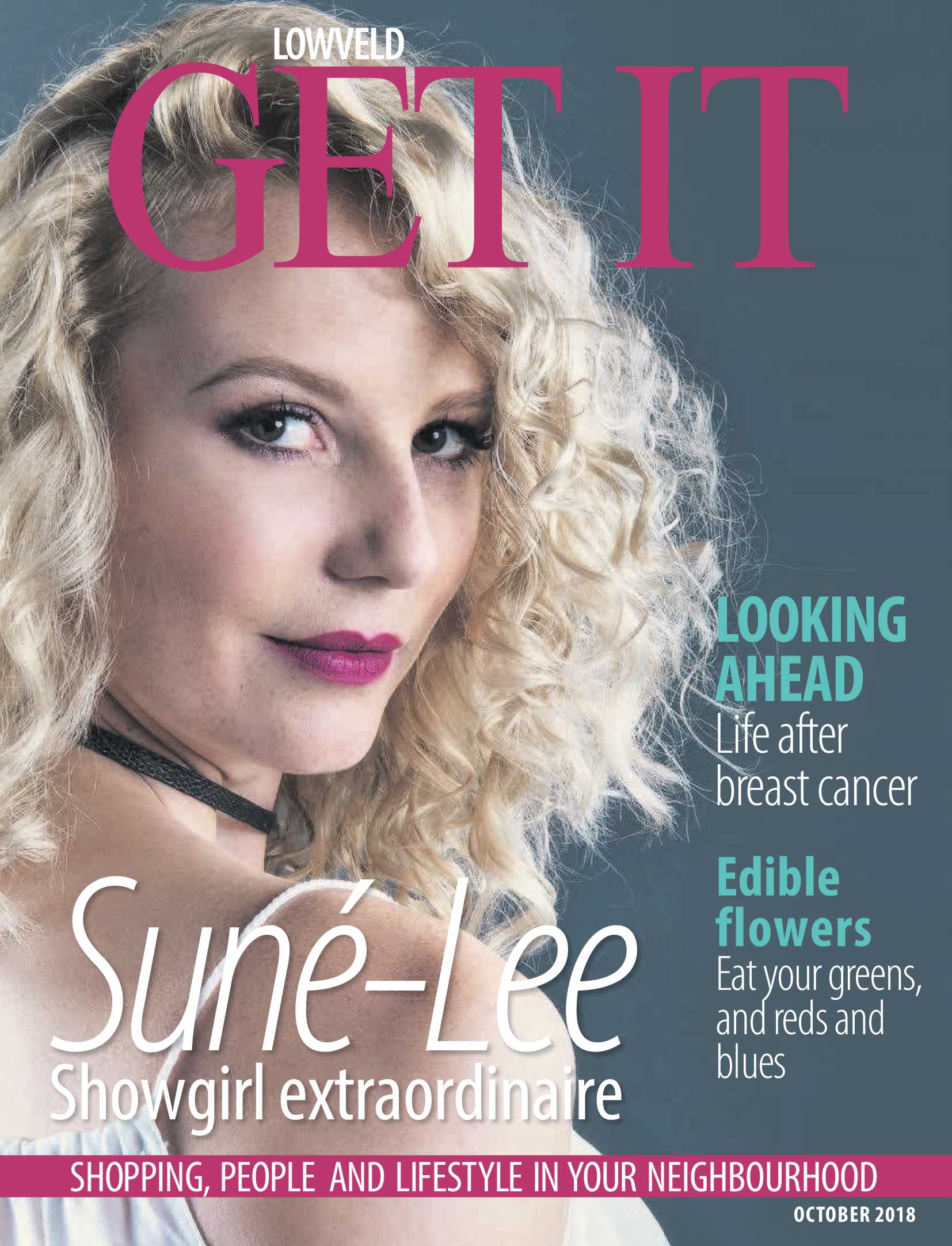 October 2018
This month's fabulous Get It Lowveld magazine!
View magazine

It's burger time!
Most of us love the idea of a burger, no matter what our food preference is, and burgers are certainly not for meat eaters alone.
Our October spoil
With your face to the wind you will feel the power of change this month.
Share the pet love
Entries have been streaming in for the Love your Pet competition and these pets are too precious!
is a national brand of premium free magazines available in centres across the country.
to see other Get It magazines in the network.