Our August Wish List
A taste journey awaits
The Delheim Pinotage Rosé was first created by Delheim patriarch and industry legend Spatz Sperling.
This famed blush has a loyal following since its 1976 launch as the first pinotage rosé in South Africa and in recent years alone, it was recognised three times as the best rosé in the German market by the prestigious Weinwirtschaft magazine.
"Although we had severe dry conditions, the average temperature during the harvest period was cooler than previous years," says winemaker Altus Treurnicht.
The result was slower ripening, which is ideal for the development of fruit, while the smaller size of the berries caused by drought came with its own challenge of extracting juice gently to retain the elegance of the pinotage grapes.
Vinification resulted in a wine with a rich salmon colour with vibrant pink hue. On the nose, it shows notes of pomegranate and cranberry with nuances of candy floss and blossoms.
Delicate flavours of red berry fruit linger on the palate and add to the freshness of this fruit-forward yet balanced wine.
Reminiscent of a perky spring breeze, the vegan-friendly 2018 rosé also features a splash of Muscat de Frontignan (3,5%), which balances the crisp acidity and red berry sweetness with a juicy fruit character and adds to the vibrant perfume character of the wine.
"There is no limit when it comes to food that will match this elegant rosé – from pasta to chicken and shellfish," Altus reckons.
"Being a vegan-friendly wine, why not try it with roasted rainbow vegetables with chimichurri or a curried sweet potato and freekeh salad."
And unlike most other wineries, the famous Stellenbosch winery used zero animal products traditionally used in winemaking to produce the 2018 Delheim Pinotage Rosé and Sauvignon Blanc.
Drink the Sauvignon Blanc with a grilled aubergine bake (or grilled linefish for flexitarians) as well as a variety of season-inspired salads. Available at leading wine shops at around R79.
Details: www.delheim.com, Facebook Delheim, Twitter @Delheim and Instagram @delheimwines.
Find your zen
With a beautiful twist and reimagined design, the sleek, and ultra-thin Zenbook 3 is easily portable and can be brought along anywhere you go. With the latest iCore 7 processor, this laptop shapes up as practically unstoppable.
Ultra-realistic visuals ensure the Zenbook 3 is able to take you from on-screen visuals to the best-imagined reality in one click. The ZenBook is renowned for its stunning looks and you'll instantly recognise the iconic Zen-inspired spun-metal finish.
It's lighter, thinner, stronger, impossibly powerful – and utterly beautiful. The ultra-slim bezel is just 7,6mm wide, giving ZenBook 3 a class-leading 82% screen-to-body ratio.
Whether it's work or play, these Asus innovations can take you from being at home with the family to facing a daunting meeting with seamless transition. What they are is consistent, powerful and unforgettable.
From typing out emails to editing high-quality images, these laptops are built for the ultimate experience by a company that's truly in search of the incredible. Find it at an IT store near you.
Soft lips…
SoyBalm provides lasting hydration to keep lips smooth and moisturised throughout winter, thanks to its all-natural blend of organic baobab oil, shea butter and soya bean oil. With no hidden petroleum ingredients, chemicals or parabens.
SoyBalm is GMO-free and is endorsed by Beauty Without Cruelty. Diana Roux from Face to the Wind Spa in Mbombela finds that more and more clients prefer products with natural ingredients – seeking to be healthy inside and out.
"The uptick in 'natural' skin care in the past few years has been incredible, and we love seeing brands pushing to source ingredients that are not only healthier alternatives for consumers but also better for the earth as well," she says.
Diana, however, is quick to add that not all things "natural" are what they claim to be. Read a post on her advice soon.
This luscious balm is available from R50. Details: www.soylites.co.za.
New shades acalling
A new season calls for new sunglasses! Specsavers has you covered with a wide range of stylish designer shades suited to all tastes and preferences – like this Police fashion statement. Details: specsavers.co.za. 
Woolies gets water-wise
With an estimated 30 to 50% of domestic water consumption going to the garden, many of us are having to rethink how to keep our gardens going while water restrictions are getting tighter, or in some areas where no irrigation with municipal water is allowed at all.
Woolworths Beauty has reformulated its body and handwashes to meet grey water-safe standards and have been tested by the CSIR ensuring that you can reuse your bath, shower and handwash water without harmful effects to your garden.
While reformulating the products to meet this standard, the Woolworths Beauty team also ensured that the new ranges are virtually rinse-less in order to help South African consumers further reduce their water consumption.
Mild and gentle on the skin, the quick-rinse formulations of the new range were tested by an expert panel in an internationally accredited laboratory.
Thanks to anti-adhesion agents, hands and bodies can be rinsed in a flash leaving the skin perfectly clean and residue-free. Details: www.woolworths.co.za.
Moroccan butternut, mushroom and nut phyllo pot pies 
Serves 4 to 6
Ingredients: Filling
• 10ml olive oil
• 15ml butter
• 150g button or portabellini mushrooms (quartered),
• 100g baby mushrooms
• 5ml paprika
• 5ml ground cumin
• Salt and milled black pepper
• 500g roasted butternut, cubed
• 125g feta cheese
• 45ml dukkah
• 50g flaked almonds, toasted and crumbled
• 45ml fresh coriander, chopped.
Phyllo pot pies
• 45ml olive oil
• 6 sheets phyllo pastry, trimmed into large squares
• 30ml white sesame seeds.
To serve
• Fresh coriander leaves
Method: Filling
1. Heat the oil and butter in a pan and fry the mushrooms for 5 minutes.
2. Add the paprika and ground cumin and cook for 2 minutes.
3. Turn off the heat and add the remaining ingredients.
4. Gently combine and set aside.
Phyllo pot pies
1. Preheat the oven to 200°C.
2. Brush the sheets of phyllo pastry lightly with olive oil and arrange on top of each other in an overlapping stack.
3. Place the cooled filling in the centre of the pastry and enclose the filling in the pastry.
4. Brush the top with olive oil and scatter the sesame seeds over the top.
5. Transfer the pie to a baking sheet and bake for 20 to 30 minutes, or until golden and crispy.
Understated luxury
AGA cookers has unveiled another of its new colours, from the Contemporary Neutrals collection, called Dove – a collection designed to add a sense of understated luxury and pared-back chic to any kitchen.
Ansje Serfontein from Getting Creative Interior Design Studio in Mbombela says this will be an excellent addition in a Lowveld home.
"This reminds me of the coal stoves of days gone by – theses are just much more aesthetically pleasing and surely a pleasure to cook on. The AGA Total Control integrates well with our boere chic style," she explains.
Dove, a pale grey with a hint of blue, will work well with natural wood or painted cabinetry, as well as high-shine kitchen units and glossy marble. Ansje does, however, love the fact that the stove comes in a variety of colours and believes it can be used as a fabulous statement piece.
The full range is available directly from AGA South Africa, and can also be ordered on takealot.com.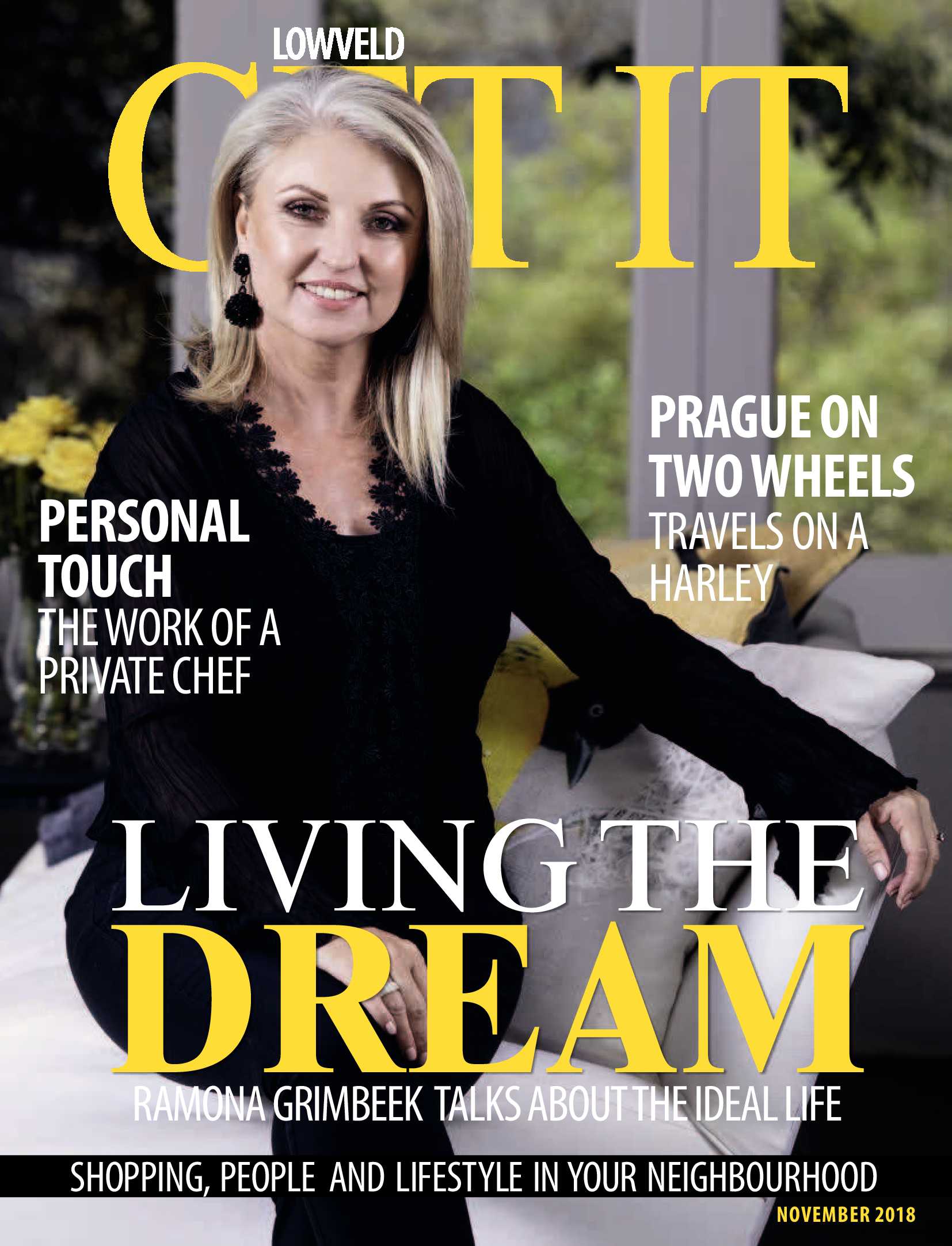 November 2018
The November 2018 edition of Get It Lowveld is online now!
View magazine

November Spoil
When it's this easy, winning a gorgeous timepiece is on pretty much everyone's to-do list.
is a national brand of premium free magazines available in centres across the country.
to see other Get It magazines in the network.