A moment with Sharita
While she is definitely a busy go-getter, she is also a calm, meditative woman with a doting husband, Pranay, and two gorgeous girls, Raya and Arya. They take after their mother in looks, with their lustrous glossy hair and wide, open smiles. But life, as is so often the case, wasn't always this easy.
Sharita's parents got divorced at an early stage in her life, and her mom was a single mother of four kids with no support. Life was hard in retrospect, but also a brilliant way to get oneself mobilised and street smart.
"By the same token, I shall always be grateful for the time, energy and attention which I poured into my girls in their early years. It's priceless," Sharita laughs.
As a young woman, she yearned for a stable family life. "All I wanted to do was get married and have children. Fortunately, I found my soulmate and have two girls who are as beautiful inside as they are out."
Starting out Sharita worked in her parents' shops, as a production manager, in real estate, in marketing and PR, and at a bookstore, before landing a fabulous job in business intelligence software at Dimension Data, a fast-paced position but one where she thrived on the pressure. "When someone is young and eager to learn, the best advice you can give them is to work hard but smart and don't be afraid to start at the bottom. "This will create a strong foundation which no one can take away from you. Don't be intimidated and always listen to your inner voice!
"The experience I gained in the IT sector, along with the skills I learnt, has certainly played a part in helping me to grow and establish my own business," she muses. Although Sharita loved the lifestyle, it became too hectic and it was time for a change.
She is the owner of the popular clothing store Brown Sugar, which she opened on a whim after having stayed at home with her children for seven years. "Pranay saw an empty shop and enquired as to whether I would like to rent it, and I decided to open a clothing shop of my own," she says. "It was hard work in the beginning, but I believe in working smarter, not harder. My strong technological background certainly helped to ease the burden, and I have also been fortunate along the way.
"I had a vision for my shop which I wasn't sure would fit my budget, but I did a Google search and telephoned the first person who came up, explaining what I wanted and how much I had to spend.
"The woman on the other end was a godsend! She took my ideas and made it work, within my price range. "I am so lucky to have a fabulous team taking care of my business and home, and my husband Pranay has been the best mentor. "I believe that problems are really seeds of change for the better. "You are bigger than the circumstances you were born into."
Sharita says making friends in Mbombela hasn't been a walk in the park, but after many years she made solid friendships with women who are not afraid of being truthful. "Women need to develop a circle of people who are a safety net, a voice of reason. This is what I tell my daughters: surround yourself with 'real' people. "It has been a long journey to establishing solid friendships, but it seems that now I have found my 'tribe', a bunch of sharp-witted, intelligent foxes. Love them to bits!"
Family time is essential, and the Patels like to chill at home, together. She loves books, and reading is something she has a genuine love of. "Reading is a superpower! Children really need to recognise this, and the important thing is to read what
you enjoy."
Her favourite author is Arundhati Roy who penned the magnificent God of Small Things. "This is her debut novel and a winner of the Man Booker Prize. It is so well written that years later I can still imagine scenes like a vivid dream. It highlights how the small things in life really trump everything bigger with exquisite prose and imagery."
Sharita also adores Jiddi Krishnamurti's Total Freedom, which her dad gave to her as a gift a few years ago. "The message inside the book was 'A gift for life', and indeed, this is exactly that. It is a book that will take a lifetime to get through, but once the penny drops, everything becomes crystal clear."
Along with reading, Sharita is mad about podcasts. "This has been a game changer for me. Our world is inundated with information, but finding the right podcast can virtually lead you, by the hand, to exactly where you want to go, they just open up a whole world of knowledge. They are the next best thing to reading, it is almost like listening to an audiobook. Plus, they are free. It's a no-brainer!" she laughs.
Another one of her loves is yoga. "The habit of movement has had a huge impact on my life," she says. "My functional training, fascia classes and consistent yoga practice have done wonders for me, physically, mentally and emotionally. The impact it has had on my life has been exceptionally positive." When life becomes challenging, Sharita understands the importance of being calm.
"Getting onto my yoga mat is so grounding for me," she says. "I always feel lighter and clearer afterwards. Breathwork works like magic, as does walking in nature with my dog, Lola. "This is my reset button. I also like to schedule my priorities and love making lists. And I always remember the ancient mantra: this too shall pass."
Ultimately, Sharita would like to teach yoga and open a school where teachers can instruct their students free of charge.
"Life is an organic learning experience, and we are constantly learning something new. Go with the flow, be flexible and adapt, but at the same time, always set goals for yourself. There has to be a balance, and we all have the ability to make decisions to shift energy where it is needed."
We asked Sharita to give us some inside info on what makes her tick…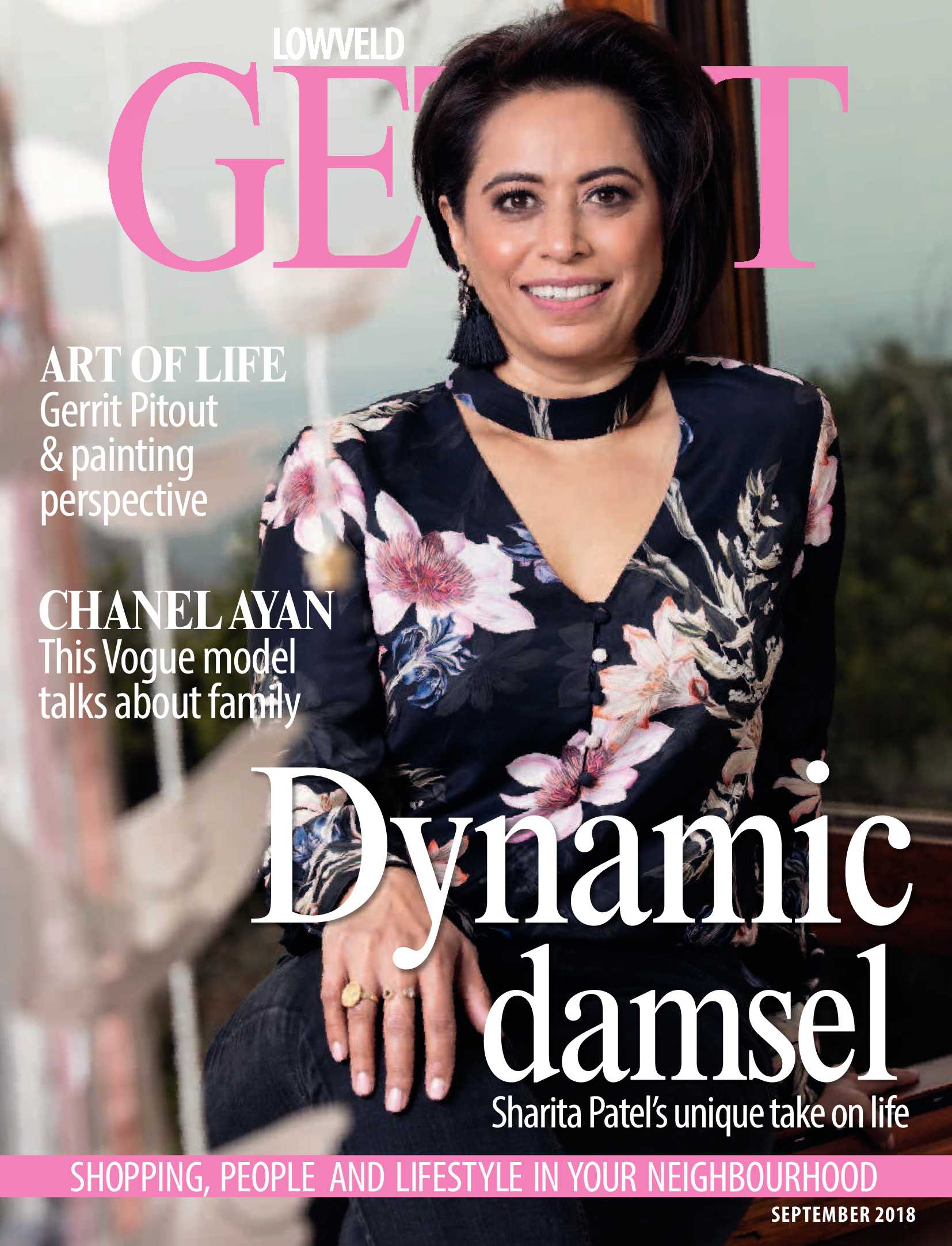 Share the pet love
Entries have been streaming in for the Love your Pet competition and these pets are too precious!
Spoil your locks this September
Time for a fresh cut, for a fresh look.
Happy birthday FAT bastard!
Life, like FAT bastard, should be filled to the brim and enjoyed in large, delicious gulps. 
is a national brand of premium free magazines available in centres across the country.
to see other Get It magazines in the network.