A tale of two sisters
It was Ayan's sister Ifrah Bülter who first planted the modelling seed by encouraging her sister to take part in the Miss Kenya competition. To her extreme disappointment, Ayan was told her facial features weren't black enough and she came third. They then asked her to join Big Brother, to which her stern older sister maintained a firm no.
"On a whim, I asked a photographer I knew who was in town at the time if he could take a few photos of Ayan and put a portfolio together. He did, and also offered them to a few different agencies. Elite Modelling Agency in New York jumped at the chance
to meet her, so I put her on a plane and off she went." Ayan smiles at the memory and is quick to add that her big sister has been her greatest fan and most avid supporter from the start.
Ayan's first Vogue cover shoot was for Vogue America in 2010, she has since appeared on every cover of this magazine in the world. She has been in countless music videos and even made an appearance in the latest Mission Impossible. Many of her fans have compared her to Iman, saying the resemblance is uncanny. Ayan queried this with the famous beauty, who laughingly agreed. The two have also worked together in photo shoots.
When Ayan met her husband, she relocated to Dubai which is now her home base and where her son, Taj, goes to school. When she made the move, her modelling agency, Wilhelmina, was thrilled due to the amount of work available in the area. Being based in Dubai doesn't mean that Ayan sits still though, she jets all over the world, from Paris to London to New York.
She is currently taking a break between fashion shoots, she is frank and down to earth, but vehemently passionate about what she believes in.
"I have always been the more serious one," says Ifrah. "I am the essence of the responsible older sister. When Ayan went to the same boarding school I was in, they were overjoyed, thinking they had another hard-working star pupil. Ayan put paid to all that! Chilled, hippie-like and highly opinionated, she broke all the rules." Ayan laughs. "I don't believe in rules, I was the rebellious child. Where Ifrah was the diligent academic, I was the artistic free spirit, I loved acting and drama classes. I've never been a follower. Ifrah, as the older sister, had to set an example so was more reserved and studious."
When Ayan finished school, she decided she wanted to travel. She obtained her diploma and became an air hostess. "Ha!" she laughs. "That was so not the right choice. It lasted all of six months. I wanted to travel, yes, but not serve people. In fact, I wanted to be served," she grins broadly. Ifrah laughingly tells of her sister's habit of talking back to customers, cheekily showing them that she was by no means pleased to be running around after them. Fortunately for Ayan, fate had other plans which included her love of travel and didn't require her to wait on anyone.
Ultimately, family mean everything to her. "Ifrah, Andrew and the kids are where 'home' is for me, and I come to SA at least once a year to spend a few weeks with them. Ifrah and I are very close and I miss her terribly, but fortunately, we speak all the time.
"My brothers are in London and the USA respectively, while my mom and other sister are in Kenya. I'll be visiting my mom soon, after my next shoot; I haven't seen her for six months!"
Ayan (Chanel is her stage name) comes from humble beginnings. Born in Kenya, she is one of five siblings, with three adopted children, and home was always filled with laughter, warmth and happiness. The sisters speak fondly of growing up in a home with a mixture of Italian, Arabic and African influences, especially when it came to meals.
Ifrah – as beautiful as her sister in her own right – laughingly speaks of Ayan's love of food. Her diet very rarely includes meat of any kind; she firmly believes that it is the unhealthiest thing, apart from dairy, that you can put into your body. "Don't think she doesn't eat though!" laughs Ifrah. "When she comes to visit, she sends a menu beforehand with certain special requests, like pap, which she loves, butternut squash, spinach and chickpea casserole." Ayan nods.
"If you eat the right foods, you can afford to overindulge. A favourite of mine for breakfast is hummus or avo on toast, with a drizzle of olive oil, salt and pepper. What more could you ask for? It's good for you and it's absolutely delicious!"
The sisters laugh while Ayan's son Taj rolls his eyes. Clearly, this youngster sometimes needs heartier fare, which luckily, aunty Ifrah is rather good at providing.
"We are a line of strong women, coming from a strong family.," Ayan maintains. "Family keeps me sane, and it's what keeps us together in this world. All I want is for them to be successful and happy like I am. I have everything a girl could dream of, I travel to incredible destinations, have homes in every port in the world, but without my family it means nothing. And the truth is that Africa will always be my life, it's my home, where my people are."
The sisters laugh and the bond between them is unmistakable. It brings to mind the adage, that home is where the heart is. To be precise, it's where the people you love are.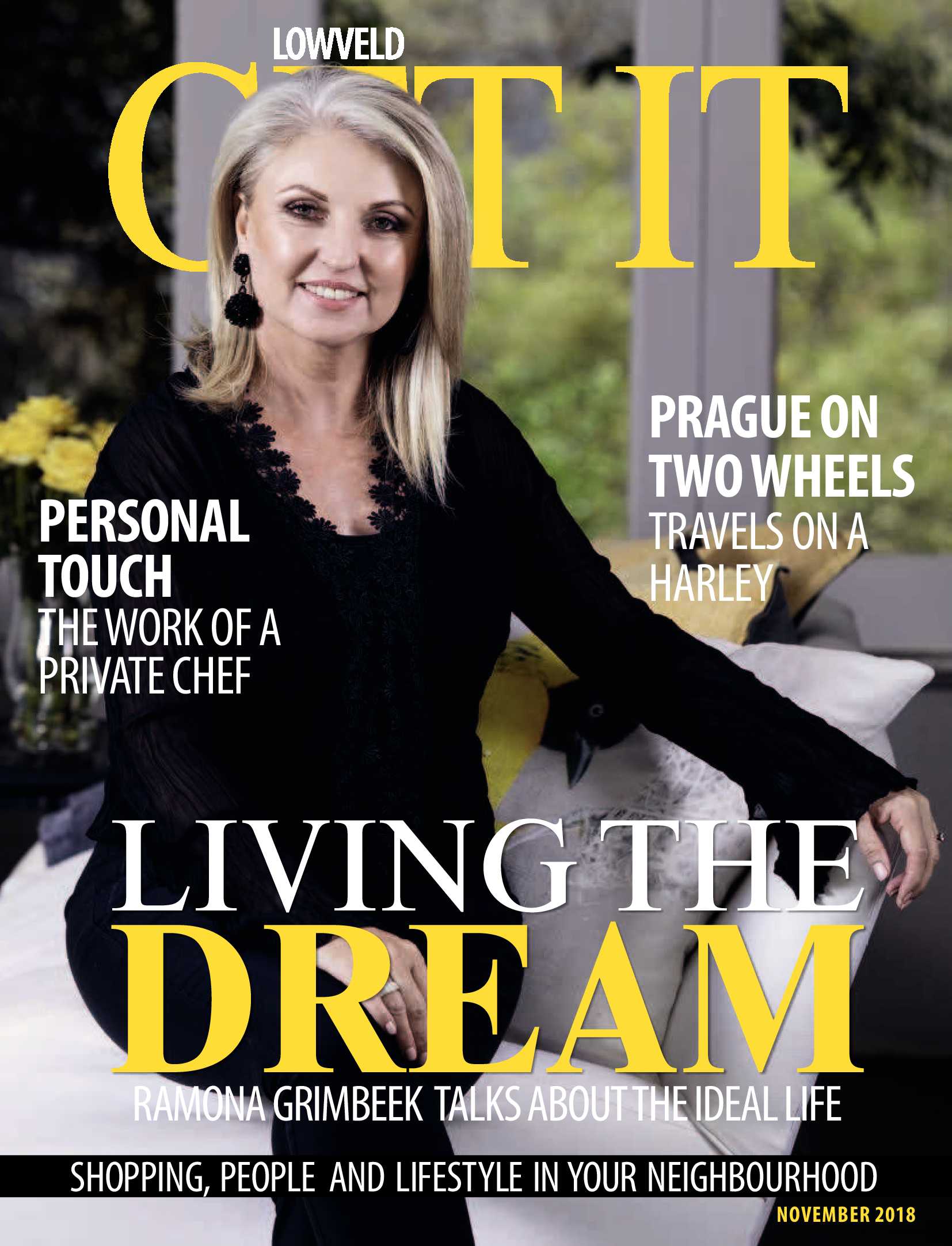 November 2018
The November 2018 edition of Get It Lowveld is online now!
View magazine

November Spoil
When it's this easy, winning a gorgeous timepiece is on pretty much everyone's to-do list.
is a national brand of premium free magazines available in centres across the country.
to see other Get It magazines in the network.