Showgirl extraordinaire!
Suné-Lee was born in Middelburg, where she excelled at sport, specifically athletics and high jump. Her first taste of dancing was in an unexpected form when she became a drummie, or drum majorette. Because of her excellent sense of teamwork and dedication, she went from a basic ensemble pom-pom girl in grade one to second in command of the junior team in grade three.
Suné and her mother moved to Mbombela in 2006, where she finished her schooling at Hoërskool Bergvlam.
"I grew up in a strict household as an only child, and while I was lonely I was also creative, and always kept myself busy playing with the dogs, climbing trees or swimming. I never had much of a relationship with my father, but my mother and I were very close. In 2006 my parents divorced. She remarried in 2009 and we moved to my stepfather's farm. He was always there, present in our lives, which was a little strange at first, but refreshing. He played a silent role of father, guiding me in subtle ways. He was what we had been missing all along, without us even knowing it."
Of course, living on a farm can be difficult for a teenager who wants to attend all the parties. "It was a mission to plan anything!" she laughs. "It all had to be done way in advance, and spontaneous trips were unheard of. Now I'd kill for the silence and solitude that come from being away from society. Weekends were spent at home; the farm becoming a sort of escape for all of us."
While at Bergvlam, Suné became serious about her dancing. She joined Tannie Tolly's (Anriette Snyman) hip hop classes after school and soon became a featured dancer for every school and studio production thereafter. "Looking back, I wasn't really sure of what to study, all I knew was that I loved to dance. Early on in matric I heard about he Waterfront Theatre School (WTS) and flew to Cape Town to audition. Three days later they phoned to say I was accepted, and that was that! I had no actual idea of what the industry was like but I knew I would be dancing every day and that was enough."
Her she studied dancing, drama and musical theatre, with a typical day consisting of four dance/movement classes, one drama and one musical theatre class, 9am to 5:30pm with a short lunch break. "Afterwards, we would head straight into rehearsals. I graduated with my associate diplomas in imperial classical ballet and modern theatre through the Imperial Society of Teachers of Dancing. I am still in the process of obtaining my hip hop associates through the South African Board of Dance," she smiles.
There is a fair amount more to it than that though, and Suné explains that the industry is broken up into niche factors, for example dancing is divided into ballet, modern, contortionist or hip hop.
"I was branded a showgirl right from the word go, and within my first three months of study I joined a professional company doing shows and corporate events in and around Cape Town, which gave me a huge confidence boost.
''I joined a modelling agency and started auditioning for other event companies, as well as the DHL cheerleaders. It was trial and error over and over again, with few successes in between. I am living my dream while earning an income, and I have recently discovered I love teaching and coaching just as much as performing."
Suné's big break came when she auditioned for the DHL cheerleaders. Prior to that, her shows had all been for audiences of around 1 500 people, but the Newlands Stadium can host 51 000 spectators. "Dancing in front of a full stadium is so exhilarating, it's almost scary," she says. "And the crowd is so loud you can barely hear the music. You really have to concentrate hard to stay on the beat."
She has been selected for an international dance contract in December in the Seychelles. "I've never been overseas and to be able to travel because of merit and dedication makes the reward all the sweeter!"
Her other passion is conservation. Conserving the earth's resources is important to her, what we have and the longevity thereof. "Of course, living with the drought in Cape Town, it has become even more evident. It comes down to my hatred of greed, most people are so obsessed with purchasing and owning things. We need to consider what is important.
People also fascinate her. "I am inspired by people who are kind, who challenge each other to step outside their comfort zone. Acts of kindness inspire me to be friendlier and warmer to others as I have a tendency to be quite cold, and blunt. My partner Dean, for example, is the kindest and most understanding person I've ever met and he constantly inspires me to be less aggressive and more patient."
He is an integral part of where Suné sees her life heading, with an army of dogs. On her days off, she also loves to entertain, and host intimate dinner parties. And of course, she loves a good braai. "Whenever I return home, I request a braai, almost every night. No open flames are allowed in the city, so I have to make up for what I've been missing whenever I go home."
Life in the Lowveld does seem so much less complicated when you end up in a big city, and you will always long for its simplicity. "I miss the heat, lush green lawns to run barefoot on, the Kruger Park right next door, endless sunshine, and of course, the farm.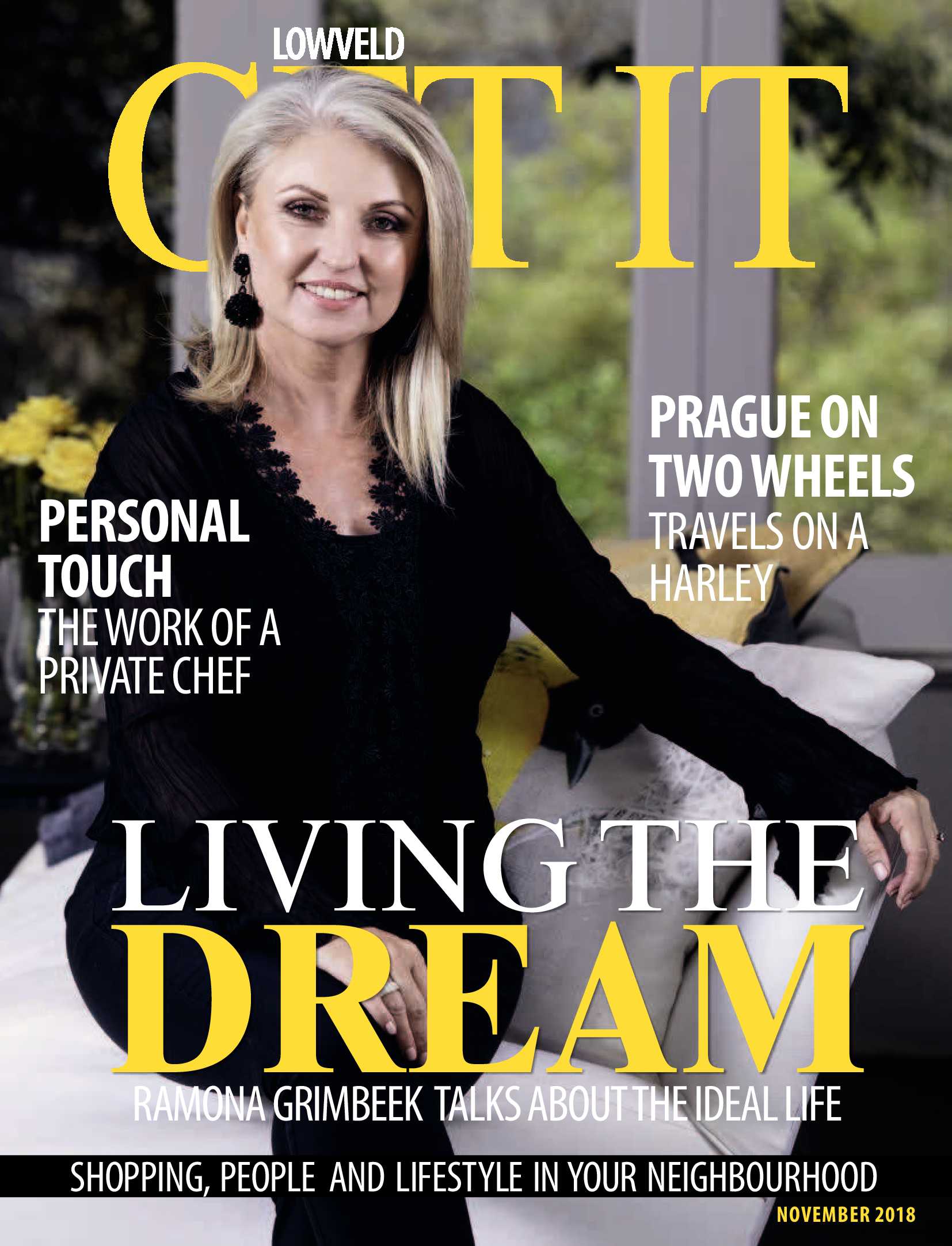 November 2018
The November 2018 edition of Get It Lowveld is online now!
View magazine

November Spoil
When it's this easy, winning a gorgeous timepiece is on pretty much everyone's to-do list.
is a national brand of premium free magazines available in centres across the country.
to see other Get It magazines in the network.