Beating the odds
Christelle faithfully went for her screening tests once a year, and at one point became aware of a small lump situated in her left breast. She mentioned it to the gynaecologist, and after checking her breast a few times he assured her that it was only a swollen mammary gland and nothing to worry about.
At her next annual check-up, the lump was no longer something she was only vaguely aware of – now it shouted its existence to her. The doctor immediately told Christelle to go to a surgeon in the same building to "scoop out the lump".
The surgeon examined her breast and told her that it did not work that way, and sent her for a biopsy. At that time Christelle, who lived in Benoni, had just started a property development project in Barberton. She can still remember driving back from Mpumalanga when the surgeon called, wanting to see her.
"At first I told her that I would come in the next day, but she was adamant that she needed to see me that same day, even if she had to wait till 10pm that night. Suddenly I was alert and knew that something was seriously wrong. She confirmed my fears: they had found cancerous cells in my breast and the malignant lump needed to be removed.
"Before the operation, the surgeon explained that when I woke up after the procedure, there would be drainage pipes in my body and I shouldn't be alarmed, it is simply procedure."
Christelle was divorced at the time and decided not to tell her two children as she didn't want to worry them unnecessarily. She awoke after the operation, and when the time came for dinner – which was always served around 5pm – she overheard the sister telling the nurse that "Ms Strauss must not get any dinner as she had to go back into theatre".
"I thought it was a mistake, and that maybe there was another Ms Strauss in the hospital. When I searched for the drainage pipes, I couldn't feel a thing and thought that perhaps the doctor had cried wolf," she narrates.
Unfortunately the whole left breast was riddled with cancer, requiring a mastectomy.  "She told me to go home and decide if and when I wanted to come in for the operation. I immediately told her that there was nothing to decide and asked if it would be possible for me to have another round of anaesthesia on the same day.
"When she nodded, I asked her if she would be able to do the procedure that night and she immediately agreed. So at 10pm I went into theatre to have my left breast removed."
The then 49-year-old had to undergo 12 rounds of chemotherapy. As she was still commuting between Barberton and Benoni, she always returned on a Thursday to have the chemo on a Friday.
At the end of the treatment, she was always exhausted. "Luckily my hair didn't fall out," she says, "I didn't want my mother of 89, who was living with me, to know about my cancer."
Christelle appointed a project manager, Kobus van den Berg, to help her with the Barberton project and he made sure that everything ran smoothly at work.
"Ever since then I regularly go for my check-ups, and after five years they told me that I was in remission. Thank God I am healthy again, and that I was able to carry on with my work in Barberton.  A few years ago, I decided to move here permanently, and I know I have made the right decision.
"The Lowveld is a wonderful place to live in. Although it is sometimes called the Slowveld, having a business here involves plenty of running around making sure that things are getting done. When I travel to Joburg, which I need to do quite often, I really can't wait to get back to my home in Barberton," she smiles.
Christelle's advice to anyone who has just been diagnosed with breast cancer is to never give up. "It can be treated if it is detected soon enough. Just look at me, I am living proof of that!"
• Be vigilant about breast cancer detection. Regularly examine your breasts on your own.
• Consult your doctor if you are worried about any lump or change. Always remember – the sooner the better.
• If you are diagnosed with cancer, take good care of yourself and listen to your body.
• Rest as much as possible.
• Pay close attention to what you are allowed to eat and what not.
• Don't try to do it your own way, but rather listen to the doctors and medical staff.
Get in touch
Contact CANSA's hotline on 0800-226622
072-197-9305 for English and Afrikaans
071-867-3530 for isiXhosa, isiZulu, seSotho and siSwati
The Lowveld branch on 013-741-5442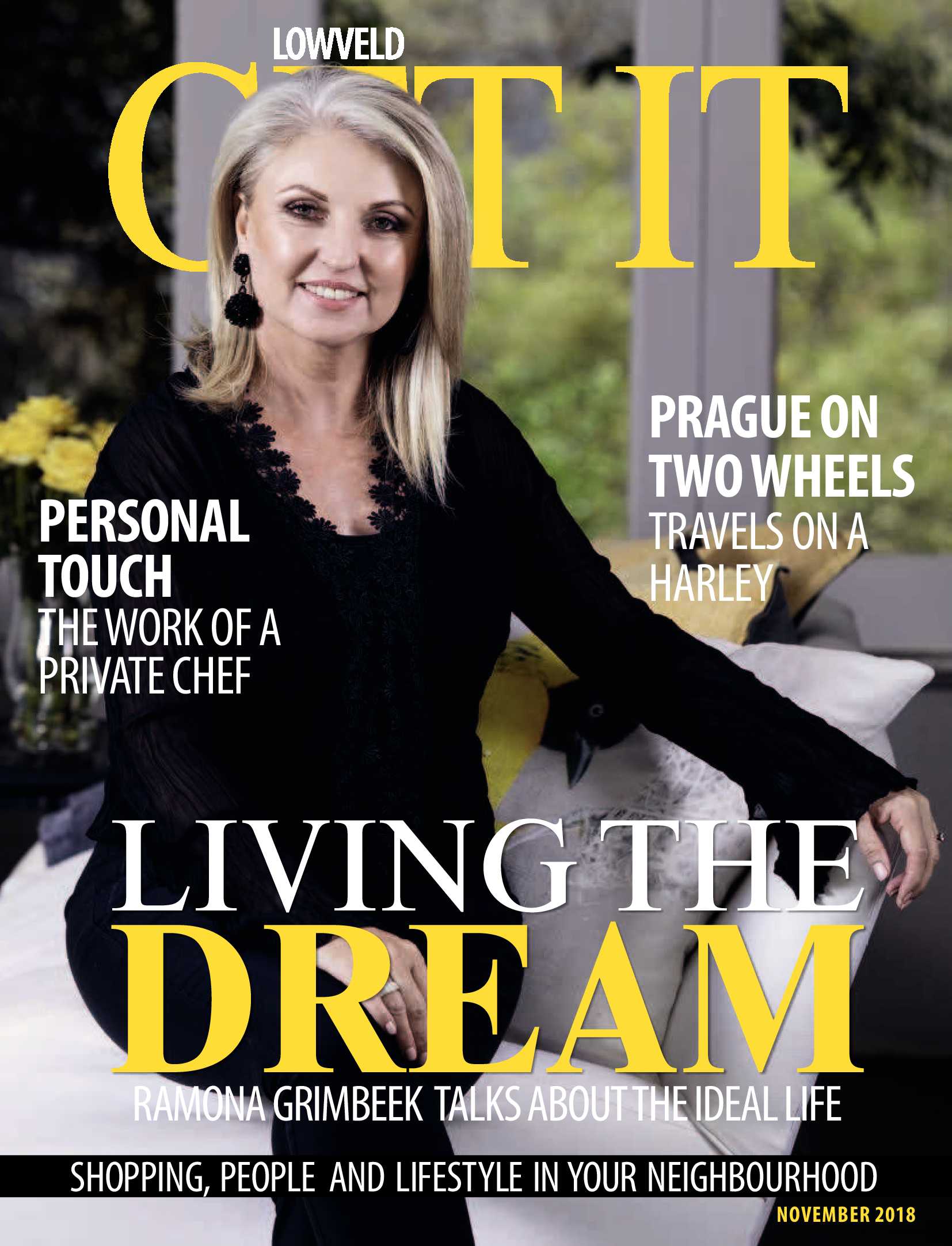 November 2018
The November 2018 edition of Get It Lowveld is online now!
View magazine

November Spoil
When it's this easy, winning a gorgeous timepiece is on pretty much everyone's to-do list.
is a national brand of premium free magazines available in centres across the country.
to see other Get It magazines in the network.