New beginnings
Cindy, lively and effervescent, loves to talk and make everyone laugh, while Rob is laid-back and smooth. Between the two of them, you feel right at home the minute you walk through the door. The person behind Kuzuri, owner Sandra Simpson, knows just how lucky she is to have two such great staff at the helm of her ship.
"It's an absolute joy to work with people who not only share my vision, but are more than capable of implementing and managing our plans and strategies." She goes on to add how seamlessly the trio works together, always on the same page.
Sandra fell in love with Kuzuri when she first moved to the Lowveld in 2006 and when the opportunity to purchase the restaurant arose in 2016 she wasted no time in placing her personal stamp on it. "I love bringing people together and seeing customers connect with one another. If it's old friends catching up or productive business meetings, I feel a sense of accomplishment that I was in some way able to create an inviting space for people to share inspirational moments."
Born in Johannesburg, she attended boarding school in Grahamstown from the age of 10, finishing her high school years as a founding pupil at Uplands College in White River. Sandra completed her A levels at St Stithians College and studied cheffing at Silwood Kitchens in Cape Town before heading to foreign shores to work as a private chef in Switzerland, Norway and Northern Ireland. Missing the beat of Africa, she moved to the Lowveld and added to her expertise by working and training lodge staff within the Kruger and Sabie Sands (Greater Kruger).
Her experience in the bushveld led to a year of gaining her FGASA and trails guide qualifications through EcoTraining. "I loved it! It was probably the best year of my life," she smiles fondly. But life goes on, and when she returned to civilisation, Sandra did a few odd jobs here and there when an offer to immigrate to Australia and work as a chef in food capital, Melbourne arose.
"It was at that point Kuzuri was on the market and it was a no-brainer for me. Within a couple of weeks I had cancelled all plans to move to Oz and the rest is history." She says, "I now have the good fortune of owning my own restaurant and working with staff who are my family while still being able to get my dose of the bushveld! Who could be luckier"
Kuzuri recently moved its home from the botanical garden to Sonpark Boulevard. When the old Stoep premises became available Sandra recognised the potential in the venue. She called Rob and told him she had found a new home for Kuzuri. With great excitement, he went to view this future marvel. "He took one look and said no," Sandra recalls, laughing. "Emphatically, no. Of course, it needed, and still needs, a lot of work, but I had a vision in my head of how it would ultimately look, and in the end, I convinced him." Rob agrees. Ultimately, the vision worked beautifully, but it took some convincing, something she is fairly adept at.
Sandra's vision, while relying on the slow and steady growth of her establishment, has come a long way since the grungy days of Stoep. The entire revamp and planting of an indigenous garden has kept the genuine and intimate charisma Kuzuri is renowned for. It's a breath of fresh air to have a beautiful restaurant which is not overshadowed by a mall or parking lot setting.
"Ultimately, I'd love to have poetry readings, live music of a bluesy, jazzy nature, and comedy evenings, where the highly talented artists in the region are given the platform to showcase their particular gifts… Sort of a local art hub."
She would also love for the shops in the outside area to play to the food theme, for example, a bakery and chocolate shop, opening up onto Kuzuri's private garden. Rob's dream is to see the restaurant grow into a franchise, with the brand being represented all over South Africa, as well as in Mozambique and Swaziland.
"I am so proud of what we have achieved here, I want to see this logo everywhere!" he laughs – a warm, rich sound which represents the teddy bear of a man that he is.
Something which both Sandra and Rob agree on wholeheartedly is the fantastic team which makes up Kuzuri. "I couldn't do it without them, we truly are a family where the care and support flow over from the workplace into personal support and family life. The people make the place, after all." Rob nods. "We blend together perfectly and are very specific with who is appointed within the team. It's more important to find the right personality fit to ensure we keep the Kuzuri ethic rather than a particular skill set.
"Skills can always be developed through training."
This sense of family and camaraderie is evident when you walk through the door, it is welcoming and inviting. The food is certainly something to write home about, with items such as lamb curry, prawns and the iconic Kuzuri salad which consists of segments of orange, beetroot and feta.
Sandra is also in the process of revamping the menu. Included in her plan is a bottomless bubbly afternoon on Fridays and Saturdays from 5pm to 7pm, and then there is the cocktail special on Thursday and Saturday, both a definite enticement. The vision is to develop the garden area into a relaxed and vibrant space for people to enjoy themselves in, while the inside dining area maintains the intimacy customers currently enjoy.
"We strive for customer excellence. Everything is made from scratch," Rob says. "This is why our food is so delicious, there are no shortcuts. It stands to reason that if you enjoy the making, your guests will enjoy the eating."
Kuzuri certainly can lay claim to superb food, and all dietary requirements are catered for provided the team knows what to expect in advance. The current food trend is well represented here, but don't think your food will look beautiful and leave you somewhat hungry afterwards. You get a proper meal, hearty and delicious albeit dressed up like a gourmet work of art. Kuzuri is somewhere to watch, we predict big things from this small yet effective team of people.
Times:
Open Monday to Sunday from 8:30am until late, excepting Sunday dinner.
Get in touch
013-757-0907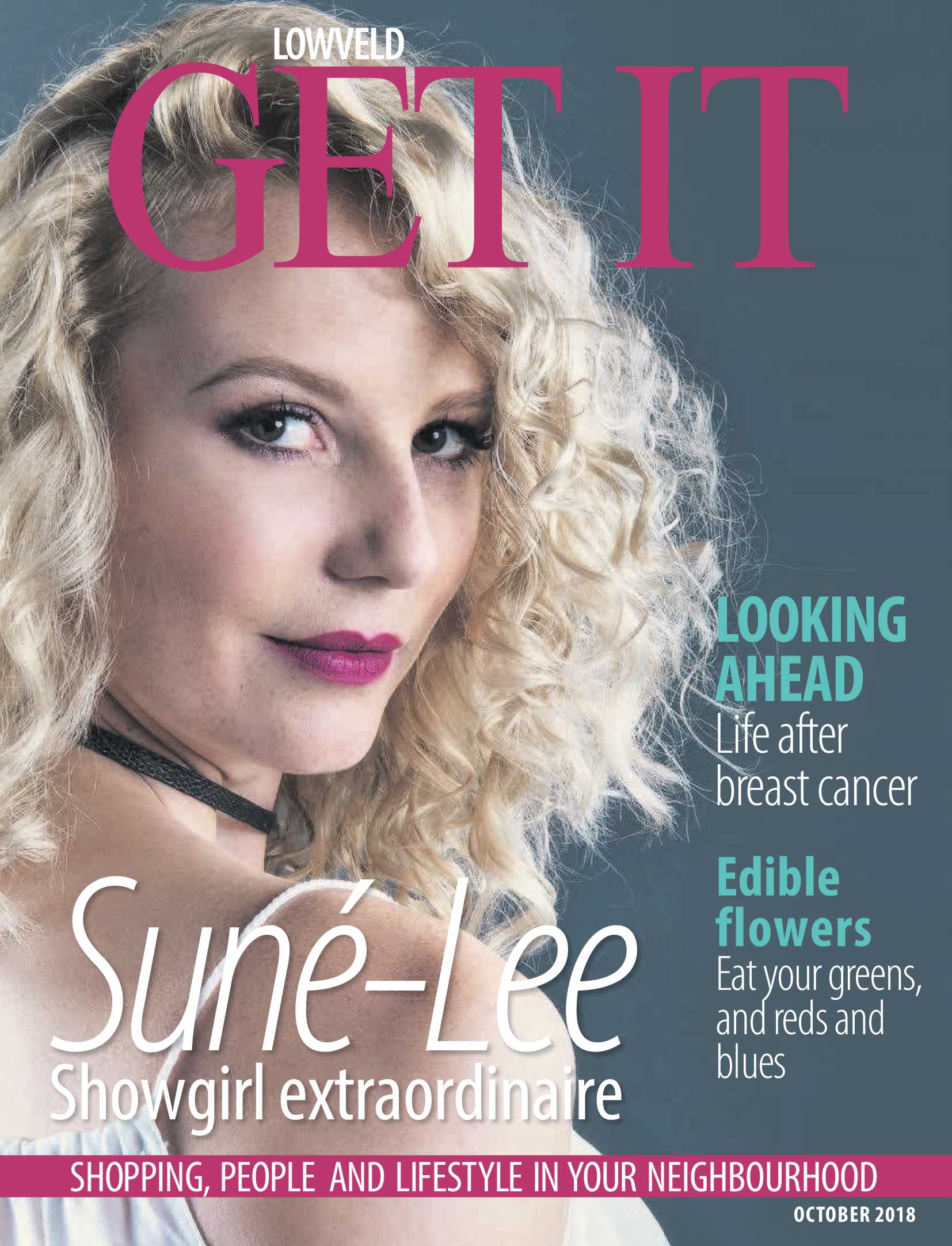 October 2018
This month's fabulous Get It Lowveld magazine!
View magazine

It's burger time!
Most of us love the idea of a burger, no matter what our food preference is, and burgers are certainly not for meat eaters alone.
Our October spoil
With your face to the wind you will feel the power of change this month.
Share the pet love
Entries have been streaming in for the Love your Pet competition and these pets are too precious!
is a national brand of premium free magazines available in centres across the country.
to see other Get It magazines in the network.