Meet the team empowering champions
There are people who embody humanity. Individuals who seek to help those who have been dealt a bad hand. People who live selfless lives, empowering others to live out their purpose.
This can be said of the men and women of Sinani – Noma Kanjani, siSwati for "we are with you, no matter what". Husband-and-wife team Craig and Brenda take immense pride in running this organisation.
The Rebros have always had a heart for the powerless. In 2014 they quit their successful careers, sold their home and left for Africa with two teens and a pre-teen in tow.
We want extremely vulnerable children to be mothered and fathered, to be known by name
Never would they have known how much their eldest son would love the bush, calling Africa his forever home, or how the family would be in awe of the Lowveld beauty. It wasn't the nature that kept them here though.
"We came here with another NGO, and as our time with them had came to an end, my previous employer in Wisconsin called out of the blue. The comfort of the known was ready and waiting for us. After crazy confirmation, the path forward was clear: be at the helm of Sinani."
Church Unlimited founded this organisation as a platform for members to serve, but now connects all sorts of residents with the community and has been uplifting the most vulnerable for 10 years now.
NGOs are commonly seen saving the day, delivering care packages to poverty-stricken countries. This one, however, does no such thing. Sinani is a powerful yet humble channel, a presence of hope.
The couple partner with people who have a heart for their community but simply need a helping hand. One such example is Tamara Nyoli, who has been helping disadvantaged kids in whatever way she can for years.
She is what Rob Gibbs, board member of Sinani, would call a "champion". He uses this term to describe people rising above their circumstances to lay down their lives for orphaned children, despite not always having the means to do so effectively.
Now that Tamara is part of the Sinani family, she is ecstatic for what is about to happen at Mataffin Hope Centre.
She will see those struggling kids of her neighbourhood get a meal, have a mentor, receive homework support and ultimately have a safe space to call theirs. There, they will also be bringing Foundations for Farming assistance as well as starting a bicycle club.
"Orphans will be able to participate in a healthy activity. One that gives them dignity and an outlet to have fun away from day-to-day worries," an excited Brenda explains.
Another thing that sets Sinani apart from many other do-gooder groups is that it seeks to channel resources that money cannot buy.
The skill of planting and harvesting food that a farmer had spent years honing; the patience to listen to a child who struggles to read in their third language, and gently helping them along; a businessman who spends valuable time getting to know an up-and-coming entrepreneur; ensuring that the susceptible are safe and loved.
I've never seen such a willingness from so many people to use their gifting
The members of Sinani achieve this by establishing community-based after-school life centres in rural areas and by empowering people who are hard at work on the ground. The Rebros are driven to see the vast gap between classes narrowed, to see people who have so much connect with those who have so little.
The immense effect of an actual safe place, is life-saving. "The work we do is about more than getting money from business people. We want extremely vulnerable children to be mothered and fathered, to be known by name," Brenda says.
Hear this American speak siSwati!
Though family in America are sorely missed, they cannot stop talking about the warm embrace they have received here. "I've never seen such a willingness from so many people to use their gifting," Brenda adds, sharing accounts of people from all walks of life, simply doing what they are good at, to bless those in need.
Bit by bit, Sinani is transforming the region.
Zwel Kids

Collen Mathebula runs the Zwel Kids Club which cares for around 175 of the most vulnerable children from Zwelisha.
The Zwel Kids model has been recognised all over South Africa and has even been featured on e.tv.
Foundations for Farming
Under the Sinani umbrella of empowerment, they utilise the training and equipping of Foundations for Farming.
"We started four gardens at the beginning of the year and they are all in the process of producing organic vegetables for hundreds of orphaned and vulnerable children.
"Johan and Frieda Grobler head up this initiative and have a heart to teach and train others with the gift of sustainability," Craig explains.
We would love to have many more gardens for those who cannot afford food or that can't eat healthily. The only thing prohibiting us is funding.
Umalusi Life Centre
Sinani was chosen as GEMS' 2018 Community Service Initiative project. In August, the GEMS board of trustees cut the ribbon on the new life centre – they had donated the materials needed for this massive task.
Angel Dzimba, Sinani's champion at the Umalusi Life Centre in Dwaleni, had been struggling to properly take care of 180 orphaned and vulnerable children for over three years. "Now she has a facility to allow her to cook, feed and holistically care for the kids, even when the weather isn't good," says Brenda.
Leadership conference
April saw Sinani's first leadership conference, where all their community leaders were brought together for two days of equipping, encouraging and training.
It was a beautiful thing to see the leaders coming together, realising they aren't alone in the difficult work they are doing – so many tears and laughter.
"Since it was such a success, we are having our next gathering in October to build on what was started. It was a safe place where everyone left feeling a part of something bigger – a Sinani family," Craig relates.
If you would like to learn how to support the amazing work this organisation does or get involved in any of their many ways, Craig is one call away
GET IN TOUCH
www.sinani.org or Craig on 0662862000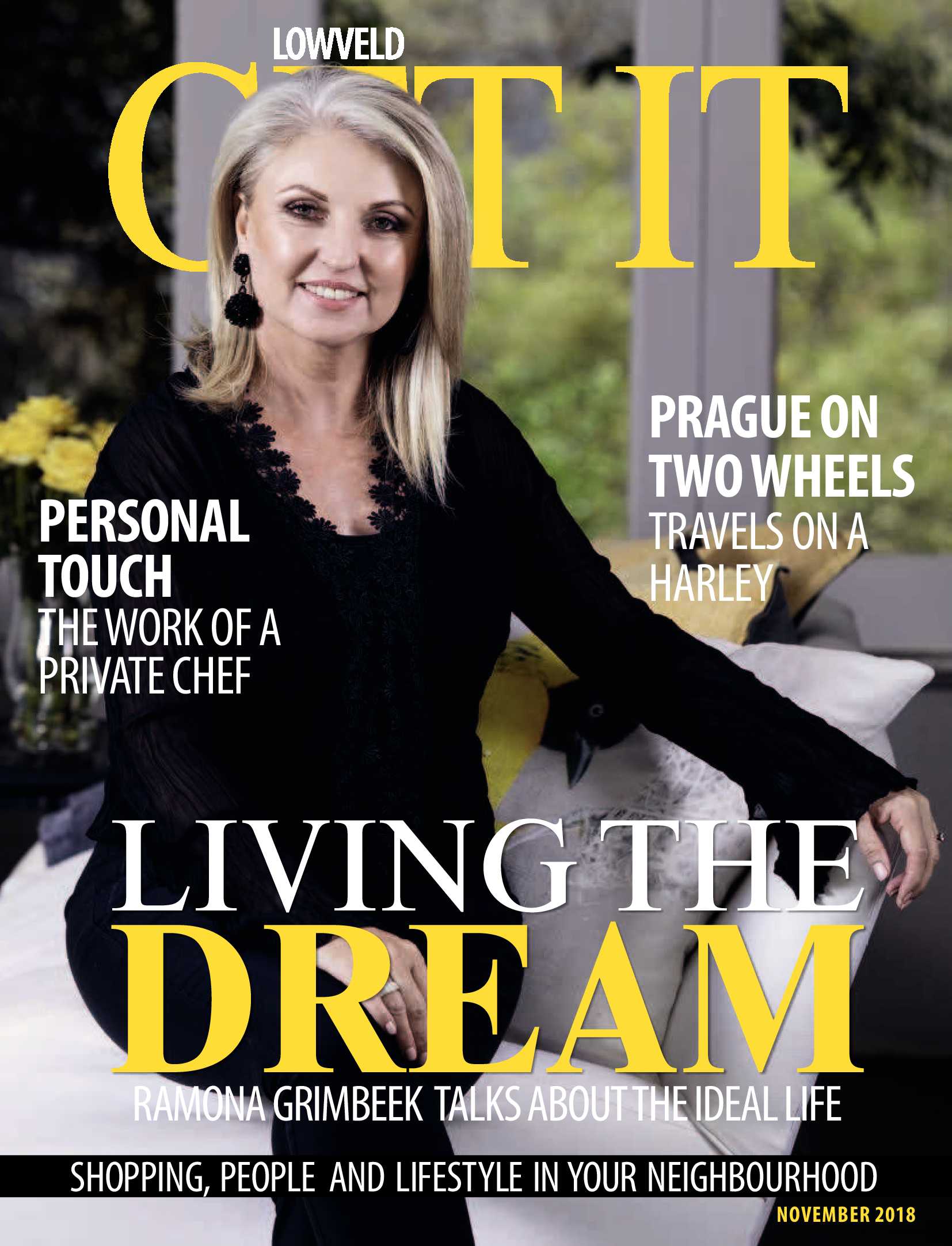 November 2018
The November 2018 edition of Get It Lowveld is online now!
View magazine

November Spoil
When it's this easy, winning a gorgeous timepiece is on pretty much everyone's to-do list.
is a national brand of premium free magazines available in centres across the country.
to see other Get It magazines in the network.