Rejuvenate your garden this season
South Africa is home to amazing and iconic trees. A drive up the road often includes the beauty of the wild pear, currently in flower, with its ivory flowers that bring to mind the colour of a bride's dress. Then there is the stunningly lovely scarlet-coloured lucky bean tree, which brings along with it a plethora of creatures who love to chew on its leaves or rest in its shade. Among these is the beautiful brown-headed parrot which disperses the seeds, and of course, the bees love the showy splashes of red flowers.
Let us not forget the mythical baobab, a tree that evokes dreams of lore and legend, and the dawn of time. The fruit-bearing marula and fig trees, home to a myriad of animals and birds, and of course there is the strange and fascinating symbiosis between fig and its wasp. The sausage tree with its unmistakable fruit and bright red flowers, the iconic acacias, monkey thorn, umbrella tree, knob thorn and paperbark, not to mention the mighty fever tree with its acid green bark, so evocatively bushveld.
You can see all of these and more in our region, such as at the botanical garden, the Kruger Park, a number of nurseries and nature reserves, even along scenic drives. Take the time to study and appreciate the beauty of our Lowveld surroundings, because loving nature is, after all, the best way to recharge.
SUCCULENTS
Strikingly beautiful, succulents come in a wide variety of shapes, sizes and colours, and while some don't mind partial shade, many love full sun. Not all of them are spiky or prickly, many are soft and fleshy, and the leaves come in varying intensities of grey, blue and green.
Succulents are the ideal denizens of terrariums or small parts of the garden, where they can be paired with stunning stones or rocks to create a visually appealing corner. They are not high-maintenance plants, but as with all living things, they love to be fussed over, and when properly cared for will reward you for many years to come.
SEEDLINGS
Welcome to our sanctuary filled with garden ideas, indigenous and flowering plants, plus a wide selection of on-trend flower pots, top-quality bird feeders, exquisite patio furniture and classic garden decor. Transform your garden with instant colour using seedling or colour bags and your indoor living space into a green oasis with luscious indoor plants.
Nelspruit Mica strives to offer you the very best gardening experience, with our quality product offering and personal service, we'll meet your gardening needs and offer you real solutions to enhance your indoor and outdoor living spaces. In just one visit, you can totally revamp your home and garden with Nelspruit Mica.
CYCADS
They are a well-known and loved group of plants that falls under the scientific classification Cycadophyta that bears a resemblance to palms and ferns, although not related. Once diverse and abundant, cycads are becoming more and more rare, hence their being as sought after as they are.
They have stout, woody trunks with luxurious crowns of firm, hard evergreen leaves, usually pinnate in nature. These plants vary in size and can be from a few centimetres to several meters tall and have been known to grow as old as 1 000 years. Individuals are dioecious, either all male or all female.
LAWN
Creating and establishing a well-planned garden takes a long time and careful input. The foundation is your soil, so make sure it is in tip-top condition. The important points to consider are:
Compost: Made from organic materials, our compost is free from weeds and contains no harmful soil pathogens. Our compost adds beneficial soil microbes as well as macro- and micronutrients.
Mulch: Manufactured from pine bark. Our mulch forms a protective covering, reducing evaporation and increasing aeration. It also helps prevent weeds from germination.
Topdressing: This is the practice of applying a thin layer of growing medium to the surface of your lawn. It has numerous benefits such as better infiltration and disease control.
BONSAI
From the Japanese word meaning "planted in container", they have been around for more than 1 000 years. This ancient art form is derived from a Chinese gardening tradition which was taken and redefined in terms of Japanese Zen Buddhism.
Growing and caring for a bonsai is a long-term venture, and the creation and cultivation over time of one of these stunningly beautiful trees is a rewarding and fulfilling practice indeed. The purpose of the bonsai is to realistically represent nature in the form of a miniature tree, with every aspect of the tree, from fruit to leave to flower, remaining true to the original.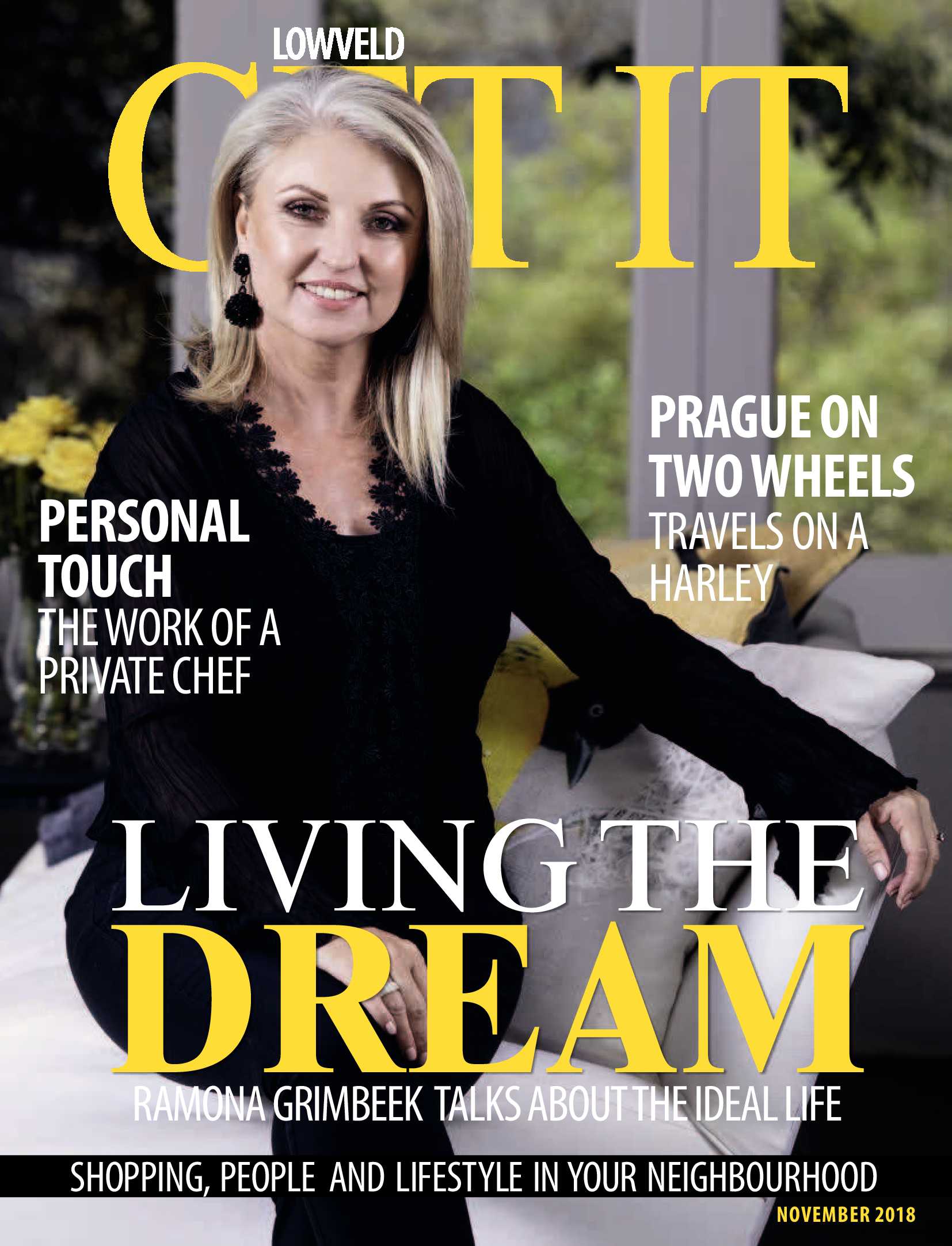 November 2018
The November 2018 edition of Get It Lowveld is online now!
View magazine

November Spoil
When it's this easy, winning a gorgeous timepiece is on pretty much everyone's to-do list.
is a national brand of premium free magazines available in centres across the country.
to see other Get It magazines in the network.